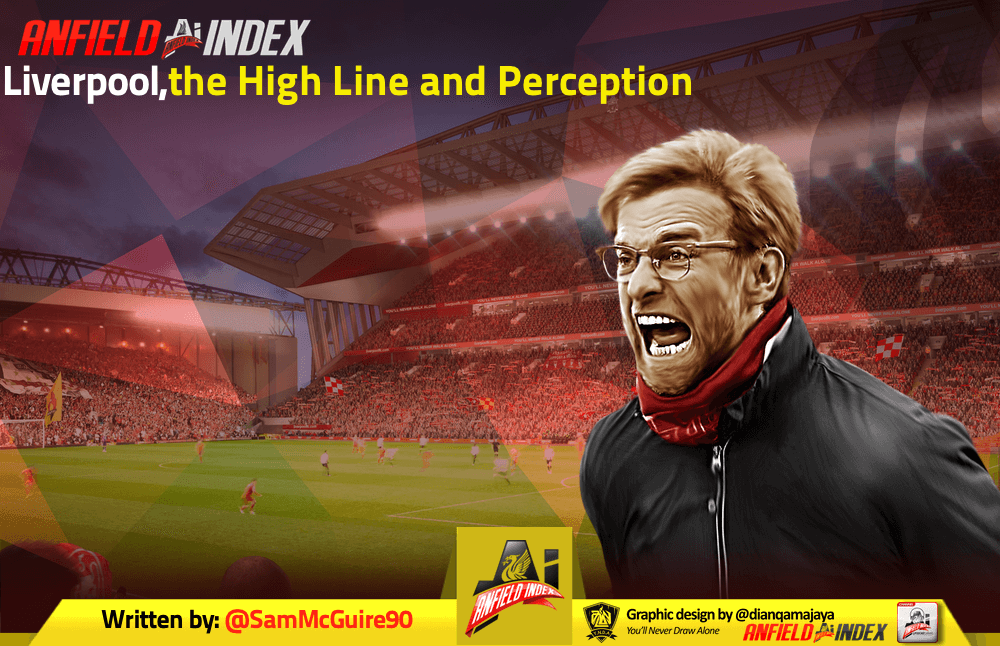 Liverpool, the High Line and Perception
Like it or not, perception is often more important than reality, at least in the world of football. For example, scoring a goal can see a player's match rating jump from a 6/10 to an 8/10 and a misplaced pass that results in a big chance basically undoes all the prior good work. Liverpool are currently dealing with an unfounded narrative. The champions may have a 100% record in the Premier League but there's a feeling they've been fortunate in all three of their matches.
The Reds needed two penalties to beat Leeds United, they needed a red card against Chelsea to break the deadlock and then 'mistakes' aided them in their victory over Arsenal, apparently. The feeling amongst many is that Jurgen Klopp's defence have looked out of sorts and with a better final ball here and there and more clinical finishing, they might've been in trouble.
Yet the numbers tell a different story. The opposition have a combined expected goals total of 2.3 goals in the three matches this season. However, 0.76 of that was Chelsea's penalty and around 0.51 was Alexandre Lacazette's goal after the Andrew Robertson mistake. Remove those two and that total drops to 1.03. Now, I realise you can't pick and choose what to include in these but looking at open-play chances only helps paint a picture of a defensive unit. The Robertson mistake was an anomaly that is unlikely to happen again. You want to remove unrepeatable moments when judging performances.

Again, it's not standard practice to cherrypick numbers but an expected goals against total of 1.03 from games against Leeds, Chelsea and Arsenal doesn't suggest the defence is in trouble. In fact, in the last two matches, Liverpool have allowed just eight shots. Klopp's men weren't up against relegation battlers, either, but teams many think will be vying for a top-four spot.
This is getting a bit ridiculous now. Liverpool limited Chelsea and Arsenal to a combined eight shots, and one of those was offside. pic.twitter.com/8Aj04Yn0gm

— Sam McGuire (@SamMcGuire90) September 29, 2020
Furthermore, one of the shots on target was actually offside. This is the issue the Reds are having to face. The new offside rule means the flag is only being raised after an attack comes to an end. Rivals fans and pundits are seeing Liverpool defenders scrambling back and this happens to be their lasting memory from the matches. It happened against Chelsea when Timo Werner dragged his shot wide after Kai Havertz had seemingly raced clear. But the former Bayer Leverkusen man was offside. It happened a couple of times against Arsenal as well.
Ainsley Maitland-Niles was in only for the replays to show he would've been flagged offside. Lacazette tested Alisson and while the shot was counted, the ref played on after the save despite the linesman flagging.
Funny how most chances Liverpool concede end with the commentator saying "it would've been offside anyway".

— Sam McGuire (@SamMcGuire90) September 28, 2020
People will acknowledge that but subconsciously it'll be one of the reasons they think Liverpool have been fortunate. It'll no doubt be a key factor in them believing the Reds aren't at their best defensively, too. The perception is Chelsea and Arsenal missed gilt-edged chances against reigning champions. The reality is both would've been ruled out for offside. Many will continue to focus on the high line and neglect to educate themselves on the reason why it's being used. The Reds are limiting the opposition like never seen before.