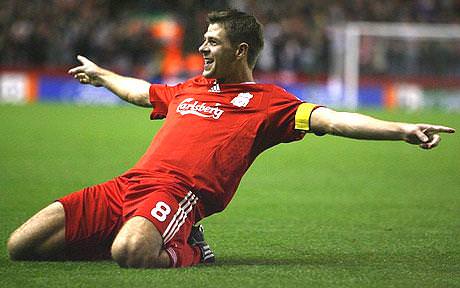 Some Of The Most Influential Liverpool Players

Liverpool F.C remains one of the best teams in the Premier League and arguably the world. They have had some amazing players over the years and against stiff competition, fans have always used both teams to score tips because games with Liverpool are never short of goals or excitement.
This article will go through just some of the players to which Liverpool can credit its successful club history.
Steven Gerrard (1998-2015)
Gerrard is now 40 years old and has been playing football since he was 9 when he started playing for Liverpool FC's youth team. Steven Gerrard then signed for them at 17 and the rest is history. With more than 500 appearances made for the club; he established himself as one of the best midfielders at the time. Due to his great performances at Liverpool, he also played 100 games for England. His time at Liverpool finished during the 2014/2015 season where he announced his departure and move to the American club – LA Galaxy.
Kenny Dalglish (1977-1990)
Sir Kenneth Dalglish signed for Celtic in 1967 before joining Liverpool 10 years later in 1977. Kenny then spent the next 13 years playing as a forward for the club, making 515 appearances and scoring 172 goals. There's no doubt that his presence on the pitch was sensational as he also capped 102 games for Scotland but when he decided to switch from playing to managing, he hoped to take his competitive edge and exuberance to the dugout. This move happened when Dalglish was just 34 years old and in his first season in the dugout, Liverpool became league champions and FA Cup winners. Dalglish is now a household name amongst football fans, especially after the way he conducted himself in the aftermath of the Hillsborough disaster. Kenny is often referred to as the legend of Liverpool.
Michael Owen (1996-2004)
Owen was born in Chester, England. Now at 40 years old, he is long retired from football but in his career, he saw multiple teams from Liverpool, Real Madrid and the English National team. But today we are looking at his time at Liverpool F.C. Michael Owen started his career at Liverpool when he was young during his youth career, but it wasn't until he signed for them in 1996 where he started his senior career. During his 8 year stint for the club, through to 2004, Owen made 216 appearances, scoring 118 goals.
Virgil van Dijk (2018-present)
Whilst Van Dijk has the least amount of time at the club in comparison to the rest of the players mentioned above, he has had no less of an impact. The 29-year-old is currently considered on of the best defensive players in the world, renowned for his aerial ability, strength and leadership. In his short time at Liverpool, he has made 93 appearances. This the most appearances he has out of other clubs he has played for and I'm sure he'll make many more as he too becomes a Liverpool F.C. legend.