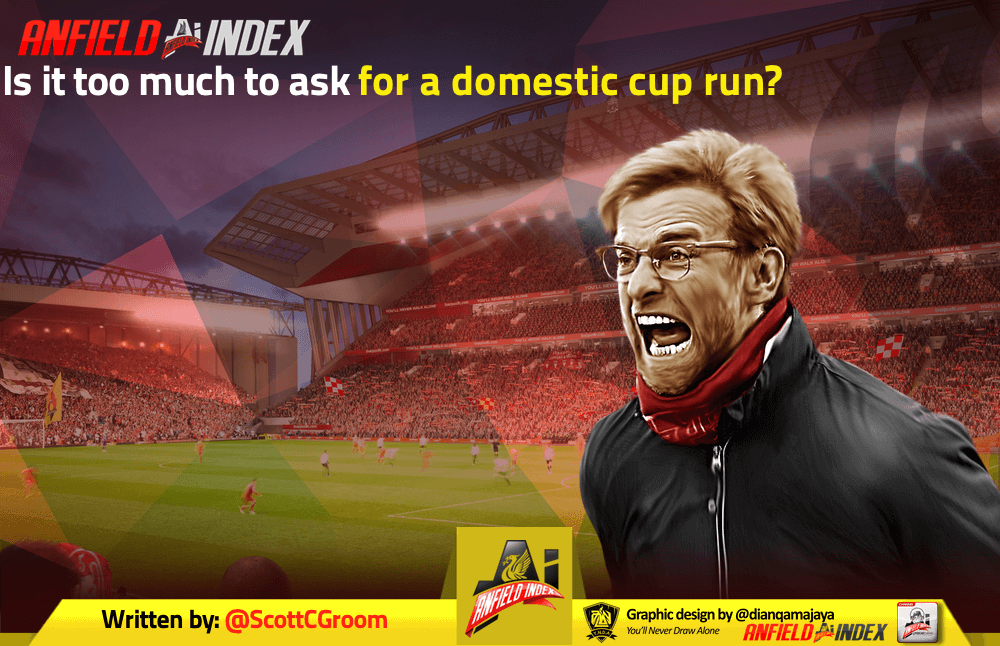 Is it too much to ask for a domestic cup run?
Liverpool's defeat on penalties to Arsenal in the Carabao Cup brought to an end another run in domestic cup competitions for the Reds under Jurgen Klopp.
In what was a harsh reflection on the side, Divock Origi and Harry Wilson saw their penalties saved by Bernd Leno as Arsenal progressed to the quarter-finals. The result was not a fair reflection on the game, with Liverpool by far the better side – but they failed to take their chances and were ultimately made to pay the price.
It's a strange one this season, what with the intensity and frequency at which fixtures are coming at teams due to the on-going pandemic, and it could turn out to be a small positive in the short-term, but wouldn't it be nice to have a decent domestic cup run at some point?

I appreciate that it's only the League/Carabao Cup and a lot of fans will play it off as a tin pot competition, but it's a trophy that Liverpool have won eight times in the club's history.
While the Premier League and Champions League remain the number one priorities, and understandably so, adding a wider array of trophies to the collection wouldn't go amiss if you ask me for my personal opinion.
Aside from this, there's the issue that Klopp's record in domestic competitions since his arrival on Merseyside in 2015 is poor.
Since Klopp took charge, Liverpool have never made it past the fifth round of the FA Cup. Never.
Twice we've been knocked out by Wolves, once by Alan Pardew's West Brom and most recently by Chelsea last season.
Our League Cup record is slighlty better. At the end of the 2015/16 season, Liverpool lost 4-2 on penalties to Manchester City in the final and then made it to the semi-final the following season, only to suffer 1-0 defeats in each leg against Southampton.
However, there has also been two third round exits to accompany last night's fourth round defeat to Arsenal. There was also last season's farcical fixture in the quarter-final against Aston Villa which saw the kids get a run out and lose 5-0 while the first team played in the Club World Cup final the following day on the other side of the world. The less said about that the better.
Liverpool's last success in the FA Cup was back in 2006 and 2012 in the League Cup, so it's something that I feel we're long over due. I know that other competitions with bigger kudos and weight take priority, and I understand that to a certain extent.
But this surely means that we're long overdue a success. These are two competitions steeped in history and that run through Liverpool's history. Why would we not want to add to this history?
I also understand that on the other hand, these competitions do represent the fringe and youth players with brilliant opportunities to gain match fitness, first team experience and aid their development, but sometimes I do think this undermines the integrity of the competition.
The blame for this doesn't solely lie at the door of clubs though. The recent handling of the competitions from strategic levels within football's governing bodies leaves a lot to be desired, too.
With this being said, I'd still love to see us go far in the FA Cup and get a day at Wembley. This period could be littered with silverware for the Reds, and these two competitions shouldn't be cast aside in that hunt for glory.
You don't see Manchester City casting aside their recent affection for the League Cup. They're undefeated in the competition for a number of years and have won it three years in a row. There's nobody there discounting it from their growing trophy cabinet.
Argue about prestige all you want, but the currency of football is silverware and we should be going after as much of it as we can, not writing it off as a Mickey Mouse trophy.