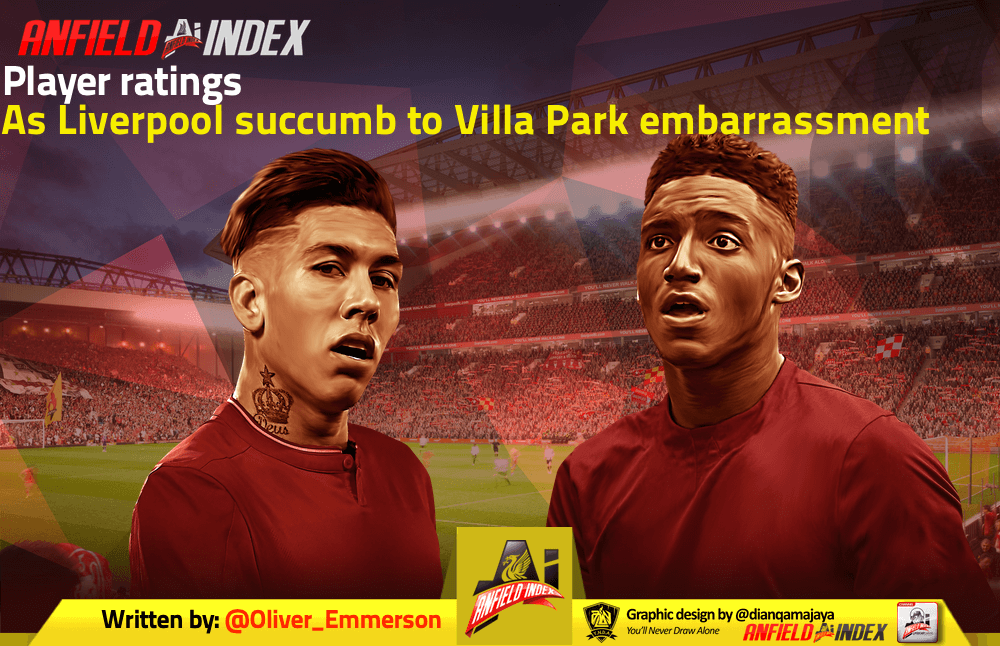 Player ratings as Liverpool succumb to Villa Park embarrassment
Where to start with that one? Aston Villa 7-2 Liverpool. That's *SEVEN* goals for the team that escaped relegation last season due to a goal line technology error, against the Champions of England.
Not sure if this puts my #ProperRed status at risk, but I laughed through that. A lot. Listen, losing big games is horrible. Losing games you deserve to win, games against rivals, close games. All rubbish stuff.
Getting spanked by Aston Villa, courtesy of a hat-trick of deflected goals and one of Adrian San Miguel's finest shockers is just funny. We'll move on after the international break and hopefully put those across the park back in their place. Not before some ratings though.

Would we have been better with Dejan Lovren?
Adrian (3): Horrific. For all the Twitter mockery I didn't think he was that bad, so it was nice of him to set about proving me wrong just a few minutes in. Handed Villa their first goal, his finest moment (and maybe the best bit of the game) has to be when he's practically running across Runcorn Bridge as Watkins hits the bar. In fairness he can't do much about the deflected goals and saves from Watkins one-v-one, not that it's much of a saving grace.
Trent Alexander-Arnold (5): Stunted well by Villa going forward, thought Targett got up close to him really impressively. Not the worst at the back, still not great. Gets caught out positionally when Grealish scores his non-deflected one. Was that the seventh? Who knows.
Joe Gomez (2): I'm sorry. I do love Joe but today was just, something different. Doesn't do much to stop Villa opening the scoring and it only gets worse from there, to the point where I was actively begging Klopp to take him off. Passes astray all over the shop in the second half as he was mercilessly bullied by Ollie Watkins.
Virgil van Dijk (4): Can't pin much blame on him for the first couple of goals but he does very little to help the situation thereafter. Very possibly his worst performance in a Liverpool shirt. Doesn't do enough to settle the backline or help Gomez.
Andy Robertson (6): Thought he was the best of the back four, which doesn't say a lot. However he was actually very good going forward, linking up especially well with Jota in the first half. One of the few that I think come out with some credit.
Liverpool's problems weren't in the middle
Fabinho (5): Not awful but definitely could have done more to help the defence track Barkley's runs. It's not as if Villa played through us in midfield time after time, doing more damage down the right or with long balls over the top. Still, things to improve on for Fab.
Gini Wijnaldum (6): Not his fault that it went the way it did so I'm hesitant to give him anything lower than 6. If everyone else plays well then we win, it's not like Gini was the problem. Unfortunately it goes the other way, in that he doesn't do much to negate those around him being poor.
Naby Keita (6): Actually thought he was great on the ball, probed well and gave us a lot going forward. A shame he was the one taken off at half-time even though I can see why it had to be him in a sense, given concerns over removing one of the more defensive midfielders.
Mo for the Golden Boot?
Mo Salah (8): Actually had a really good game despite the madness around him, two really well taken goals. Should have won a penalty at 1-0 too. How does the game go if that gets given? Let's just finish 4th again and concentrate on getting Mo the golden boot imo.
Roberto Firmino (4): Doesn't really look interested in scoring any goals which is a problem when you're playing up front, regardless of the niches of your role. Multiple chances in the first half and he looked anything but ruthless.
Diogo Jota (6): Bright enough in the first half, faded a little thereafter but fair play to him for constantly plugging away.
Substitutes
Taki Minamino (5): Was okay, got Luiz booked after 30 seconds of coming on. Can't help but feel abit weird about him and Bobby being on together centrally though, I think they occupy too much of the same space.
Curtis Jones (5): Surprised he was sent on ahead of Henderson, who clearly wasn't fit enough to be on the bench. Did fine.
James Milner (N/A): Kicked a couple of people I think, all well and good.