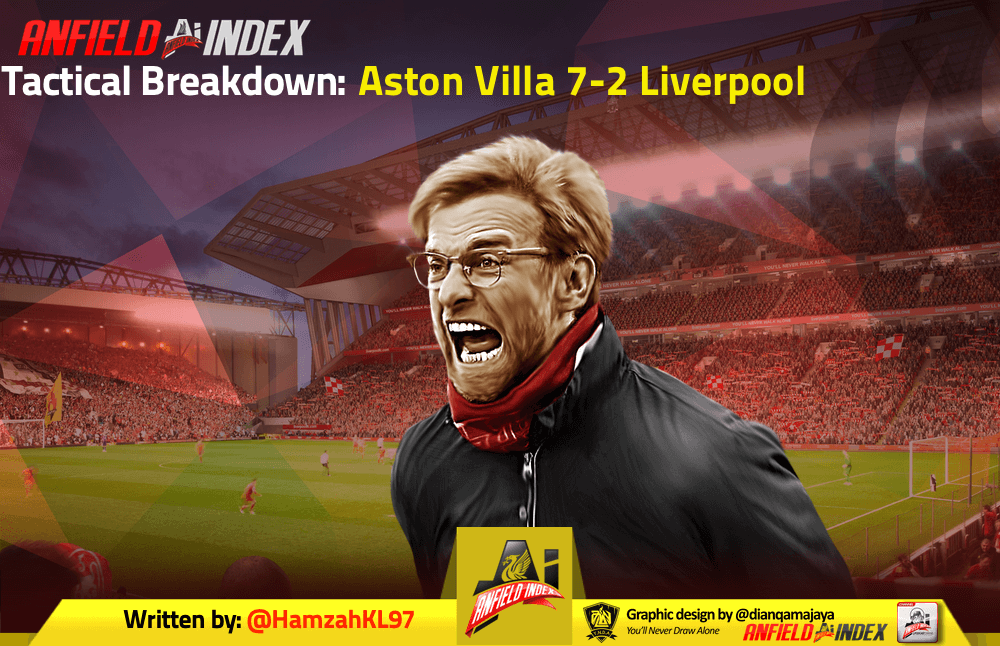 Tactical Breakdown: Aston Villa 7-2 Liverpool
Liverpool headed to Villa Park without three of their star players: Mané and Thiago were ruled out due to testing positive for COVID-19, whilst Alisson, who had made a number of fine saves in the previous match against Arsenal had sustained a significant injury during training. This meant that Liverpool would start with Jota in place of Mané, a midfield of Keïta, Wijnaldum and Fabinho, and Adrian in goal.
The tactical plan was almost certainly business as usual, with Liverpool supposed to press high, retain the ball up the pitch, compact the space through the defence pushing up and maintaining constant midfield pressure on second balls and passes.
Aston Villa lined up in a 4-4-1-1, handing a start to former Evertonian, Ross Barkley. Barkley, featured behind Ollie Watkins, and was tasked with applying pressure to Liverpool when out of possession. Villa targeted Fabinho, and looked to drive Liverpool backwards where possible.
In the first few minutes of the game, this high press worked well. Barkley pressed centrally, Watkins pushed up, supported by Grealish and Trezeguet on either side of him. Liverpool surrendered to the press easily and let the ball go backwards. This in itself was no major issue, as it meant that Liverpool could potentially fire the ball forward quickly, into Salah in particular who was positioned wide, against Targett.
However, in the fourth minute, Liverpool had played themselves into trouble and found themselves a goal down.
Adrian played a blind pass out wide to Gomez, or at least to where he believed Gomez should have been.
I've annotated four images below which describe the errors leading to the goal.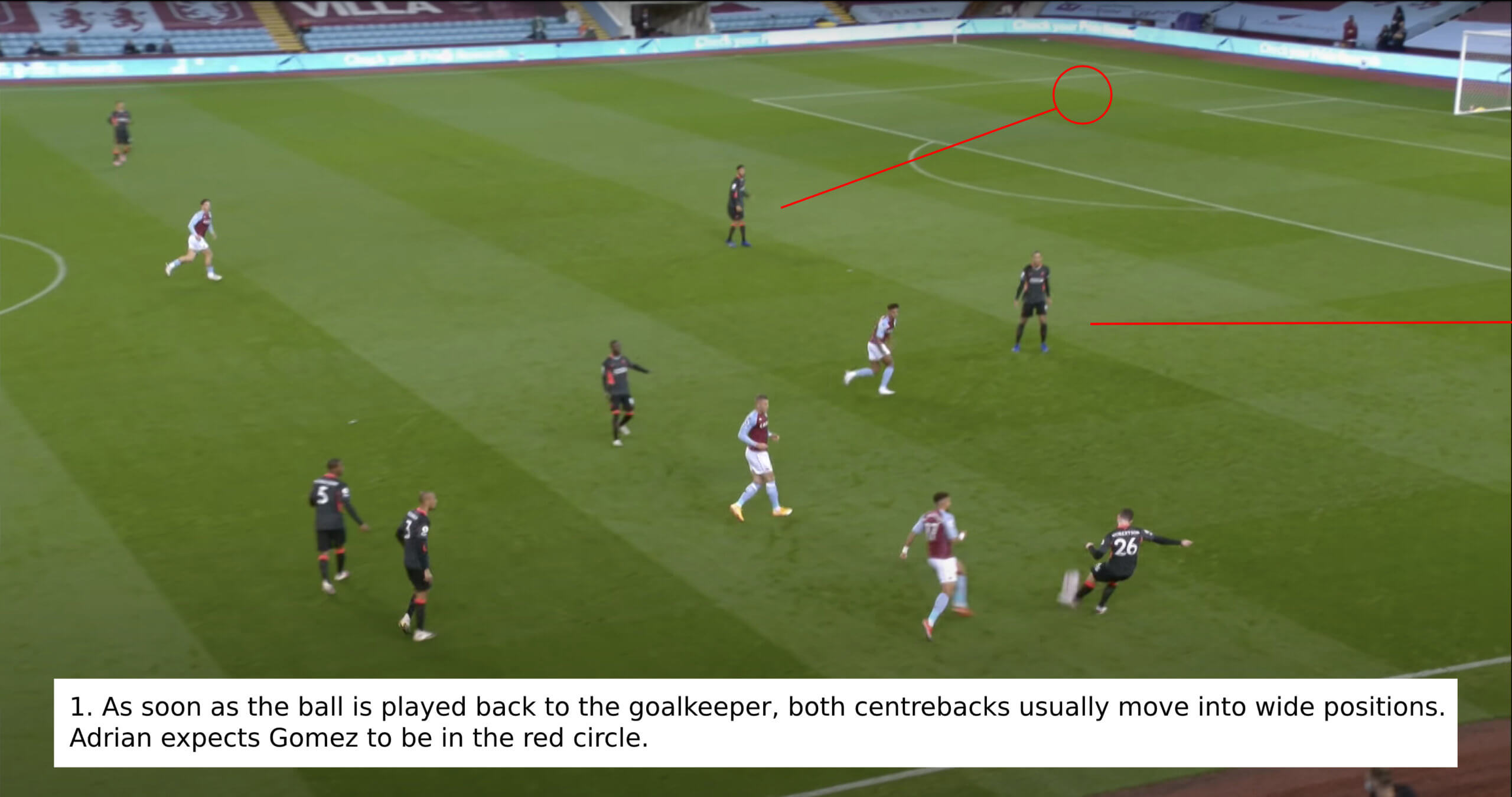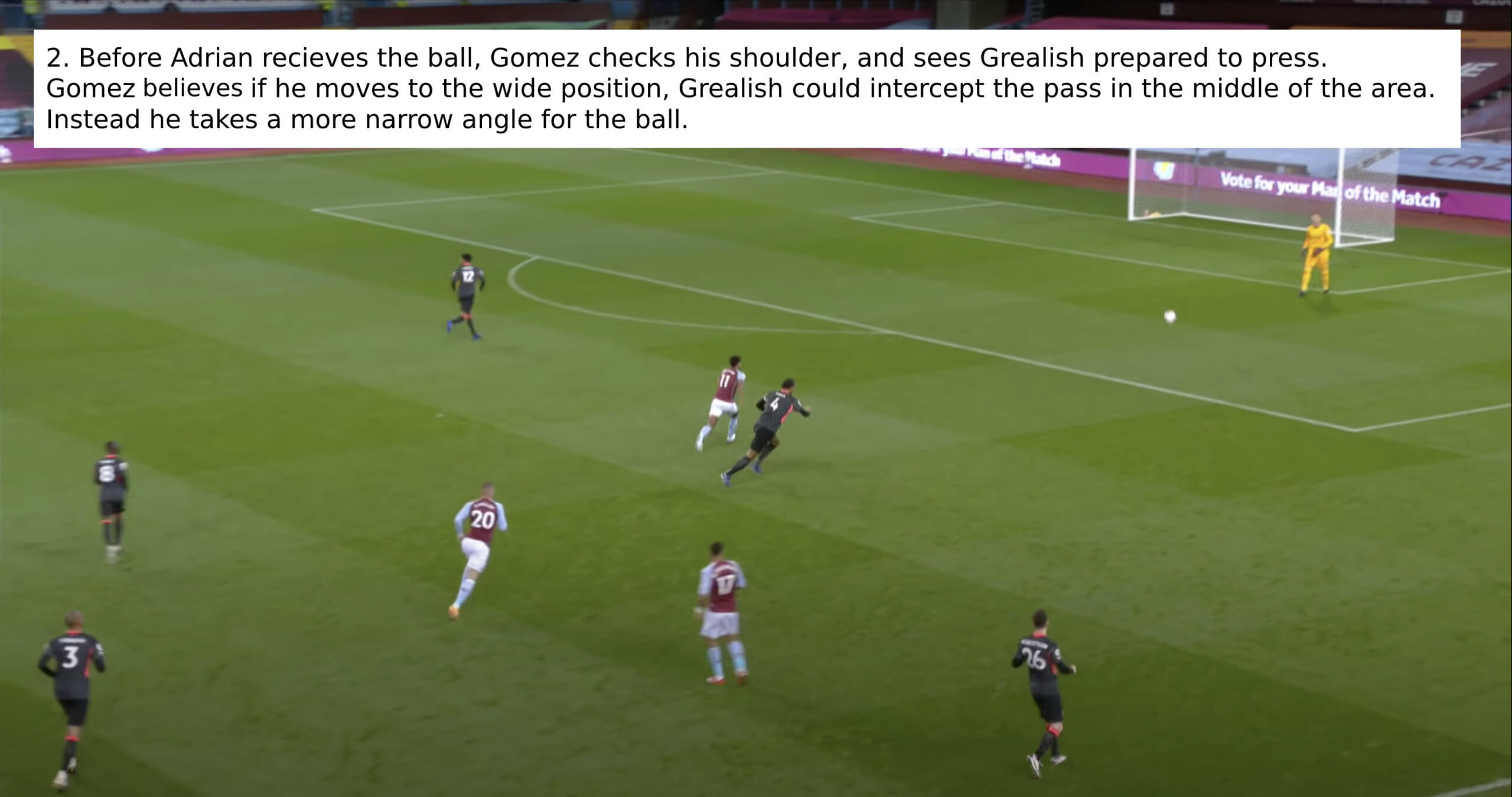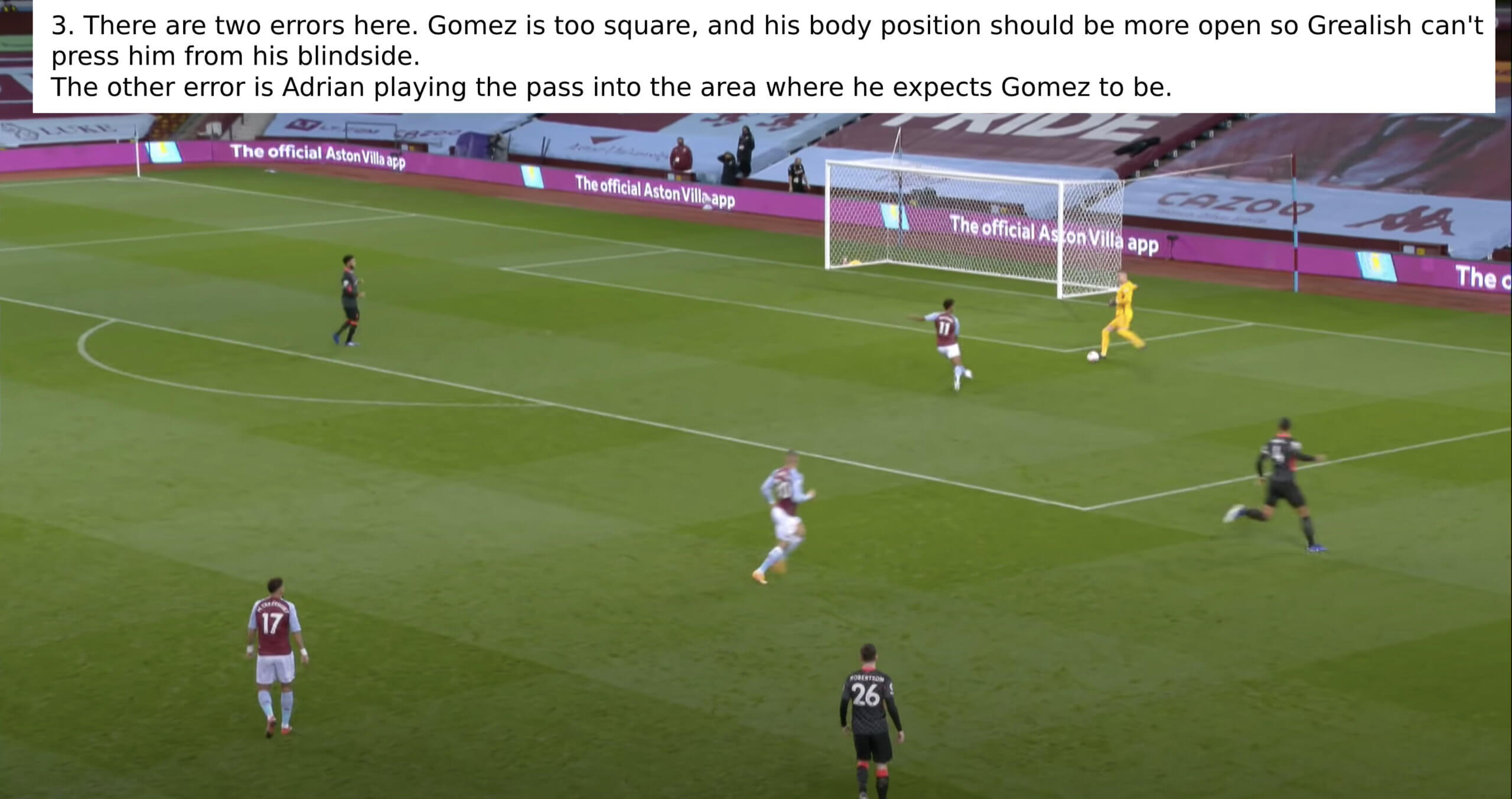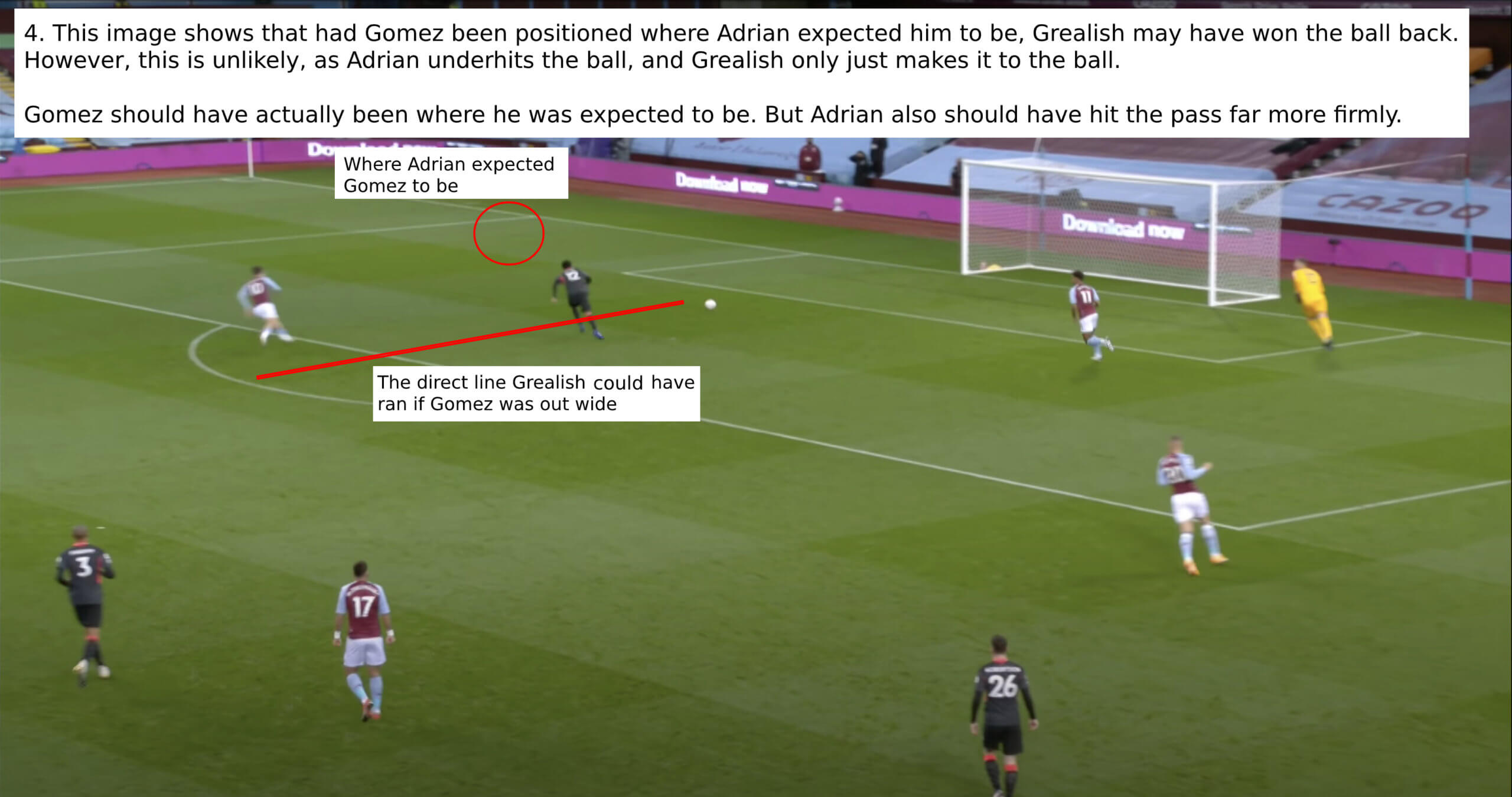 What followed from here was an immediate lack of ball pressure, by Gomez in this instance, on Grealish.
In this one goal, we have the two elements that can completely describe Liverpool's performance on Sunday evening: individual errors and a lack of ball pressure.
Aston Villa's midfield, with Barkley, McGinn and Luiz was, on paper, not particularly well balanced. McGinn took a deeper position than usual, but still contributed when Villa were going forward. The issue though was not that Villa's midfield was imbalanced, but Liverpool did nothing to expose this imbalance. Rather Liverpool actually allowed it to thrive.
Liverpool's midfield positioning and spacing between themselves and the defence was terrible. The side was not at all prepared for second balls, as the team was spread too disparately at times, or too concentrated in particular areas at others. Consequently, the side was ill-prepared to press or counterpress. Initially, for the opening five minutes, the Liverpool defence was too far apart from the midfield, and the area between them was too great. As a result, the defence pushed up higher in an attempt to minimise that area between defence and midfield, in the hope of compacting the pitch.
Aston Villa's second goal saw a smart but not particularly innovative move. Barkley occupied Wijnaldum, whilst Fabinho attempted to apply ball pressure to Grealish. Alexander-Arnold seemingly spotted a pressing opportunity and moved up, leaving Watkins who had made a run from a deeper position – a common feature of Villa's attempt to beat Liverpool's defensive line. This error by Alexander-Arnold, and then the error by Gomez who allowed Watkins to come inside onto his stronger foot in a more threatening area of the area cost Liverpool, who were then 2-0 down and forced into taking more risks in order to chase the game.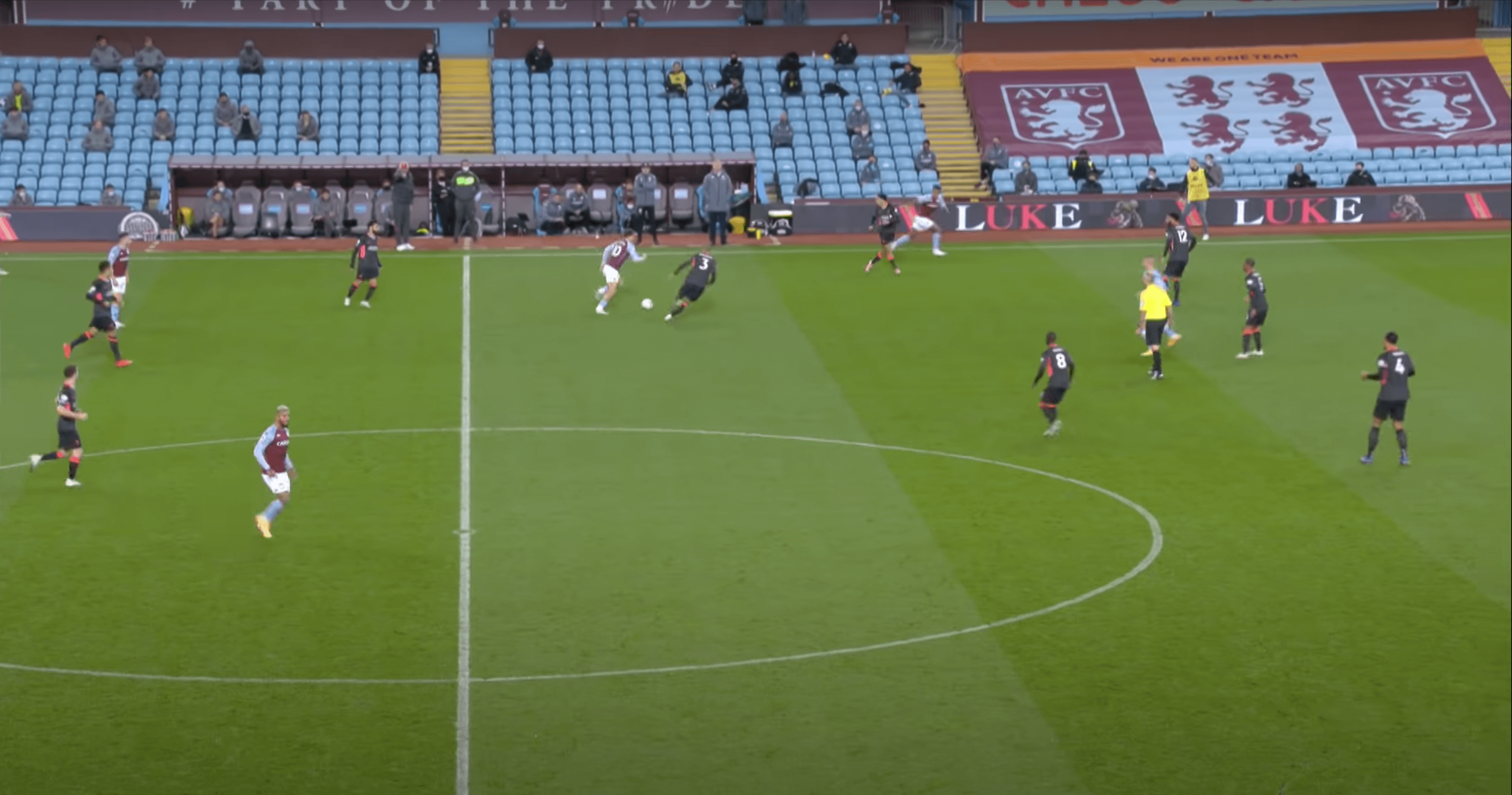 Gamestate, that is the state of leading, behind behind or level, played a significant role in this match, but not a principal role.
Liverpool being behind did lead the defensive line to push up higher, but this in itself is not problematic, and is symptomatic and typical of Liverpool going behind in a match, indeed, it is a normal response. Whether the defensive line pushed up too much is a question worth posing, but far more important of a question is considering how and why this high defensive line was able to be exposed, when usually it isn't.
This stems from the lack of ball pressure mentioned earlier. Jack Grealish is one of the most progressive players in the league, especially as a dribbler but also as a passer. Most teams acknowledge this and typically foul him or apply pressure to him. Liverpool did not do either, nor did they stem the flow of passes into him. In terms of volume, Grealish was the most involved Villa player, with 28 successful passes from an attempted 36. Barkley was the second most involved with 26 from 32, and Trezeguet was the third, with 20 from 25. Ollie Watkins was the fifth most involved Villa player in successful passes with 15 from 24 attempts. Despite Villa only making 194 passes over the game, just shy of 30 per cent were made in the final third.
A significant number were long passes from deep, (see StatsZone graphic below). But the sheer volume speaks to the ability of Aston Villa players having time and space to pick the ball up, look forward and play a pass in behind without any ball pressure to force them to do otherwise.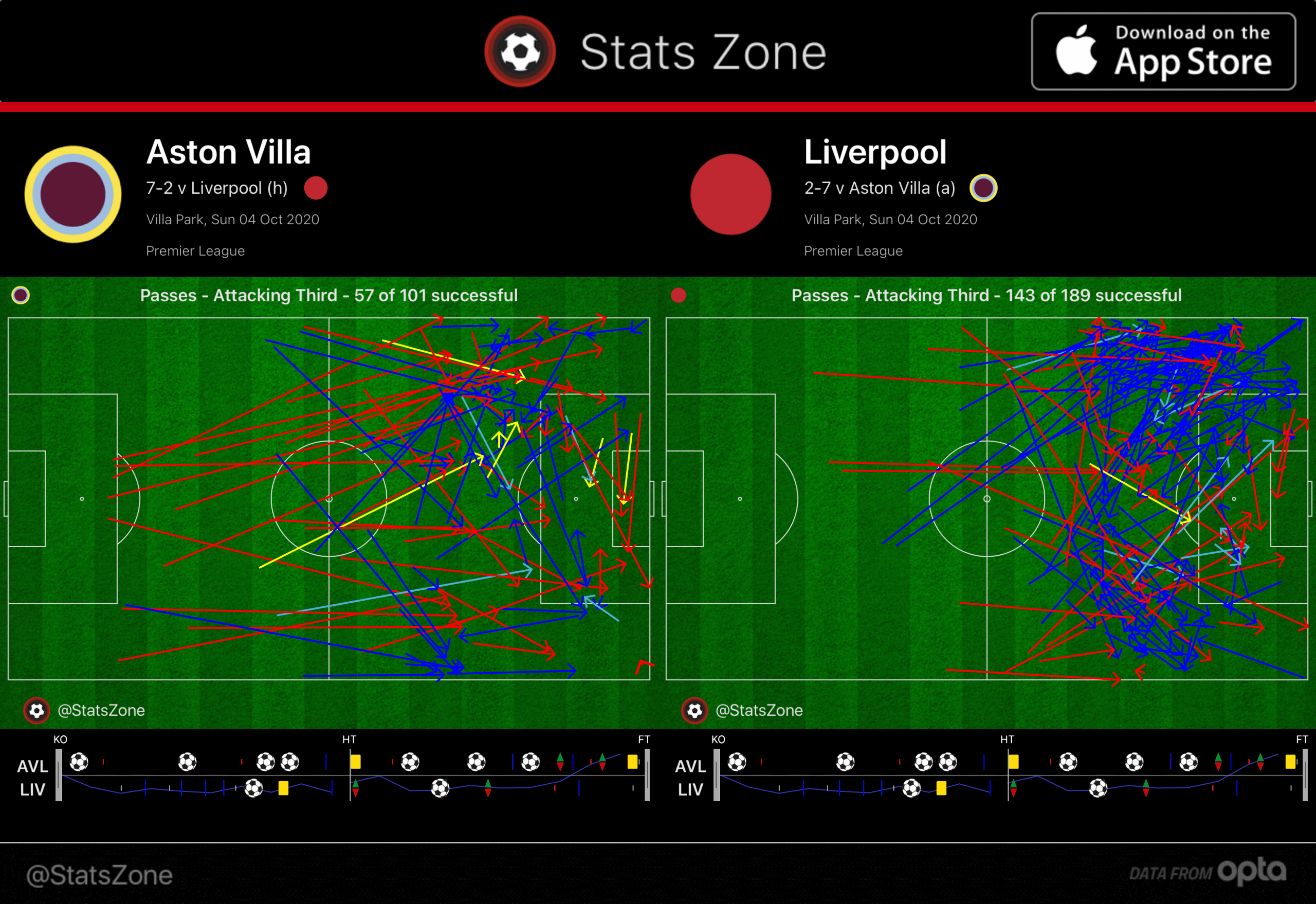 Liverpool were bombarded with balls in behind that allowed the Villa players to generate one on one opportunities, and attack the huge amount of space in behind. Alisson is one of the best sweepers in the league, and one of the most proactive goalkeepers when coming off his line. So when balls are played in behind, he is usually pushing up ready to intercept the pass, or at least compact the space. Adrian though is one of the least proactive goalkeepers in the league when it comes to advancing out of the area, and only once in the game did he come to intercept a ball played in behind. This, combined with the lack of ball pressure from the forwards and midfield left the back line helplessly exposed.
This was not all though from an off-ball perspective. Liverpool made a number of errors in one on one situations, and the deflected goals, whilst to some degree unlucky, reflect upon that.
Salah, initially positioned out wide on the left, scored to make the game 2-1, after some promising build up on the left side as Keïta, Robertson and Jota combined to create an overload, and came into the central area on a few occasions. But his efforts counted for little, as a deflected McGinn effort made the game 3-1.
That's awful defending from #vanDijk it's my absolute pet hate as a GK.

He walks out as the ball is cleared & isn't on his toes, then he doesn't even try to reposition his feet in order to get a solid block on the ball & he just lets it flick off his foot into the net.#AVLLIV pic.twitter.com/2FZTVmxC30

— John Harrison (@Jhdharrison1) October 4, 2020
Following this, Salah moved inside to offer a more direct goal threat, and despite the poorly positioned midfield and lack of pressing, Liverpool managed to create three Big Chances in the first half. Indicating that whilst the off-ball work was dreadful, the work with the ball was promising at times, and probably deserved to be rewarded. A poor individual performance from Firmino proved costly though as those chances and other promising breaks went to waste.
Villa's fourth, and perhaps the final nail in the hopes of a Liverpool comeback, came as Gomez made another mistake, failing to track the man on the outside, with him able to bring all three Villa players onside.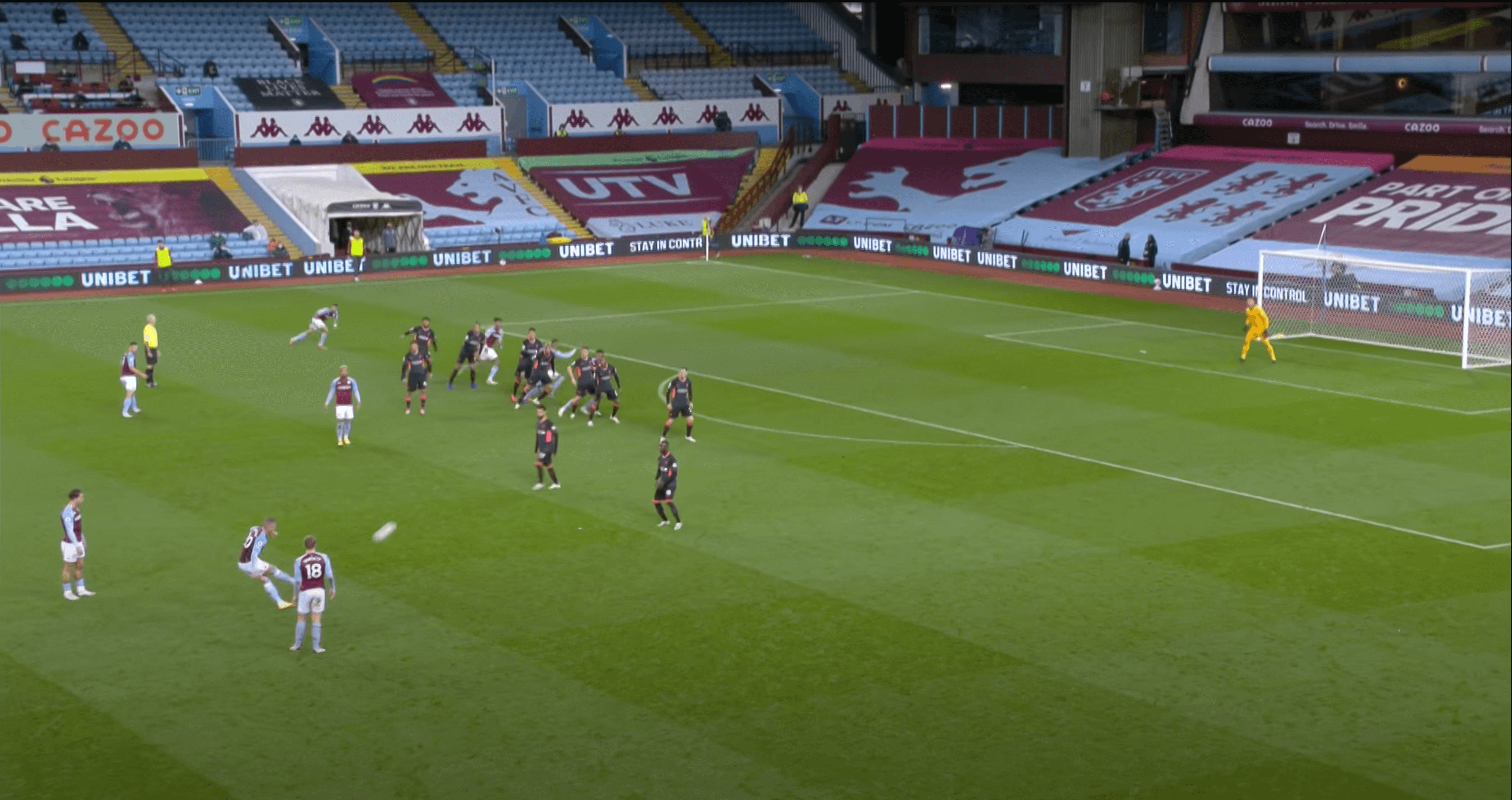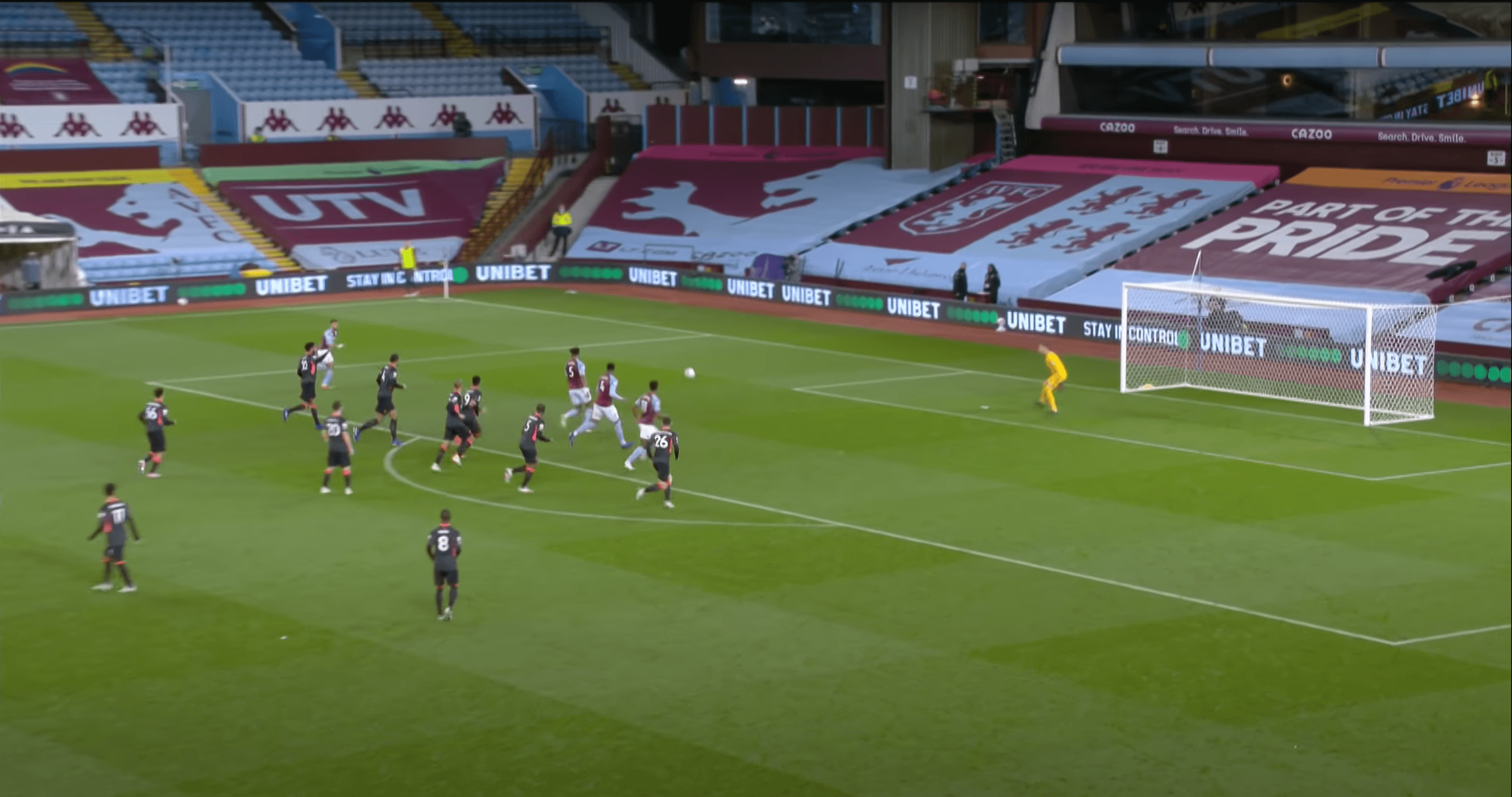 As if the Liverpool game plan had not gone with the wind, this moment sealed it. Liverpool needed three goals. As the second half started, there was one clear objective.
Yet the same basic, fundamental errors persisted.
Gomez, who appeared to have lost his head, made a poor pass into Wijnaldum which was intercepted. Following this Barkley fed the ball into Grealish, who returned the ball to him.
This was not a goal born of a tactical masterstroke, it was a defender making a poor pass, followed by an inexcusable and appaling lack of ball pressure from Alexander-Arnold and Gomez.
Gomez should move up immediately. Realising this, Alexander-Arnold reacts, but that split second delay is too much and instead of smothering the shot, or discouraging it, the shot takes a wicked deflection looping over Adrian. The angle of the shot is unfortunate, but the situation was not. It was entirely preventable, and needed only the most basic of defensive actions to prevent it.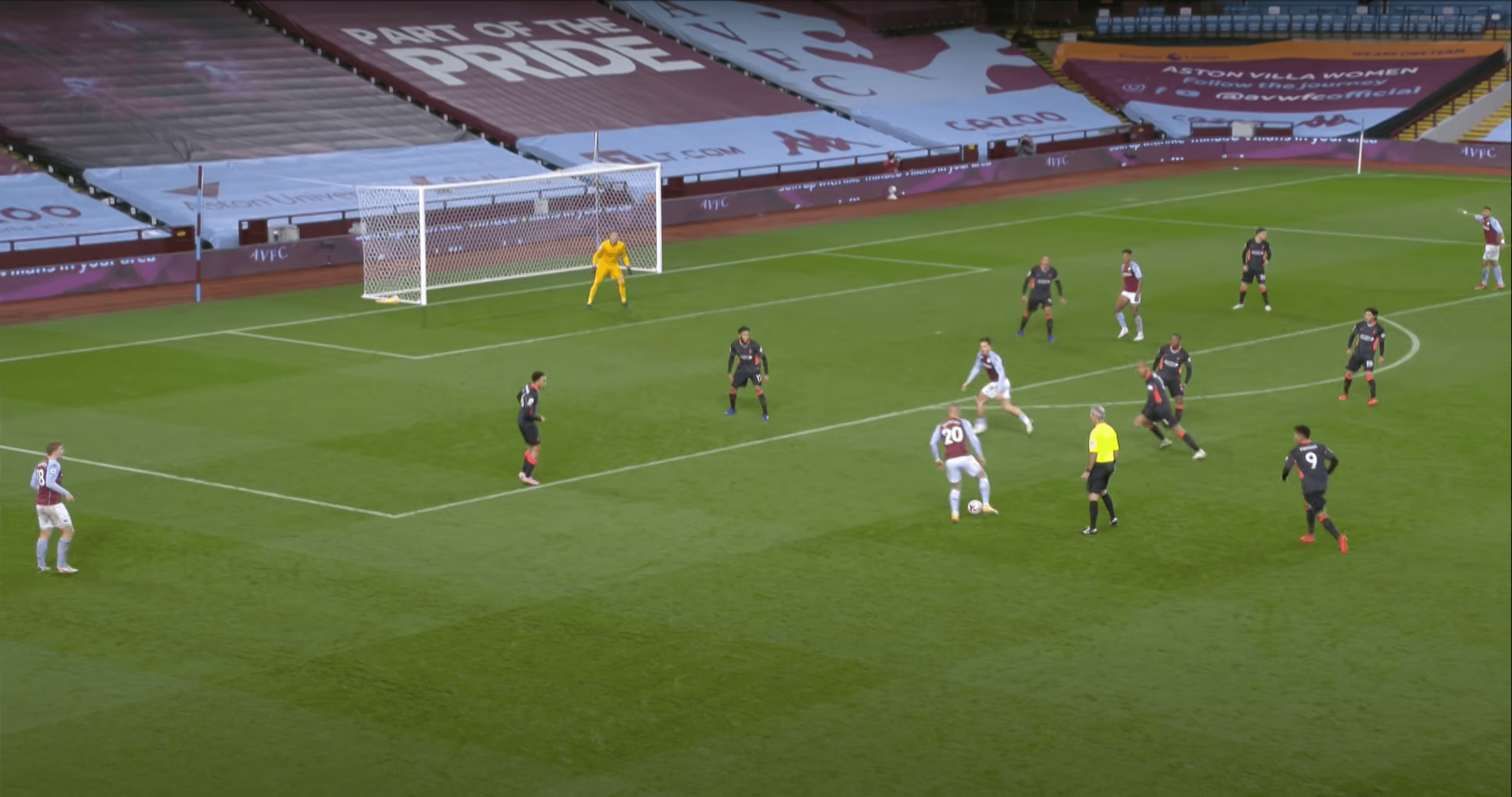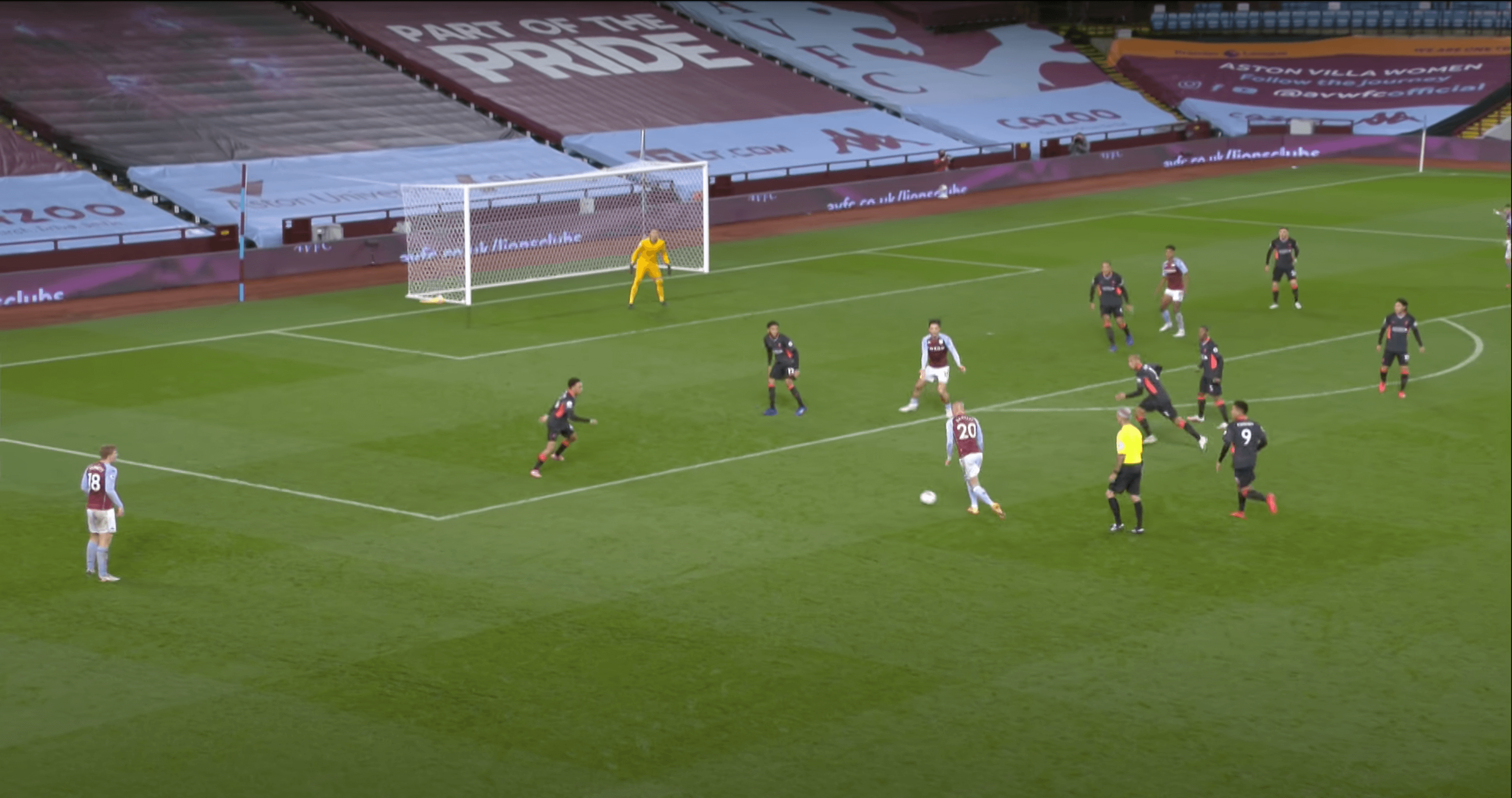 Salah's second goal was precisely what Liverpool would have wanted and expected in the game. Catching Villa in transition, moving the ball vertically rapidly, and exposing Mings in a one on one. Across the match it was clear that Salah did his job, so too Robertson, but whether anyone else in the side can say the same is very much doubtable.
Villa's 6th (SIXTH) goal came from another entirely preventable situation. With Fabinho moved to centreback, Wijnaldum should have filled in as the six, and when he was out of position, either Jones or Minamino should have moved across. In this instance, Firmino makes a bad touch, and tracks across the field where he loses the ball, and Liverpool are in transition. There is no protection though, or counterpress, as the back four recede as Watkins advances. Another deflected shot finds the back of the net, but Liverpool, through disastrous decision making and completely uncharacteristic defensive/off-ball work had conceded a sixth.
The seventh *sighs*, is more of the same. Villa regularly employed runs from deep during the match and Liverpool failed to deal with them, because there was no pressure on the passer. In this case, Grealish was not even running from deep, rather he was positioned outside of Alexander-Arnold.
Watkins wins an uncontested second header, and plays it to the unmarked McGinn. Liverpool are completely and totally unprepared for transition, with no protection at all in the central area. There is no way Klopp would ever instruct his players to do this, so the issue is why the players completely deserted the principles that have underpinned the past four seasons, and to that I have no answer.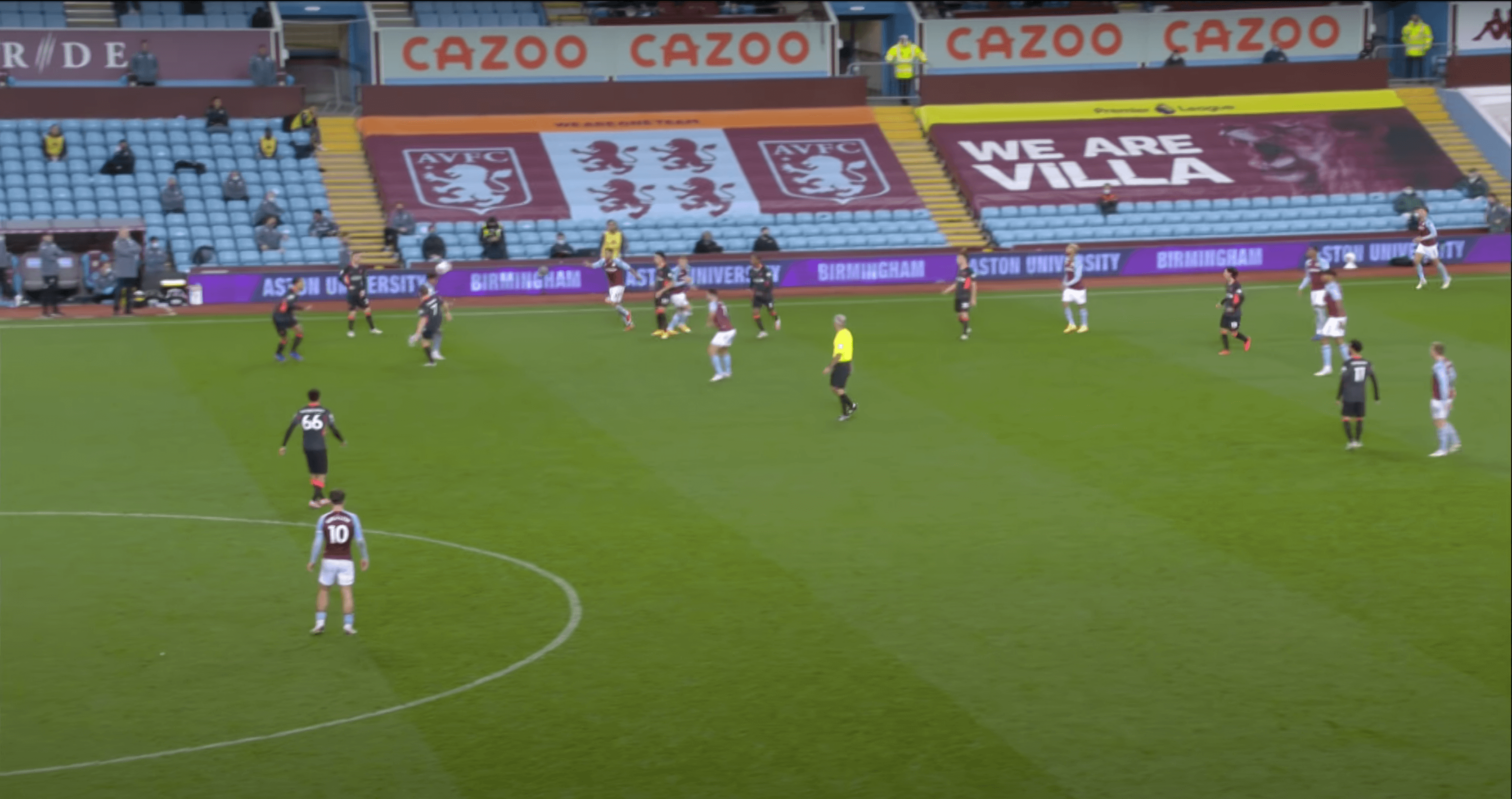 The shot itself is very much saveable, but Adrian has done himself no favours at all by exposing his near post in the same manner he did against Morata, in the 3-2 home defeat to Atletico Madrid.
In fairness to Adrian, he did make a strong one on one save in this game too, but the chances themselves are unimportant, as it is the way they are created which is most important from a tactical perspective. And that, and everything bad from this game, stemmed from a lack of ball pressure, positioning and awareness across the pitch.
This was the worst off-ball performance that I have ever seen from Klopp's Liverpool. Even when the side lost 4-0 and 5-0 at the Etihad, there were a number of positives in the way the side played, and some unfortunate defending or individual errors that cost the team. This was a compendium of both individual errors and team errors in terms of positioning, communication, and responsibility. The side abdicated all pressing responsibility and any semblance of compactness.
Yes, Liverpool did make enough chances to have scored 3 or 4. Liverpool should have had a penalty. Aston Villa were fortunate 3 of their deflections went in. But despite all of this, Liverpool were absolutely awful, and deserved to lose.
In the second half, Liverpool pushed up far too high. This overexuberance to push up should have been addressed by Van Dijk. It was clear Villa were running from deep and timing their runs extremely well to break beyond the Liverpool defensive line at pace, leaving the Liverpool defenders unable to track them. Once it was clear pushing up to compact the game was not working as there was no ball pressure, the side should have dropped off and remained compact in a deeper area. Instead, the team persisted with the most maniacal tactical decision of the season.
After two of the best ever pressing performances Liverpool have produced, against Chelsea and then Arsenal, Liverpool produced the worst one possible, and the shocking thing is, the scoreline could have been even worse. This looks fixable from a tactical sense. Liverpool usually deal with deep runners, and can track them without a problem. Liverpool usually are proficient at defending set pieces. Liverpool usually don't allow Ross Barkley to run through the heart of the pitch unopposed. Liverpool usually press(!).
I do not expect this to be a theme going forward, if it is, there are grave concerns about the state of the squad and team, but given the evidence of the last few seasons, perhaps it's worth considering this an aberration. What is more concerning though is the lack of steel and composure shown by Liverpool's players. When put under the cosh they crumbled. Salah and Robertson showed resolve, so too Fabinho. But the rest of the side have much to answer for. For supposed mentality monsters, the majority of the team pathetically gave up and showed little mental resolve or concentration. That is far more concerning than the tactical mistakes that we've looked at.