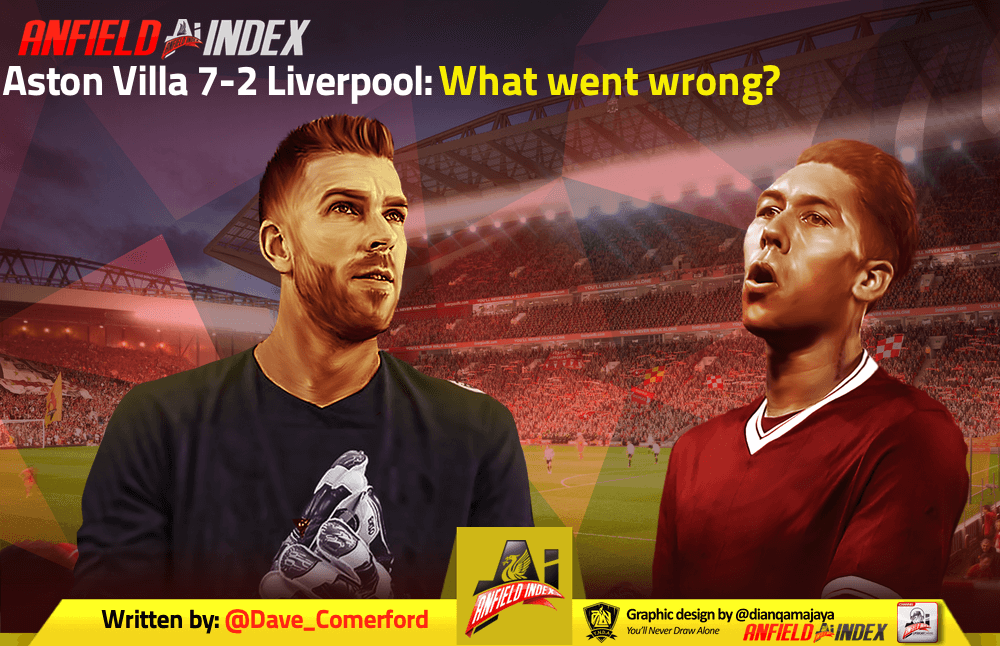 Aston Villa 7-2 Liverpool: What went wrong?
There was no better encapsulation of my feelings towards last night's performance than the Anfield Wrap's half-time Instagram post – 'Fuck off Liverpool'.
At that point, there were still three more Villa goals to come, delivering the kind of result that might leave you queasy and anxious for much of the inexplicably-timed international break.
Even in the apocalyptic context of 2020, this does not mark the end of the world. It is three dropped points, albeit in a fashion so humiliating it feels like an awful lot more. But Liverpool's principle title rivals have already slipped-up and a Merseyside derby victory in a fortnight's time would dispel memories of Sunday.

The concern, I suppose, lies in just how beatable the Reds were at Villa Park. This was their biggest display of vulnerability since they re-established themselves as a footballing force. And now opponents will relish facing them.
The defence wilts
Over the off-season, I made an effort to improve my tactical awareness. That involved reading cost-benefit analyses of the 'high line', an integral feature of many elite coaches' gameplans nowadays. The advantage of a well-executed high-line, it was explained to me, is that you can compress the playing area and suffocate the opposition. Liverpool have managed that time and again, arguably as recently as the Arsenal game, and perhaps not received due recognition; we prefer to talk about the high-line when it doesn't work. And this was a remarkably clear illustration of the associated risks.
If your pressing is half-hearted or scattered, opposition players will have time to lift their heads up and arrow passes to runners in-behind your defence. When the distributors pick up the ball, the frontline have gone. In the event of a failed press, the offside trap relies on total cohesion. Liverpool paid the price for failure on both counts. The lack of organisation was alarming, particularly from this almighty collective.
The problems, of course, were also individual. There's no point laying into Adrian here. The grim reality is that he'll face so much abuse before the Merseyside Derby that it'll be a miracle if there are no jitters at Goodison. The first goal was plainly disastrous, but also a proven occupational hazard of playing out from the back. The greater issue was and is that faith in the goalkeeper is demonstrably minimal, and that created the kind of atmosphere that enveloped the backline in the Loris Karius and Simon Mignolet days. And we could have another month of this.
Meanwhile, Joe Gomez struggled so much that it verged on painful to watch. He had been very impressive against Arsenal but you wonder how much this error-strewn display will set him back. This is not the monstrous Gomez of 2018/19. There is a recurring pattern of Liverpool conceding after a player cuts inside from the right flank. For that, Trent Alexander-Arnold also bears some culpability.
It did also fall for Villa
Maybe this was also a demonstration of how spectacularly things can get out of hand on a football pitch when misfortune repeatedly strikes. It felt as if Liverpool were using up plenty of their seasonal allocation of bad luck.
I'm not brave enough to claim that the denial of an obvious penalty early was the decisive moment. Instead, I'm thinking of the three heavily-deflected goals which turned a shocking scoreline into an embarrassing one.
Jurgen Klopp suggested these may have been the result of half-hearted attempts to block the shot. For me, though, it's possible to play really badly whilst also falling victim to some wretched luck.
We needed our captain
I thought about reflecting on our missed chances as the next point but after a five-goal defeat that seems somewhat absurd. From Liverpool's meek demeanor it was obvious that they were never going to win the game.
Instead, let's talk about the absence of the captain. First of all, I'm not sure why he was on the bench if he wasn't fit to play. And if he was fit, it's pretty baffling that he didn't come on in an attempt to impose some sense of order.
What impact would Henderson have had? We know he has a rocket-up-arses style of vocal leadership on the pitch. I believe Liverpool would have been more tenacious in their press, more alert in their defending and more astute in their game-management with Henderson out there. He could have acted as the rudder to the ship. It was a ship that was clearly-rocked by a disrupted build-up, with Mane's positive test inducing a COVID scare before Alisson's nasty training-ground injury.
The Reds needed to strike first after half-time and when they didn't, it should have been an exercise in damage limitation. Jamie Carragher suggested as much in commentary. Accept that you're beaten – you can't always produce heroic fightbacks – maybe try and snatch another goal to spare some blushes and, above all, drop off. There was no in-game learning from Liverpool.
This was a night when we needed our captain. Alisson and Mane were obviously missed as well, but when it's an issue of attitude you always look first and foremost to your leader.
Credit where it's due
Amidst all the post-mortems, it is easy to forget humility. Aston Villa, rejuvenated by their stirring survival and excellent recruitment, were outstanding. Dean Smith saw gaping holes in Liverpool's defensive mechanisms and exploited them to devastating effect.
I believe it's telling that Liverpool have brushed aside Chelsea and Arsenal but found life so difficult against Leeds and Aston Villa. The league is so strong this year, partly explaining the spate of extraordinary results.
The title and top-four chasers are going to drop more points, and their fate will largely be determined by how they respond to setbacks. Up to now, resilience has been our greatest asset.
Only seven days ago, Liverpool showed us how good they can be. On Sunday, how bad.
Klopp will only have two training sessions when the players reconvene to hammer home the tactical lessons and restore total belief. It is a daunting task. But he is the best manager in the world for a reason.