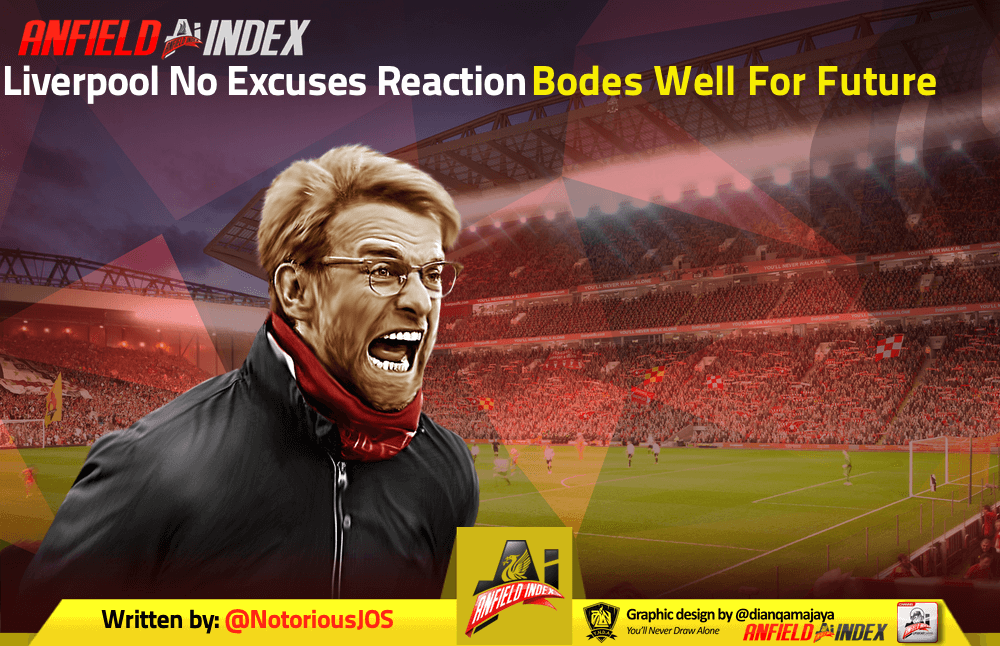 Liverpool No Excuses Reaction Bodes Well For Future
Rooting through the charred remains of Liverpool's 7-2 defeat to Aston Villa in search of positives is an entirely difficult pursuit.
To concede seven goals — and, on balance, it could have been even more — away to a team who just about managed to survive in the Premier League last season was arguably the Reds' worst result in Premier League history. Yes, worse than the 6-1 defeat away to Stoke City in 2015.
But in the reaction to the defeat from Virgil van Dijk and Jurgen Klopp there were green shoots of positivity among the smouldering mess of a result.
Speaking to the media after the game, neither men — two of the chief architects of Liverpool's recent success — pulled any punches when describing the teams performance and took full responsibility for the loss.
van Dijk, whose performance dipped well below his usual sky scraping standard, praised Aston Villa for their showing, but admitted the Reds were poor from the very off.
"It's hard to lose the way we lost tonight. First and foremost well done to Aston Villa, we have to give them the credit they deserve. It was one of those performances where we weren't 100% at it from start to finish," said the defender.
Harking back to Roy Keane's comments about Liverpool being sloppy in last weeks defeat of Arsenal, Klopp admitted that his team were not only sloppy but bad.
"We lost the plot. Last week, Mr (Roy) Keane said we were sloppy. Tonight we were not sloppy, we were just bad. We have to admit that. I would love to have a training session tomorrow morning and Tuesday and speak about the things and work on it. But the boys go to the national team so I hope they all come back healthy," the German told Sky Sports.
Contrast the reaction from the Champions to their heavy defeat to that of the Manchester City players to their 5-2 reversal at home to Leicester City last weekend and you see a massive chasm in the class and respect shown to opponents.
Rodri, the Spanish midfielder, personified this fragile mentality when he spoke to Sky Sports after the Foxes win.
"Football has not been fair with us," he said. "We deserved many things. We played, we tried. Only with a few things they come here, do two or three things and beat us. I don't know if it's our fault or their strength.
"For me, the learning from this match is to score one goal then do a hundred passes at the back – that's it, then game over. But we try and go for the second, the third, that makes us lose balls and concede," the former Atletico Madrid player said.
"For me, they're lucky. With two or three things they win this game. It's OK and we have to congratulate them, but it's not the way I like to play."
Liverpool's mentality — in stark contrast to that displayed at The Etihad — would fill you with optimism that the Villa defeat was a freak, a once-0ff and that the players, jolted into a reaction, will react appropriately.
After all, this is the bones of a squad who have dealt with adversity brilliant in the last two seasons.
After losing the 2018 Champions League final in the most heartbreaking fashion, Liverpool — boosted by the arrivals of Alisson and Fabinho — went one better the next season and won the European Cup in 2019.
In the 2018/2019, Premier League campaign, the Reds — despite registering the third-highest points total in English football history — lost out on the title by one point to Manchester City.
Such a scenario could derail many teams, causing them to mentally fall apart, but Liverpool — even with Adrian arriving as the only senior signing that summer — are made of sterner stuff and they romped home to their first title in 30 years, winning the league by a huge margin.
The Villa defeat was embarrassing and no bones should be made about that, but with a squad of men — in the image of Klopp — of such a mental calibre it will be a shock that will cause of a positive reaction; history tells us so.