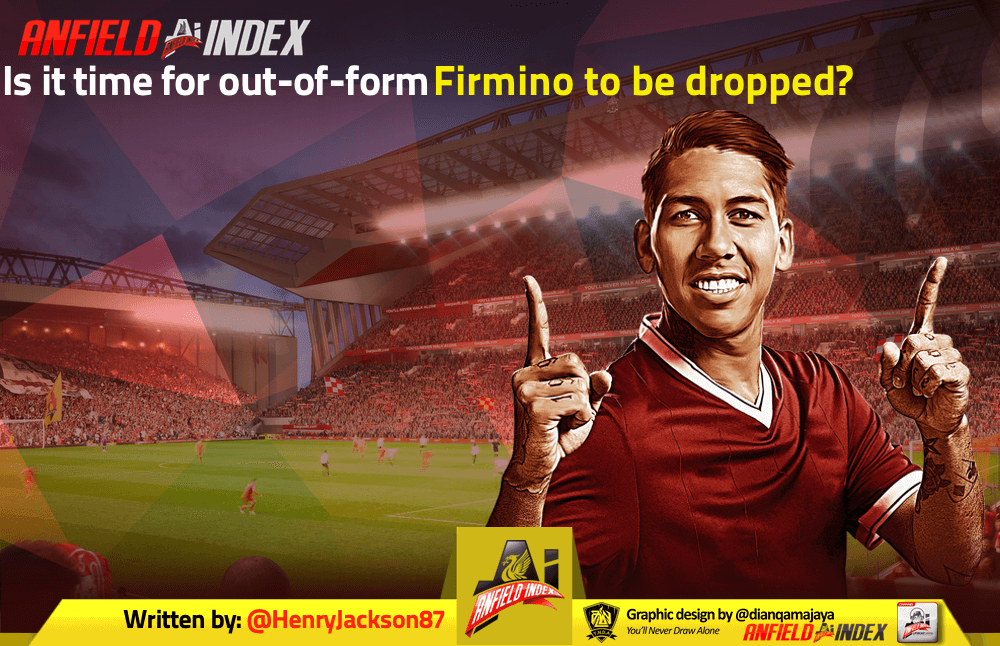 Is it time for out-of-form Firmino to be dropped?
Some footballers can go through slumps in form and still look something close to their best, but others are the polar opposite, turning into pale imitations of themselves.

Unfortunately, Roberto Firmino belongs in the latter category.
The Brazilian has been a sensational performer for Liverpool over the past five years, overcoming Brendan Rodgers' bizarre use of him to become one of the world's leading attackers.

When Firmino has been on-song, he has been the epitome of everything great about this Reds side under Jurgen Klopp, combining selflessness and intelligence off the ball with South American flair on it.
Without him, and with Liverpool playing a more orthodox striker, Mo Salah and Sadio Mane would not be the players they have become and the Reds would not have achieved such great success.
Rival supporters will never fully appreciate Firmino, but he has been one of the poster boys of the Klopp era, and Liverpool's performances are so often defined by his own.
For all his mastery, though, we haven't seen the best of him for quite some time, and in many ways, his display against Aston Villa on Sunday was his nadir.
Liverpool's 7-2 defeat is up there with the most bizarre and humiliating losses in decades, and on a day when several players threw in horror-show performances, Firmino was among the worst of them.
Everything fell apart around the 29-year-old, whereas when he is in full flow, everything goes through him in effortlessly silky fashion.
His usual deft touch was like a trampoline, his work-rate wasn't at the level it can be and his passing was so wayward that it actually became painful to watch.
It was a relief to see Firmino put out of his misery and replaced in the second half, but it was also sad to see the look on his face as he trudged off. He knows he is struggling and this isn't a short-term issue anymore.
We haven't seen the best of him for the whole of 2020, and when we look back on the unforgettable title-winning season that has just taken place, he won't be remembered as one of the real star men.
There were some huge goals, without question – the dramatic late winners at Crystal Palace and Wolves stand out – and some strong performances, but as the months drifted by, Firmino's influence waned.
While goals certainly don't define his game, it is still alarming that he has only found the net four times this calendar year, despite playing 28 times, and in arguably the best team in Europe.
His header against Chelsea in July was his only Premier League goal at Anfield in the entire campaign, which is scarcely believable.
Meanwhile, Salah and Mane have come flying out of the traps in front of goal again this season, already netting eight times between them, but it is no surprise that Firmino is still waiting to score. He has managed just two shots on target in open play.
Two assists have come his way, in fairness, and it would be unfair to say he hasn't contributed at all, but this is a shadow of the player we all know can be world-class both in and out of possession.
For the first time in years, there are genuine question marks surrounding Firmino's place in Liverpool's starting lineup, ahead of a huge trip to top-of-the-table Everton after the international break.
In Takumi Minamino and Diogo Jota, Klopp now has two top class backup players to call upon, should the manager feel the need to stick his striker on the substitutes' bench.
Jota could take up a left-sided role, allowing Mane to switch to the right and Salah to lead the line, or Minamino could simply come in and occupy Firmino's 'false nine' berth, providing the spark that is currently so lacking in that area.
Both Jota and Minamino look fresher and more menacing than Firmino at present, so there is a definite argument for giving one of them an opportunity to shine.
On the flip side, however, Firmino remains a wonderful footballer who is still somewhere in and around the peak of his powers. Klopp knows what a priceless footballer he has been for him and he will also have confidence in him returning to top gear again.
He just needs that one big performance in order to click back into gear and all will be forgotten – let's face it, it's not as if he hasn't had slumps in the past, only to overcome them.
For that reason, it would be a big surprise if Firmino didn't start at Goodison Park, but there is now big pressure on him. It would be just like him to go and score the winner, wouldn't it?
There have been times in the past when his place has almost been too secure for his own good, but things are different now, following the addition of Minamino and Jota.
If Firmino keeps throwing in such flat, error-strewn performances then the only solution is to drop him, but for now, he has just about enough credit in the bank to justify starting again.
Klopp surely won't put up with too many more of those Villa-esque outings, meaning Liverpool's eccentric No.9 needs to return from international duty with a spring in his step.