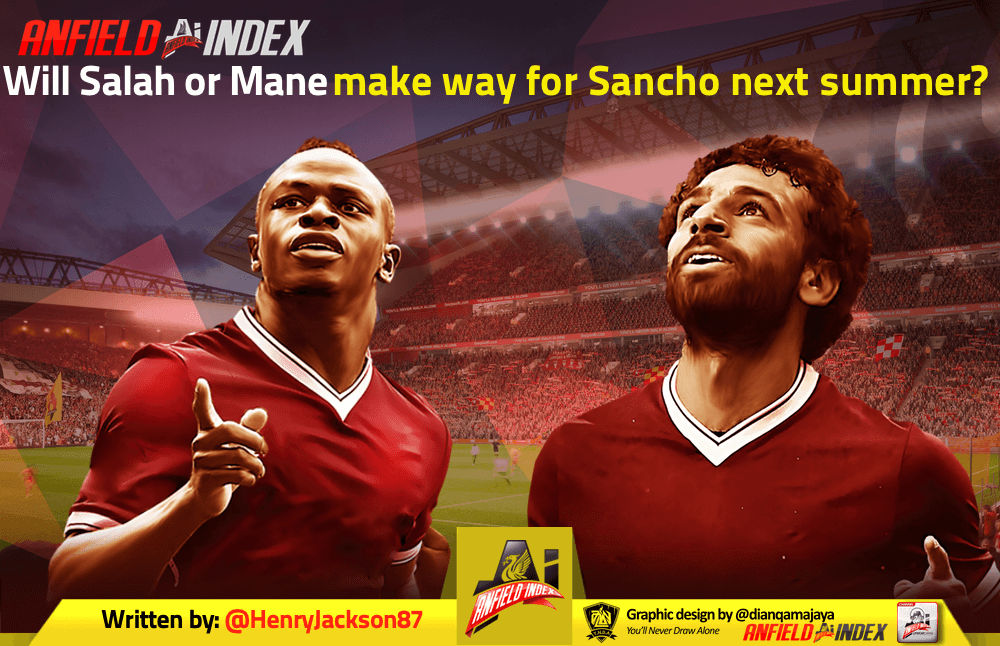 Will Salah or Mane make way for Sancho next summer?
There was a time when everything Man United did was superior to Liverpool:  winning more trophies, having a better manager and signing world-class players. Thankfully, those days are gone.
United's latest humiliation at the hands of Tottenham was great to see – until the Reds lost 7-2 a few hours later, at least – and they continue to show no sign of coming close to repeating their past glories.
Their woeful attempt to sign Jadon Sancho from Borussia Dortmund is their latest failing, refusing to pay the desired amount and showing an arrogance all along, simply assuming they would eventually get their man.

Instead, Dortmund remained stubborn and Sancho will stay put in Germany for another season, before presumably saying his goodbyes next summer.
It is now being reported that the 20-year-old is most likely to join Liverpool or Bayern Munich when that time comes, both of whom represent more exciting alternatives to United.
Jurgen Klopp is believed to have been an admirer for a while and Sancho's style of play and vast potential make him an obvious target in 2021.
There are few more ruthless attacking young players in world football, with the England international scoring 29 goals and registering 30 assists in the last two Bundesliga seasons.
Liverpool aren't made of money, however, and are notoriously savvy in the transfer market, so it is easy to envisage a situation where Sancho arrives and one of the current attackers leave, namely Mo Salah or Sadio Mane.
While this is a scenario that will irk many Reds supporters – it has already, I brought it up on Twitter! – it is one that definitely has legs.
I would love nothing more than both Salah and Mane to remain at Liverpool for years to come, right up until they drift past their peak. They have been, and continue to be, unbelievable servants, etching their name into Reds folklore and becoming two of the greatest wide players in the club's history.
By next summer, however, both Salah and Mane will be 29 years of age and arguably at the last stage of being worth an eye-watering amount of money. While it would come as a surprise, one of them may even want the challenge of earning one more big move in their prime.
Liverpool may be the best team in Europe currently, along with Bayern, but the lure of playing for Barcelona or Real Madrid will never go away, much as some may balk at that claim.
Michael Edwards is becoming increasingly renowned as the best sporting director around and the manner in which he has conducted transfer business has bordered on perfection.  He signs top players on the cheap and sells players for more than they are worth.
Edwards' moneyball approach has paid off handsomely, and while Klopp's brilliance as manager has been the inspiration behind the Reds' success, the 41-year-old has played an invaluable role in his own right.
Could he see a situation where selling Salah or Mane for upwards of £100million makes perfect sense, just before they are at risk of their value dropping? Could he then use that money to seal a move for a 21-year-old Sancho?
There is clear logic there, much as the idea of Salah or Mane no longer being at Liverpool is painful, and somewhat of a risk still, considering they could yet be at the top of their game for three of four years.
Some may wonder why the out-of-form, increasingly under-fire Roberto Firmino isn't getting a mention instead, but he wouldn't be at his teammates' level of valuation, and Sancho is predominantly a wide player.
There will be some who eye up the possibility of Salah, Mane and Sancho all being at Liverpool together, but it is hard to envisage, both financially and in terms of keeping them all happy every week.
Liverpool need to be planning for the long-term, making sure this great side doesn't slowly slip past its best with no world-class replacements on-hand to take over.
The front-three are all approaching 30, as are Virgil van Dijk, Thiago and Gini Wijnaldum, while Jordan Henderson and James Milner have already ticked past that milestone. Even Andy Robertson and Fabinho turn 27 on their next birthdays, which doesn't necessarily categorise you as a spring chicken in footballing terms.
For this reason, if signing Sancho meant sacrificing Salah or Mane, even if he still isn't quite at their level when he arrives, it could be the right thing to do. It is fully understandable why so many would be against the idea, such is the elite brilliance of the pair, but Edwards may have other ideas and it could pay off further down the line.
Diogo Jota and Takumi Minamino already look as though they are being primed to increasingly play more prominent roles, but a new-look front-three will need a genuine superstar to come in eventually, too.
Kylian Mbappe has been mooted in some quarters, and would be sensational, but it looks as though Sancho could be that man.
If it means replacing Salah or Mane, a big decision has to be made.