It's pointless to turn one player into the scapegoat for the 7-2 loss to Aston Villa. The majority of the team had arguably their worst game in a red shirt and it's a game you just have to take on the chin, safe in the knowledge Jurgen Klopp's teams always react. 
The compilation videos serve no purpose other than to antagonise. They don't explain or theorise why something might've happened and instead just show mistakes and errors. 
Adrian has been at the centre of it all recently. His Liverpool career started on a high, helping the Reds lift the Super Cup and, while he was filling in for the injured Alisson, the champions won every single Premier League game. The results may have been positive but his performances raised a few eyebrows. He was caught on the ball on numerous occasions and he did seem to gift the opposition soft goals. 

It was the same on Sunday night. A stray pass found Jack Grealish who in turn picked out Ollie Watkins and in the blink of an eye, the hosts found themselves 1-0 up. Liverpool, by their standards, imploded and with the help of three deflected goals, Villa romped to an emphatic victory. 
Afterwards, there was a clamour for the Reds to bring in a replacement goalkeeper. With Alisson sidelined and his return not yet confirmed, a reliable shot-stopper was at the forefront of everybody's mind as deadline day loomed. The champions didn't get to where they are by making knee-jerk decisions and no goalkeeper was signed. 
As we know, the eye-test can be deceived. A player can fail to impress on first viewing but statistically, they're performing well. Unfortunately for Adrian, his stats aren't great.  
Adrián doesn't do corners. pic.twitter.com/0GAkbMKCyO

— Sam McGuire (@SamMcGuire90) October 5, 2020
The graphic, via Twenty3.sport, shows that unless an effort is straight at him, the Spaniard doesn't really make many saves. In fact, of the 22 shots that have been in the corners, 15 have resulted in goals. For more context, 77% of those efforts have been goals. By comparison, only 36% of the 72 shots in those areas have beaten Alisson. 
It's no secret that the Brazilian is brilliant. But is this difference down to him being excellent or Adrian underperforming? The answer is probably somewhere in the middle. Having said that, when you watch the two closely, you can work out exactly why Alisson is making the saves that the former West Ham man isn't. 
We're entering into Gary Neville analysing Simon Mignolet territory, but the stance and the positioning of a goalkeeper are so important. In the still below, taken just prior to Watkins scoring his second, you can clearly see Adrian's shape. His feet are planted.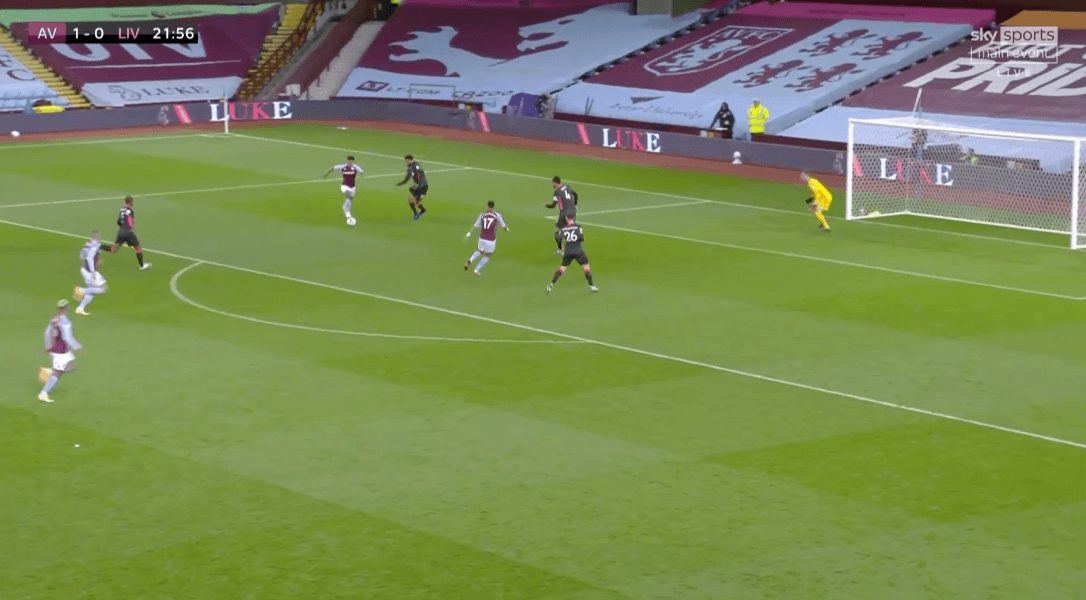 The finish is spectacular and it isn't one you'd say the keeper should do better on. But when you watch the replays from different angles, you do notice a few things. Firstly, Adrian's feet don't leave the ground. He's unable to push himself off properly as he's flat-footed initially. 
The Liverpool No.13 is actually much closer to saving this shot than you first realise and without meaning to sound too crazy, there's reason to believe Alisson would've saved it and he would've been able to react to the effort. 
As Tammy Abraham shoots, the former Roma keeper is on the balls of his feet and his stance is more upright than Adrian's. This particular effort goes low but Alisson is able to adjust quickly to palm it away.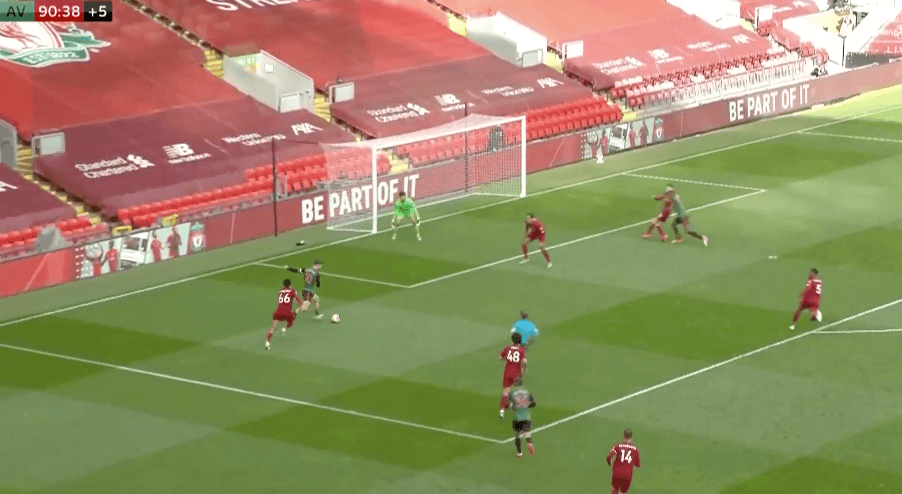 It's the same in the above screenshot taken from Liverpool's match against Villa last season. By no means does this position favour Grealish but if Alisson isn't set and ready to react, it's the sort of shot keepers struggle to get to. But, again, the Reds' No.1 is on the balls of his feet giving him the best chance to spring into the save.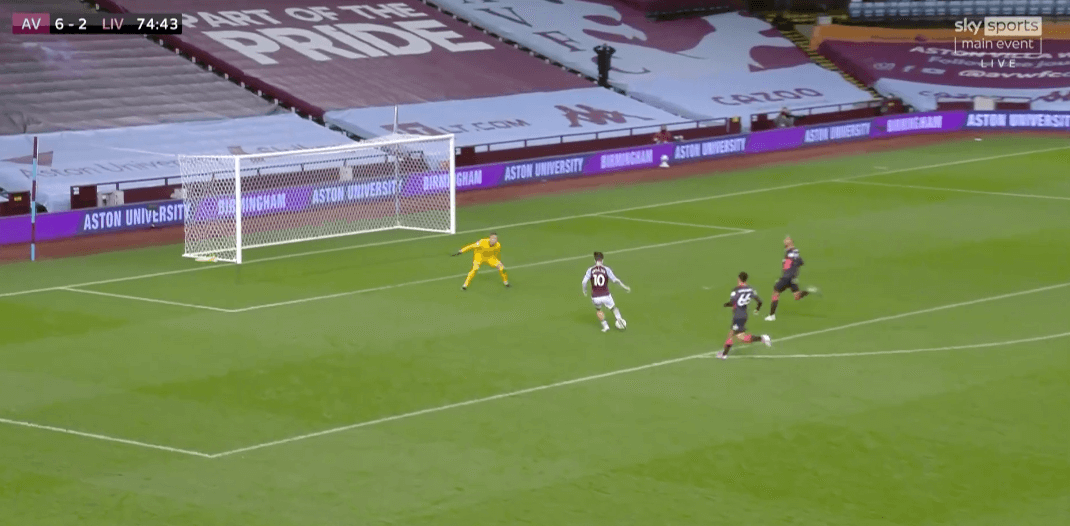 However, Adrian's flat-footedness isn't just when he's facing shots from distance. It's similar when he's one-on-one with players, too. It's why Grealish was able to score with relative ease when through on goal and he didn't even have to hit a corner. It was nearly identical to the goal Alvaro Morata scored against Liverpool. Being beaten when one-on-one isn't an issue, the problem is these players aren't having to meg Adrian or aim for the corners to beat him. It's difficult to react to shots close by when you're rooted to the spot prior to the effort.
During Alisson's absence, Liverpool will have to think of ways to minimise Adrian's exposure. It's not ideal but it might be required.