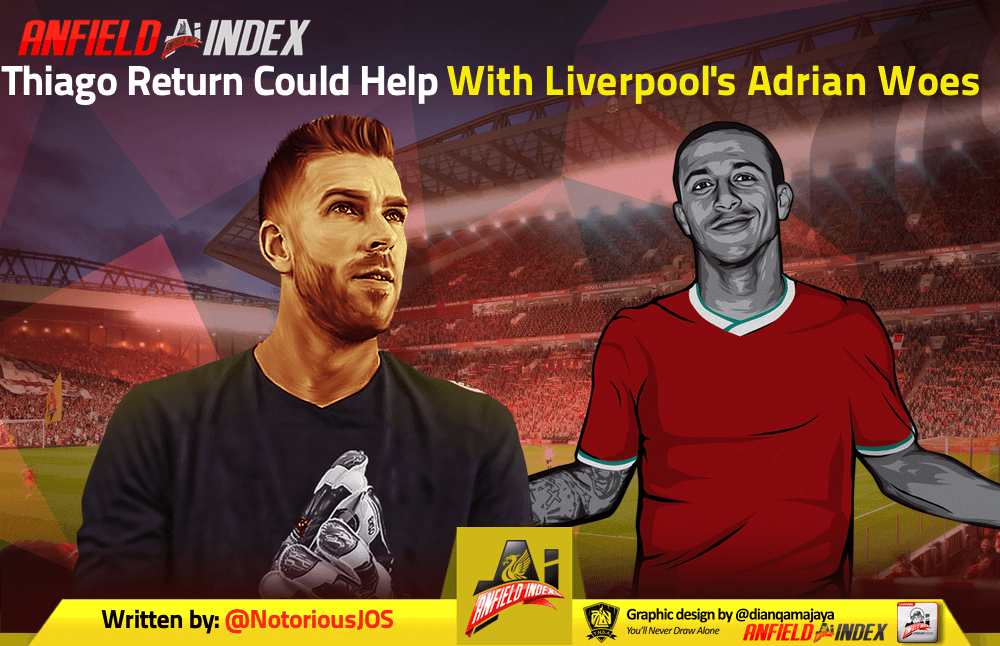 Thiago Return Could Help With Liverpool's Adrian Woes
Let's face it, with the exceptions of Diogo Jota and Mohamed Salah, no one came out of Liverpool's 7-2 mauling by Aston Villa with their reputations enhanced.
Most of the social media scorn, however, has been directed at Adrian.
The accident-prone Spanish goalkeeper played an unfortunate role in the first of Villa's avalanche of goals.
Although Joe Gomez's positioning and communication could have been better, Adrian sold his team-mate down the river with an under-hit pass to the defender in his own box.
Under pressure from Jack Grealish, Gomez coughed up possession and Ollie Watkins snatched upon the ball to give the hosts a 1-0 lead after four minutes.
While Adrian, rightly, drew the ire of the Liverpool fans — although many, like after the Champions League clash with Atletico Madrid at Anfield last March, went too far — there were other issues in the concession of this goal.
Given the Reds conceded seven(!) goals, you could forensically analyze all the defensive and organizational woes until the cows come home, but the first goal, in particular, could have been avoided if Thiago had played.
The Spanish international, who arrived from FC Bayern for £20M this summer, offers the kind of quality, midfield playmaking option that Jurgen Klopp has never previously had in his time in charge of Liverpool.
Thiago, in yet another Bundesliga winning campaign last season, received the ball successfully 96% of the time, showing his craving for the ball and his positional sense and spatial intelligence.
Perhaps if Andrew Robertson had the option of the number 6 to pass to in midfield, he would not have gone backwards to Adrian — a pass which was a touch lazy — and invited Villa to squeeze up the pitch.
Or maybe Adrian — with more options to hit — could have picked out Thiago just outside the box and the Reds could have launched another attack from deep.
As it was, though, Robertson felt he had little option — due to a static midfield, an issue which hampered the Champions, both on and off the ball, throughout the torrid 90 minutes at Villa Park — but to pass back to Adrian.
This unimaginative and overly safe use of the ball grinds Klopp's gears, as he admitted in the 2018/2019 season.
In a victory away to Leicester City, the German criticized his players for being too keen to involve Alisson in the build-up play after the Brazilian — who many Reds will still contend was fouled — conceded a goal after trying to start an attack by dribbling out of his own box.
Pressed and robbed of the ball by Kelechi Iheanacho, Leicester opened their goal-scoring account by taping into an empty net.
"It was a bit that mood in the whole team, play it back, play it back, play it back and in the end, it's the goalie. He knows it was his mistake, of course, he's man enough to get that," the former Borussia Dortmund coach told Sky Sports after Liverpool held on for a 2-1 win.
"I told him that the best game to do it was this one because we won it, so it's all fine now. We know that now we have ticked that box as well."
A goal against has several fathers, depending on how far you want to analyse it, and the midfield and their lack of movement that provided passing options, Robertson, Gomez and, clearly, Adrian were all — to varying degrees — culpable for Villa's opening goal last Sunday.
With Thiago to return soon, though, and the enhancement that will bring to Liverpool's build-up play, then the concession of similar goals — even with the hapless Adrian in goal for, at least, the next month — should be a thing of the past.