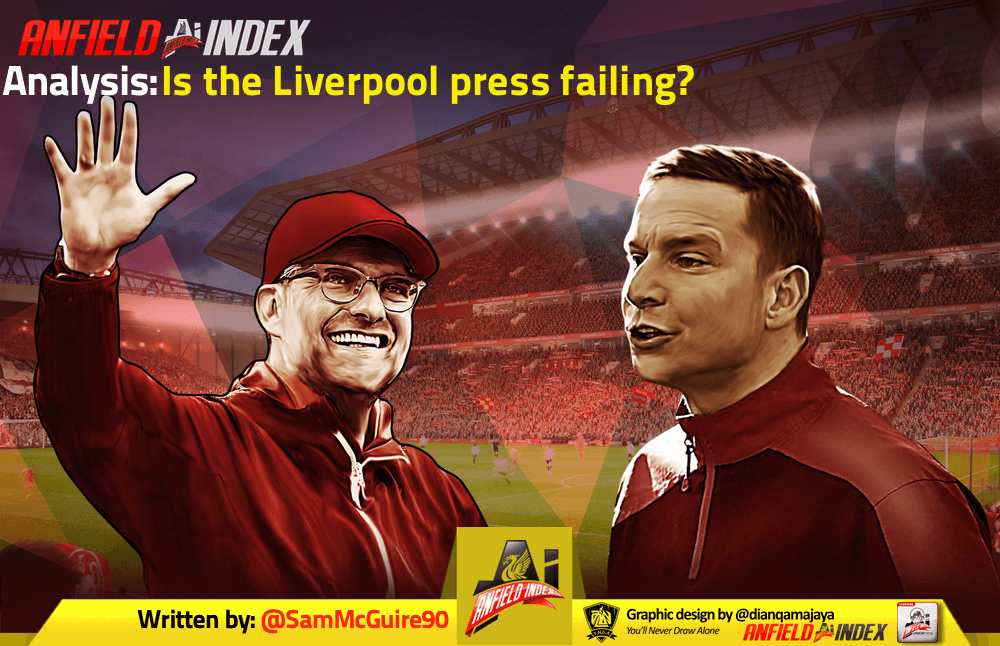 Analysis: Is the Liverpool press failing?
Liverpool's success since the appointment of Jurgen Klopp has been built around the press. Initially, it was full-throttle, relentless and tiring to watch. But as the team evolved, so did the press. Their approach was more meticulous, their approach was more intelligent and they seemed to take a more measured approach to it all.
It made sense. The Reds weren't having to press as often because they now dominated the ball. However, as soon as there was a turnover they'd hunt in packs. Their playing style morphed, too. They'd often go long and look to win the second ball, this particular tactic was built around strategically placing players in certain areas so they could pounce when required.
This season, it's been a little off. The champions bossed it against Chelsea and Arsenal but in games against Leeds United and Aston Villa, they missed a beat from time to time and the opposition exploited it. And because they're usually near flawless, it was really noticeable.
It happened in the build-up to the corner just prior to Villa's third goal on Sunday.
I've seen people blame the midfield but, in truth, it was just a bit of a mess in general, as shown in the stills above.
The first picture shows Mohamed Salah pick up the ball inside his own half. Roberto Firmino pushes into the right side to occupy the space vacated by the No.11. Naby Keita then advances a little so that the Reds have someone in the area Firmino would usually be in. This is fine and it's something the team do. The issue arises when Fabinho's pass is intercepted.
Keita and Firmino both, rightly, look to counter-press but the rest of the Liverpool team aren't ready to join them. Villa are able to easily play past the pair and this leaves Klopp's side massively exposed in the centre of the pitch. Diogo Jota reacts and looks to pressure the centre-back but he's got too much ground to make up. The ball is worked out wide to Matty Cash and he has acres of time and space to play the ball over the top for Ross Barkley to latch onto.
Another example of this was against Leeds. This one was much more of a mess, though you could argue it was as much down to Leeds United's brilliance as it was Liverpool's sloppiness.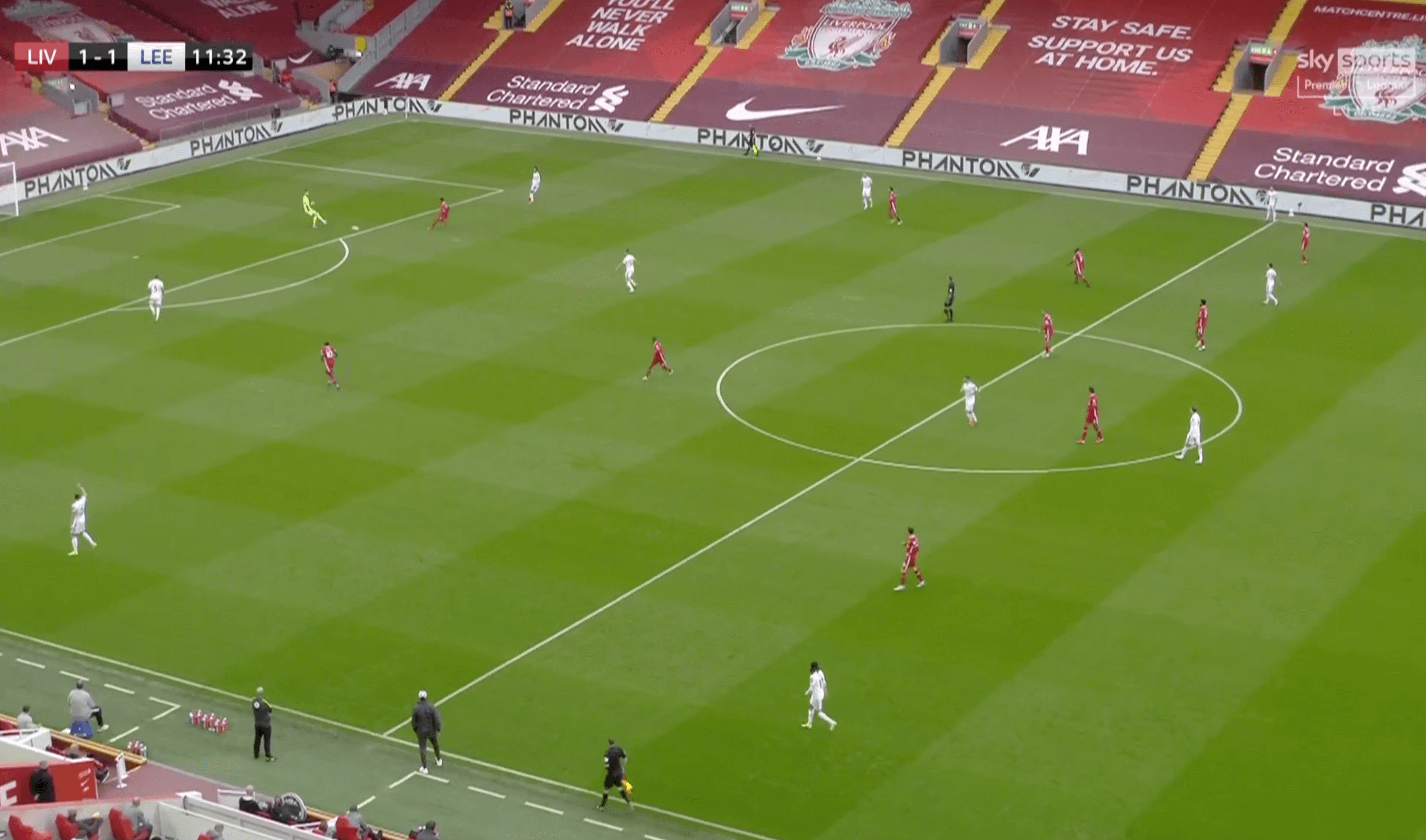 Kalvin Phillips dropped deep and nobody tracked him. For starters, the Liverpool shape is usually much more compact and the defensive midfielder often tracks and pressurises the deepest midfielder for the opposition. In this instance, it'd be Jordan Henderson. However, due to the positioning of Mateusz Klich (just ahead of Van Dijk), Henderson is reluctant to push on and leave his centre-backs in a potential three on two situation. Normally, Keita would be fine where he was because he's able to cover for Salah if he presses the centre-back and he's able to assist both Joe Gomez and Trent Alexander-Arnold.
Keita eventually goes to close Phillips down but it's too late and he ends up being caught in no man's land. It was a team failure.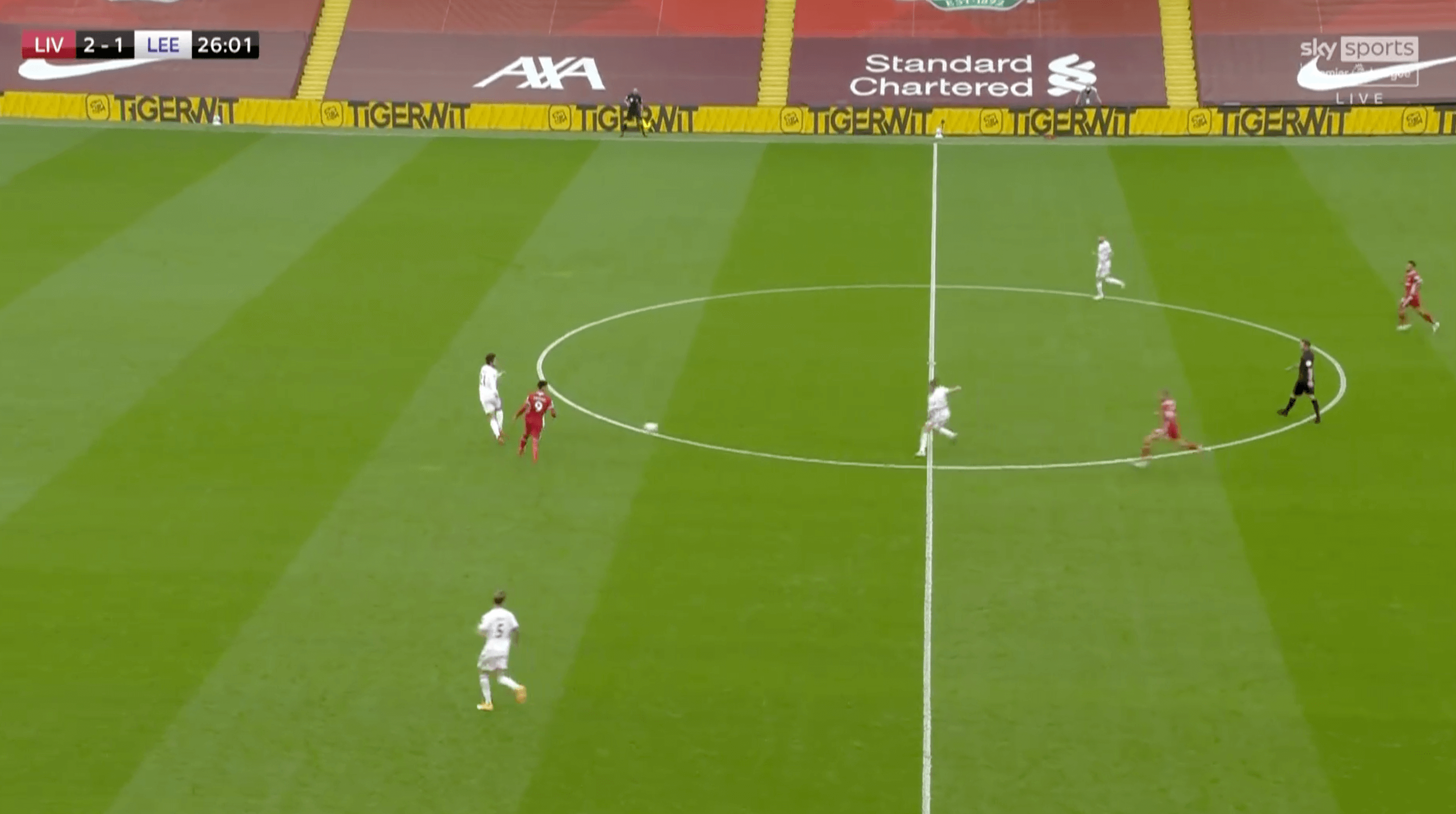 It was a one-off and Liverpool corrected it after that goal. Phillips wasn't given time on the ball with Henderson (above), Wijnaldum and Keita all pressing him in different parts of the pitch.
The press isn't failing. It's just a lot more memorable and noticeable when a team does manage to play out against Liverpool now because the Reds have been almost robotic in their effectiveness and efficiency over the past 18 months. The extreme, over the top reactions are unnecessary.