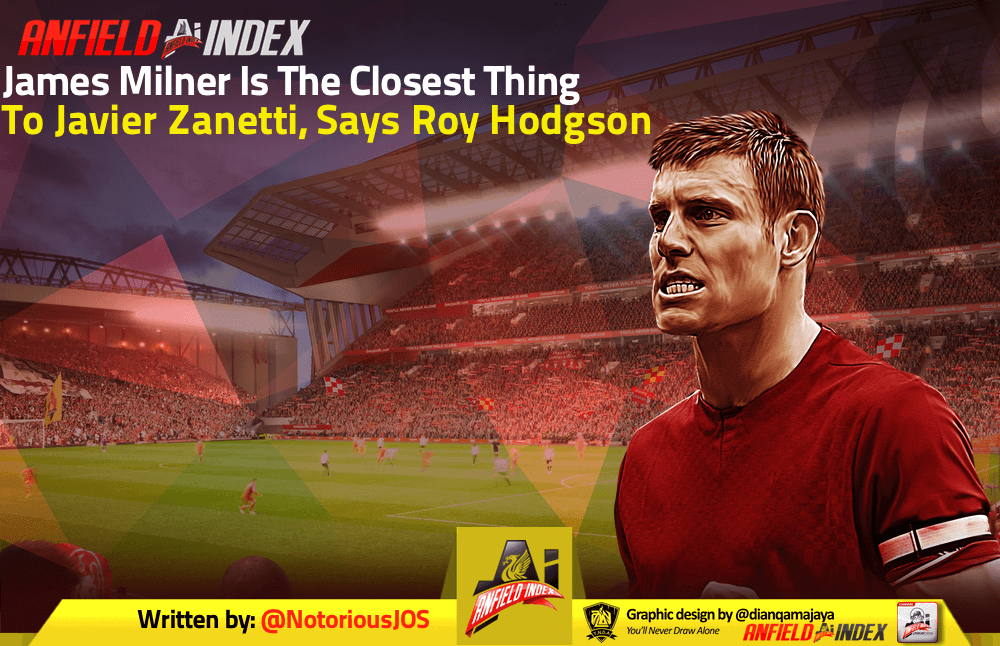 James Milner Is The Closest Thing To Javier Zanetti, Says Roy Hodgson
By John O'Sullivan 
Former Inter Milan and England manager Roy Hodgson has likened the longevity and athleticism of James Milner to the legendary Argentinian international Javier Zanetti. 
Hodgson has coached both players during his nomadic managerial career, which — starting with Halmstad in Sweden in 1976 — has spanned over forty years. 
The current Crystal Palace manager worked with Zanetti during both his spells in charge of Inter, firstly between 1995 and 1997 and on a temporary basis in 1999, and was the England manager during Milner's final four years representing The Three Lions, 2012-2016.
"I would draw a direct parallel between Zanetti and James Milner, who is now at Liverpool," Hodgson told the Italian Football Podcast in an exclusive interview.
"So he didn't have any star status on his arrival. It was obvious from the start that he had an incredible ability in terms of his physical capacity. Even to this day, the only other person I've worked with who has such a physical capacity was James Milner."
The parallels between the two players are numerous with Milner — having started his playing days as a midfielder — transitioning to become a left-back in his latter career. Zanetti, meanwhile, took the opposite route and moved to midfield — to accommodate the Brazil international Maicon on the right side of the defence — after spending his formative footballing years at right back.
The former Banfield player, who won 143 caps for the Argentinian national team, represented Inter for 19 years between 1995 and 2014, and Milner — who is contracted to Liverpool until 2022 — shows no signs of slowing down after making his Premier League debut for his hometown club Leeds in 2002. 
Hodgson attributes this career longevity to both players' huge athletic capacity and mental strength.
"He had an incredible physical capacity to run, to keep running, to never give up. The other great ability he had was his ability to get out of tight situations. Balls would be played to him in very close situations and you'd think 'he can't deal with this, he's going to lose the ball as there are at least two players around him' and he would wriggle out," the 73-year-old said.
Admitting to not initially predicting Zanetti having such a successful career — which included five Serie A titles, and a League, Cup and European Cup treble under the guidance of Jose Mourinho in 2010 — Hodgson noted that the Argentinian's constant improvements were borne from dedication and the self-awareness to focus his energies on what he was good at.
"Javier's great career started in those two seasons with me but it got better and better as he got older. I can't truthfully say that I saw in him the player that he became.
"He made himself the player that he became because he was such a dedicated footballer and he was very wise in knowing what he could and couldn't do and making the very best out of it".