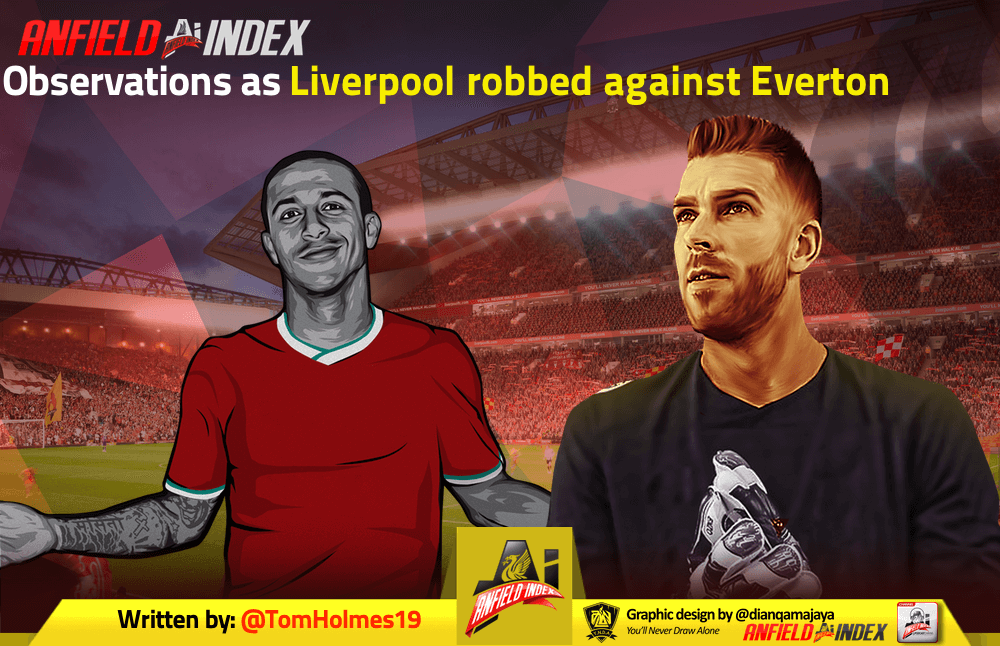 Observations as Liverpool robbed against Everton
Liverpool drew 2-2 at Goodison Park in a typically tempestuous and controversial Merseyside derby. Sadio Mané and Mo Salah twice gave Liverpool the lead, before goals from Michael Keane and Dominic Calvert-Lewin snatched a point for the Blues. But it was two marginal offside decisions that decided the game, as Jordan Pickford avoided a red card and Jordan Henderson's late winner was chalked off.
Here are the observations from the game:
Liverpool aren't as good defensively without their two best defensive players
Shocking but true. Alisson Becker didn't start the game, still carrying an injury, and Virgil Van Dijk limped out of the game inside ten minutes after a nasty tackle from Pickford. And whilst Liverpool played well overall, there was no denying that there were conspicuous Alisson and Van Dijk shaped holes in both goals conceded. Adrian should have done better for the first goal, and Gomez should have done better for the second. Liverpool have had some major defensive issues this season, but it's hard to say how they would have played with their two key players fit and firing.
Thiago is really, really good
Thiago was absolutely immense. Liverpool were the better team for vast swathes of the game, and a huge part of that is the midfield. Both Fabinho and Henderson were excellent all day, but the pick of the bunch was Thiago, who dominated the game time and again. In a game where it feels pretty terrible to have only come away with a draw, there were nonetheless a lot of positives to take from the game and Thiago was unquestionably the biggest positive.

Referees ruin the derby
It's hard to get away from it though, this game was a disgrace. Everton made two or three absolutely vile tackles, the first of which they were able to get away with because Virgil Van Dijk's armpit was offside. The second saw Richarlison rightfully red-carded, only for VAR to have the last laugh as Henderson's winner was chalked off by…I don't even know which part of Mane's body was offside to be honest. His elbow? His armpit? His shoulder? I genuinely could not tell you.
It's hard not to feel an overwhelming sense of injustice to be honest. Liverpool's season has started with a real mixed bag, but this absolutely should have been a Liverpool win.