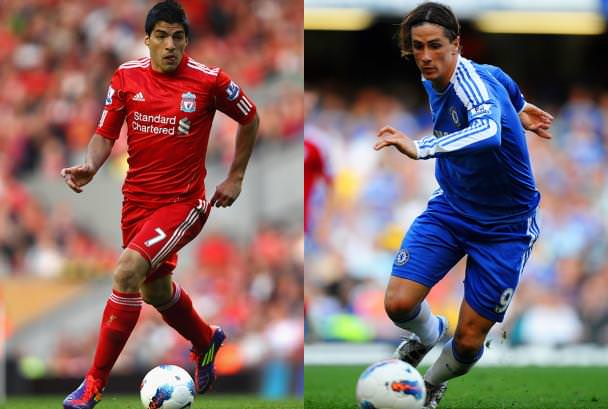 Torres vs Suarez (or why can't we have both?)
Recently there have been rumours  surrounding Fernando Torres and a potential move back to Liverpool, almost a year after he went to Chelsea for £50 million. The consensus from most Liverpool fans is that there's no chance we will take him back.
But hang on a second. Is there really a huge difference between Torres and Liverpool's star man, Luis Suarez, this season? And would linking up with Suarez not potentially bring back the Torres we used to know and love?
So far this season Suarez has scored 5 goals to Torres' 2. Suarez is better then, right? Not exactly. Suarez has scored 5 goals but in the tables below we can see that he has played 1215 minutes compared to Torres who has only played 541 minutes. He has also started more than twice the amount of games that Torres has.

So Torres has played just under half the amount of time Suarez has and has scored just under half the amount of goals. Seems pretty even. What sets them apart however are how many shots it has taken them to reach their respective goal tallies. Suarez has had 59 shots on goal so far this season, with 26 finding the target. Torres has taken 15 shots, with 7 on target.
Suarez shooting stats
Suarez is averaging slightly better than a goal for every 12 shots he takes. Torres however is scoring 1 goal for every 7.5 shots.
Torres shooting stats
Torres more than edges this. When he scores he takes 4.5 less shots than Suarez to do so. Torres' shooting accuracy is also superior, hitting the target with 47% of his shots.
Suarez is hitting the target with 44% of his shots, but the crucial difference is in how well they take these chances. Suarez is converting 8% of his chances. A poor return considering teams like Blackburn Rovers, on average score 17% of theirs.
Suarez shooting accuracy and conversion rate

Torres however puts away 13% of his chances and yet is painted as being the more wasteful of the two.
Torres shooting accuracy and conversion rate
Suarez minutes per goal (243 minutes per goal, to Torres' 271) may be superior, but based on the stats, if Torres had as many chances on goal as Suarez, his total goals for the season so far would be 8.
"But Suarez adds much more than goals," I hear you cry. Well of course he does. But what if Suarez was supplying those crosses along the edge of the 6 yard box, and Torres was there to put them away?
Suarez assist stats

As shown by the table above, Suarez has created 31 chances this season, with only 1 being scored.
1.
Let that sink in…
That's just over 3% of chances created by Suarez being converted in to goals. That is disgracefully low. And it is not his fault. There is merely no one there to finish them. Maybe if he had a proper goal-scoring front man to supply more of these chances to, then they would be converted.
This front man may not be Torres, but based on the stats, the possibility of him making a dramatic and successful return to Anfield cannot be discounted.