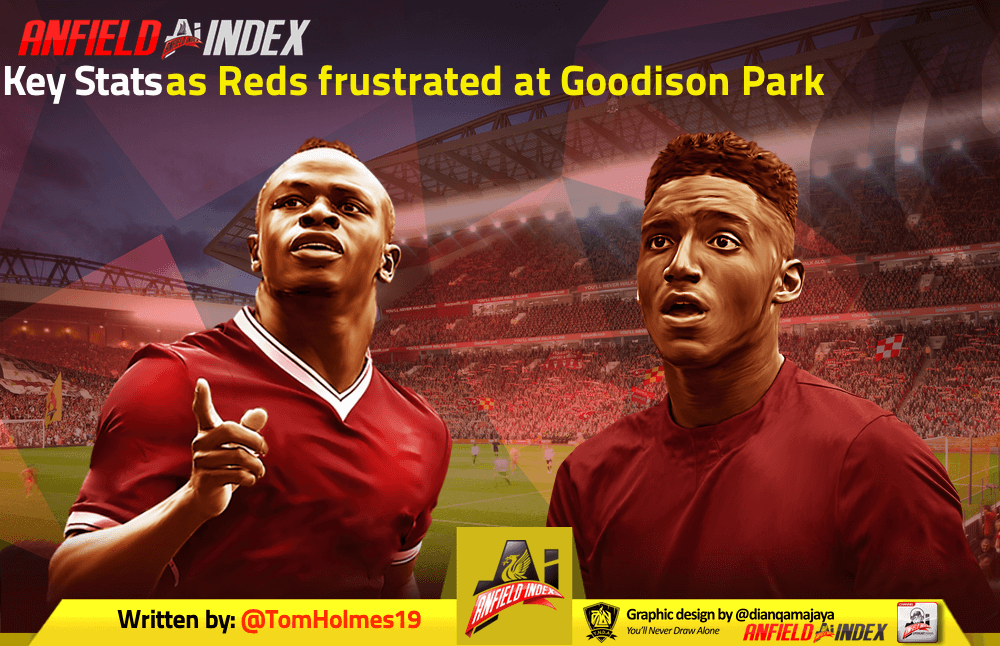 Key Stats as Reds frustrated at Goodison Park
Liverpool were frustrated at Goodison Park, as a late VAR decision ruled out Jordan Henderson's winner. Sadio Mané and Mo Salah had previously given Liverpool the lead before equalisers from Michael Keane and Dominic Calvert-Lewin gave the Blues a point. But what were the key stats from the match?
The Thiago effect
Having played just 45 Premier League minutes for Liverpool before tonight, Thiago could be forgiven for being rusty. However, rusty is the opposite of how he looked, as he controlled the midfield, oozing class along the way. On first watch, he seemed to be gliding through the midfield, completely dominating proceedings. And the numbers absolutely back that impression up.
Thiago completed made 76 passes at 92% accuracy, compared to Everton's midfield trio who made 83 passes between them, with Gomes and Doucoure both having a passing percentage of less than 80%. He also completed four dribbles out of four, whereas Everton's midfield collectively completed one of their five attempted dribbles.

Thiago also created two chances worth 0.14 xA, exactly the same as Everton's midfield combined. Off the ball, Thiago was the only person to make any interceptions (two) and won seven of his nine ground duels, one less than the total number of Gomes (three of 12), Allan (four of 13) and Doucoure (one of five). A real barnstorming performance from Thiago.
Defensive issues continue
Liverpool have now conceded 13 goals in five games, and are conceding on average 1.36 xA per 90, which is ironically the exact amount they shipped in this game.
It's a small sample size, but an alarming one, and becomes less small when you stretch back over the last few games of last season too. Everton created two big chances, scored two goals and caused Liverpool a lot of problems, with Richarlison hitting the post in the second half, and Calvert-Lewin missing the ball completely for the best chance of the match.
With Van Dijk and Alisson both injured and no sign of when both will return, this is a problem that could get worse before it gets better, which is why it's lucky that…
Salah and Mané firing on all cylinders
Liverpool's two wingers have often been compared and contrasted over the last two years or so, but the reality is that both are hugely important and both are exceptional players.
Both players scored in this game and both players created a big chance.
Mané fired in inside two minutes, created a lovely cross that Henderson should have scored from and was 4/4 on dribbles, but did miss two big chances to win the game, while Salah rifled in a delicious goal to give the Reds the lead and set Sadio away for a huge chance late on, but looked a little off the pace at times.
Overall, with Roberto Firmino a little out of sorts, Liverpool's top two forwards contributing ten goals between them in nine league games is vital for the Reds.