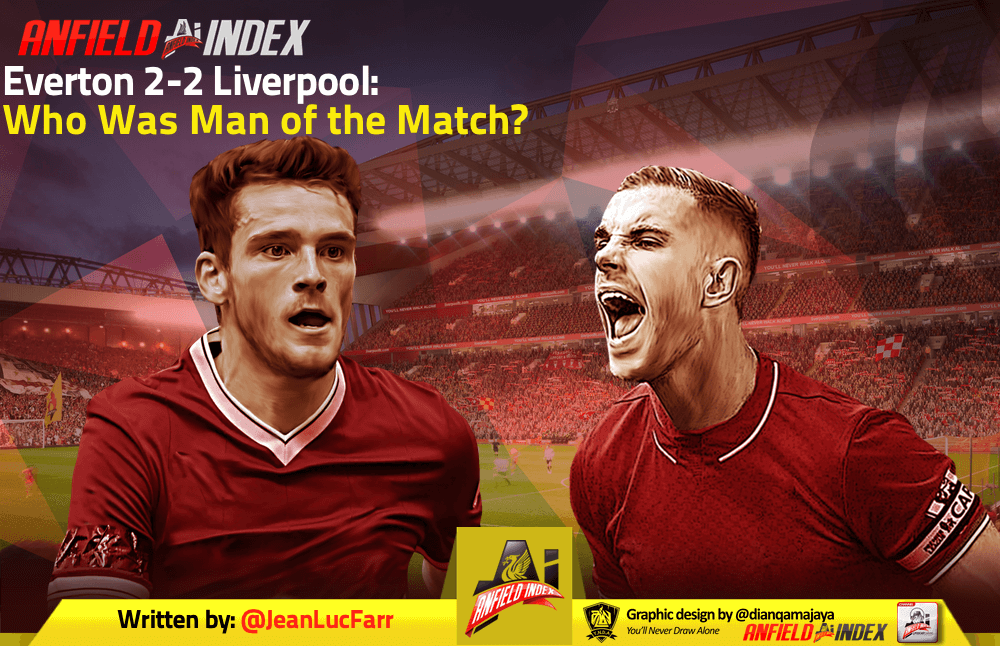 Everton 2-2 Liverpool: Who Was Man of the Match?
Where do you even start with that one? Quite simply the single worst refereeing performance in the entire VAR era. Liverpool robbed of 3 points at Goodison Park after a truly abhorrent display from the officials. Not only that, but the vile behaviour of the Everton players throughout the game looks to have inflicted serious injuries on two of best players, Virgil van Dijk and Thiago. However, despite absolutely everything going in the Blues' favour and with their best team in decades, our unbeaten run remains intact.  
The less said about Adrian, the better, I feel. We know he's dreadful, and with him between the sticks you may as well give the opposition a goal before we've even kicked off. If it were anyone else in goal, I'd probably let them off letting in Michael Keane's header, but I've run out of patience with this guy so I won't be granting him any leeway.  
In defence, Matip came in for Joe Gomez with Trent, Van Dijk and Robertson occupying the remaining defensive spots. Sadly, Virgil was forced off midway through the first half after a horrific, two-footed lunge from Jordan Pickford. It's one of the worst challenges you'll ever see but, because VAR deemed Van Dijk to be in an offside position (he wasn't), apparently no action can be taken on the foul. This was later proven to not be the case. It turns out that Pickford could have been sent off for the foul. Unfortunately for us, though, David Coote, the VAR, was supposedly so fixated on finding one of Virgil's sleeve fibres offside, he didn't even get around to checking on whether Pickford's UFC audition was worthy of a sending off. For the majority of the game, the defence played well. Everton were limited to very few chances but the two they did score from could have been dealt with better. Michael Keane had a free header from a corner, perhaps somewhat to do with the Van Dijk absence causing a bit of confusion at set pieces. Calvert-Lewin's equaliser was similar, with the Englishman having a relatively uncontested header from close range.  

In midfield, Thiago was handed his first start in a Liverpool shirt and he lined up alongside Fabinho and Jordan Henderson. The Spaniard was absolutely sensation. To come in for your first start, away from home in a Merseyside derby and play the way he did was sublime. He was constantly finding acres of space to move the ball on quickly, or keeping hold of it to drive the team forward, beating his man in the process. His pass for what should have led to the winner, a no-look ball drilled into the feet of Sadio Mané, was quite incredible and has been exactly what we've been missing in the centre of the park. Both Henderson and Fabinho had good games, too. The captain could have had a couple of goals in addition to his disallowed strike as he found himself in a number of dangerous positions going forward. It was nice to see him popping up in offensive areas.  
In attack, the usual front three started, and it was another performance that we've come to expect from Roberto Firmino. The Brazilian is a shadow of his former self and has not been good enough for the best part of a year. With Jota looking extremely lively whenever he sets foot on the pitch, it could well be the end of Firmino's untouchability in our forward line. Whether it is just a long run of bad form or just his new normal, I don't know, but the level he's been at over the last 12 months is no longer in any way acceptable when we have the players that we do on the bench. Both Mané and Salah got themselves on the scoresheet with a pair of lovely goals. Mané opened the scoring early on after a nice move that ended with Robertson finding the Senegalese in the box for him to finish first time. Salah's goal was an instinctive strike that he hit venomously into the corner after a poor clearance from Yerry Mina.  
As for Man of the Match, I have to go with the new boy, Thiago. The type of player and performance that we've been lacking who is capable of taking this great team to an even higher level.