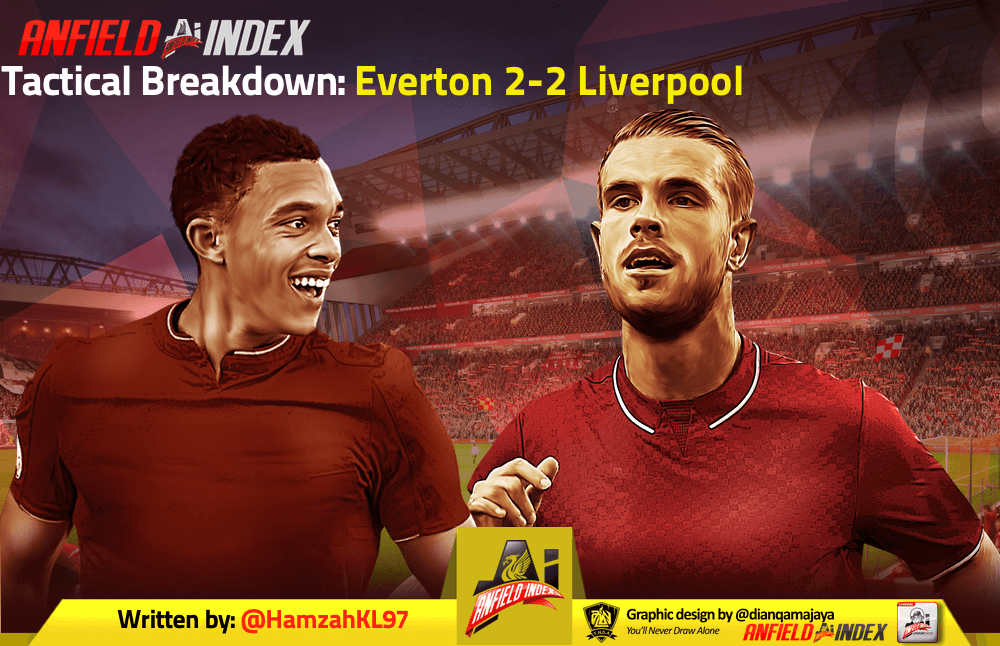 Tactical Breakdown: Everton 2-2 Liverpool
Liverpool's goalless draw against Everton back in June – the first game of the restarted league season – was an intriguing affair in which Everton posed a number of tactical questions to Liverpool, and was able to slow down the red juggernaut. With Ancelotti's coaching clearly making a difference to Everton's performance, this game had an exciting tactical dimension to it. Yet despite Everton's superb form leading into this game, it was one which Liverpool dominated, with a number of tactical changes that may well reflect another step in Liverpool's tactical evolution.
With Naby Keïta in COVID-19 induced isolation, Jürgen Klopp positioned Thiago alongside Fabinho and Henderson in midfield, for his first start. This midfield shape and role was considerably different from what we have come to expect from Liverpool over the past few seasons.
Henderson was employed as a number 8 and was especially proactive in the right half-space, adding considerable verticality to Liverpool via his direct runs, and movement into wide spaces where he could support Salah, who could under/overlap with him.
With Henderson playing this role, Alexander-Arnold featured in a more conservative manner. He was tasked with offering support to Matip, in order to track Richarlison and cover space. His presence on the outside of Matip was supposed to reduce one-on-one opportunities for Richarlison to contest against Matip, and to allow Matip and Van Dijk to deal with the aerial presence of Calvert-Lewin – who was supplied with aerial passes in behind.
On the opposite side of the field, Andy Robertson played an especially offensive role, in which he regularly ran through the left channel, beyond Mané, allowing Mané to check his run and become available for cutbacks, a move which proved effective on a number of occasions. Through pushing up the field, Liverpool was able to create a fast and fluid passing network between Robertson, Thiago, Mané and Firmino, who all moved the ball with pace, and utilised sharp penetrative movement and passing to cut open Everton's right side with ease and frequency.
Robertson and the forwards were electric in the first half, and that in itself is nothing new, but the manner in which the midfield played was extraordinarily impressive. Usually, Liverpool's offensive output, creativity and verticality are offered by Salah, Mané, Robertson and Alexander-Arnold, the last of whom is probably the most important individual, and features regularly as the best playmaker in the side. In this game though, Fabinho, Thiago and Henderson not only controlled the game and shielded the defence well as they usually do, but they also regularly broke into the Everton box, carried both themselves and the ball forward, applying forward pressure onto Everton, and forcing them back so that they could not affect the game and contest for control in the middle third. With both irresistible verve and mechanic efficiency, Liverpool's midfield three probed, toyed and overwhelmed the Everton defence, supported with extremely direct and aggressive forward play by Salah in particular.
Mané's goal in the second minute demonstrated the breathtaking speed and artistic ferocity of Liverpool's play, and it appeared the game was destined to be a rout, with Everton behind, and forced into chasing the game.
Jordan Pickford's leg-breaking challenge on Van Dijk changed that though. The tactical effect of him being withdrawn meant Liverpool now had lost their greatest defensive asset and his physical prowess in particular. Everton's direct approach, previously nullified by the aerial dominance of Van Dijk, suddenly had a new lease of life. Gomez is by no means poor in the air, however, Calvert-Lewin is exceptional at challenging for aerial balls, and due to this, he was able to involve Richarlison and Rodriguez in the game more, through knockdowns and second ball situations.
The absence of Van Dijk was notable in both of Everton's goal, with a corner and open play header both instances in which Van Dijk may have been able to influence the outcome.
Nonetheless, in a defensive tactical sense, Liverpool was largely very strong. Liverpool conceded two big chances, one being the Calvert-Lewin goal, the other a Richarlison effort that hit the post, but apart from those, Liverpool clamped down on Everton's opportunities, with only two of the other nine efforts exceeding a value of 0.1 xG.
Some wasteful finishing by Liverpool granted Everton the opportunity to draw level, but the ease in which Liverpool created 22 attempts and four Big Chances should not be understated. Both Thiago and Henderson were heavily involved with opportunities inside and just outside of the area, as they created chances and took shots of their own, demonstrating a greater midfield involvement in play inside the area than we usually see.
Liverpool was denied a winner at the behest of David Coote, but this should not take away from a performance which Jürgen Klopp stated was the "best away derby we [have] played". Liverpool should be disappointed with the result, but the performance, given the circumstances and the performance in the previous game, was fantastic, bright and extremely enjoyable. The poor individual performances and decision-making issues that have characterised the last ten-fifteen games was not present, and if Liverpool is to mitigate the loss of Van Dijk over the season, then consistently doing this will go a long way to resolving that issue.
Nonetheless, the loss of Van Dijk poses a significant issue for Liverpool going forward. The side will be without their best defender but will lose their greatest physical asset too, meaning opposition teams may begin to attempt to play a more physical and direct game. Liverpool will also need to be wary on set pieces until Alisson returns, with Adrian likely to be targeted. However, if teams really want to go toe-to-toe with Liverpool, and Liverpool no longer feels comfortable scoring once and seeing out a game, then we may just see some more of the blitzkrieg football that Liverpool was so famous for in 2017/18. With Salah seemingly playing at his very best, and the midfield capable of dominating, dismembering and devastating any side, with them in a low block or in transition, there is still so much to play for.