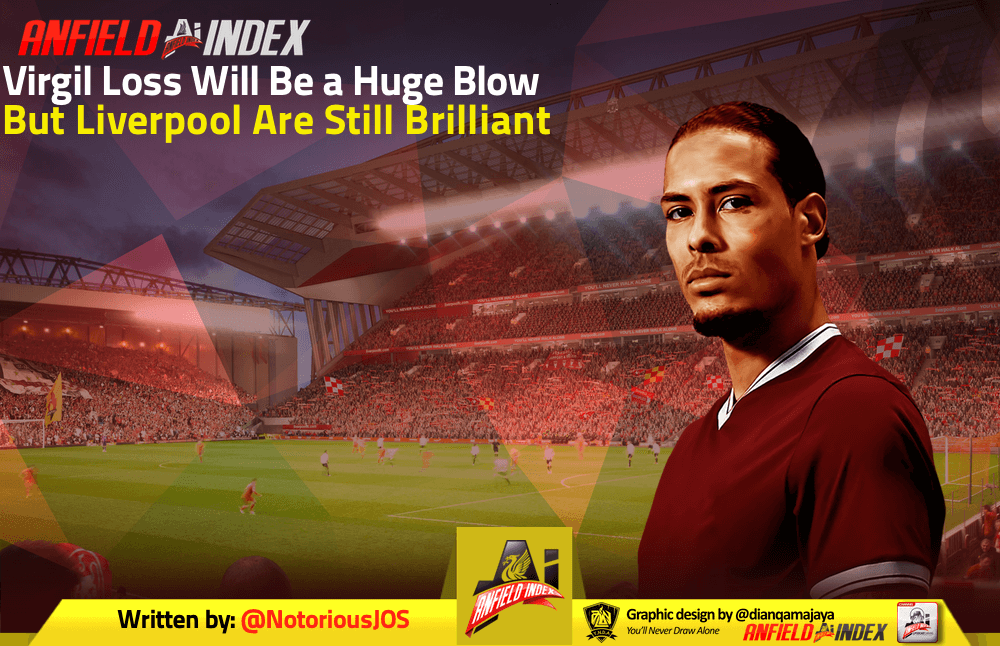 Virgil Loss Will Be a Huge Blow But Liverpool Are Still Brilliant
Let's get the captain obvious statement out of the way at the beginning, shall we?
Liverpool will miss Virgil van Dijk during his injury lay off, which, per reports, could last anything from six to nine months.
If you could manufacture the perfect centre half in a lab, equipped with elite physical, mental, technical and leadership attributes, then the Reds' towering Dutchman would be the ideal prototype.

Any team — Barcelona with Lionel Messi, FC Bayern with Robert Lewandowski, to name just two — would struggle if they were shorn of one of their world-class operators, but does van Dijk's absence — caused by a cowardly and reckless challenge by Everton's Jordan Pickford in the Merseyside Derby — mean Liverpool's season, as doom-mongers on social media forlornly proclaimed — is over? Absolutely not.
Although the former Celtic defensive rock has been a key factor in Liverpool's resurgence in recent years, there have been several other factors and, fortunately, the Reds can still call upon all of them.
There can't be much debate that Alisson Becker isn't the best goalkeeper in the league, and, arguably, in the world. The Brazilian exudes a nerve-settling confidence and authority, which marshaling the best defence in the league during the last two seasons — his only two at the club to date — highlights.
Trent Alexander-Arnold and Andrew Robertson are the reference points for modern full-backs and are both bonafide world class. Going forward, the full-backs are record breakers for assists in their respective positions and offer creativity levels — 5o Premier League assists in the last two and a smidgen seasons — that have led people to reevaluate the depth of offensive responsibility full-backs can have.
There is a narrative that the young Scouser and the Scotland captain's defensive acumen doesn't match up to their attacking abilities, but this is demonstrably untrue — especially in Robertson's case — and both players are as comfortable on the back foot as they are on the front foot.
Joel Matip and Joe Gomez are both excellent players in their own right, even if their best efforts are always explained in the context of van Dijk holding their hands.
Progressive with the ball, quick enough to hold a line sufficiently high to play pressing football, Gomez and Matip — with the former Schalke stopper also bringing aerial dominance into the equation — are the archetypal centre halves for the style of football the Reds play.
Injuries are the concern with the Cameroonian and the Englishman but — when assessing their layoffs — most of their absences have been due to collisions, misfortune and bad tackling. In this regard, Liverpool are at the mercy of luck. But that can applied to any team, anywhere. After a month or so of horrendous bad luck, the champions are well overdue a rub of the green.
Fabinho, the league's premier defensive midfield linchpin, the toweing shield of solidity that Pepijn Lijnders calls the "lighthouse" is among the best players in the world in his role.
Strong in the tackle, an intelligent reader of the game and with an engine that allows him to be as intense in his work in minute 90 as he is in minute 1, the Brazilian has every tool necessary to help anchor a midfield.
With Fernandinho more peripheral at Manchester City and ageing and his heir, Rodri, not close to as effective or as skilled in the dark arts of tactical fouling, Liverpool's number 3 — who is also exceptionally good with the ball at his feet, in the manner of a playmaker — is the high water mark for Premier League defensive midfield generals.
The sample size is tiny, but going off the evidence that we do have — where the Brazilian was in the heart of the defence that kept both Timo Werner and Lewandowksi scoreless — Fabinho is a more than capable centre half. That versatility will be invaluable in this season, given its crazily compacted schedule.
The midfield is the compartment of Liverpool's squad that is laden with the most quality.
Even in the likelihood that Fabinho has to play in defence, there is more than enough ability to go around in the engine room to cover for him moving back into the defensive line.
There is the world-class playmaking contributions of Thiago — which was seen, in all its splendour, at Goodison Park — whose start to life as a Red has whet the appetite of the Liverpool faithful. If this is what the Spaniard can produce with virtually no training time with his new team-mates — remember that he had only recovered from COVID19 a few days before the Goodison derby — then it is a tantalising prospect to imagine what he can do when he fully acclimates and builds up a synergy with those around him.
Added to that is the intensity and brilliant tactical application of Georginio Wijnaldum and Jordan Henderson — players who are better served as advanced midfielders but who are also more than adept at playing as the holding midfielders — two men who emit leadership and drive standards.
In Alex Oxlade Chamberlain, Naby Keita and Curtis Jones, there is exciting game breaking talent who each have the capacity to unlock defences and offer a touch of unpredictable directness and offensive quality.
The attack is, well, the attack. No one needs a refresher on the brilliance of Mohamed Salah and Sadio Mane — players who have shared or won two of the last three golden boot awards — and both have started this season in red hot form, looking like men intent on winning more individual and team honours.
Roberto Firmino's lack of goals — two in the last 27 games in the league — is a concern, but the Brazilian's primary function is to facilitate Mane and Salah and, from that viewpoint, the number 9 — evidently, as Jurgen Klopp keeps picking him — is fulfilling doctors orders.
The bench has been bolstered in a major way, too, with the arrivals of Kostas Tsimikas — who offers much needed cover at left-back — and Diogo Jota — a more consistent goal threat from the bench, as we've already seen with his goal as a late replacement versus Arsenal — ticking boxes that have long needed ticking.
Takumi Minamino looks more comfortable in his surroundings which each passing game and in Xherdan Shaqiri and Divock Origi — two players who played prominent roles in the Reds sixth European Cup triumph — there are players in reserve that would be starters for most clubs in the league, especially in the case of Shaqiri.
James Milner is still a model of consistency and versatility and is an ideal general — keeping standards high and using his nous and experience to lift those around him — on and off the pitch and his contribution, especially on the training pitch, is something that will likely never be fully appreciated outside of the inner sanctum of the club.
Yes, van Dijk will be sorely missed and yes the team will be worse off without him. But can the team that won last season's title by 18 points afford to be worse off and still win the league, especially given that their rivals have either stagnated or regressed? The answer is yes.
There is a squad full of world class players who have played a huge part in the Reds winning a Champions League, a League title and averaging close to 100 points over the last two campaigns and it is a massive disservice to them to assume that the absence of van Dijk will suddenly render them all average and scupper all hopes of another positive season.
The Reds, who have been tagged the mentality monsters, take adversity in their stride and this cruel blow of an injury can galvanize them again.