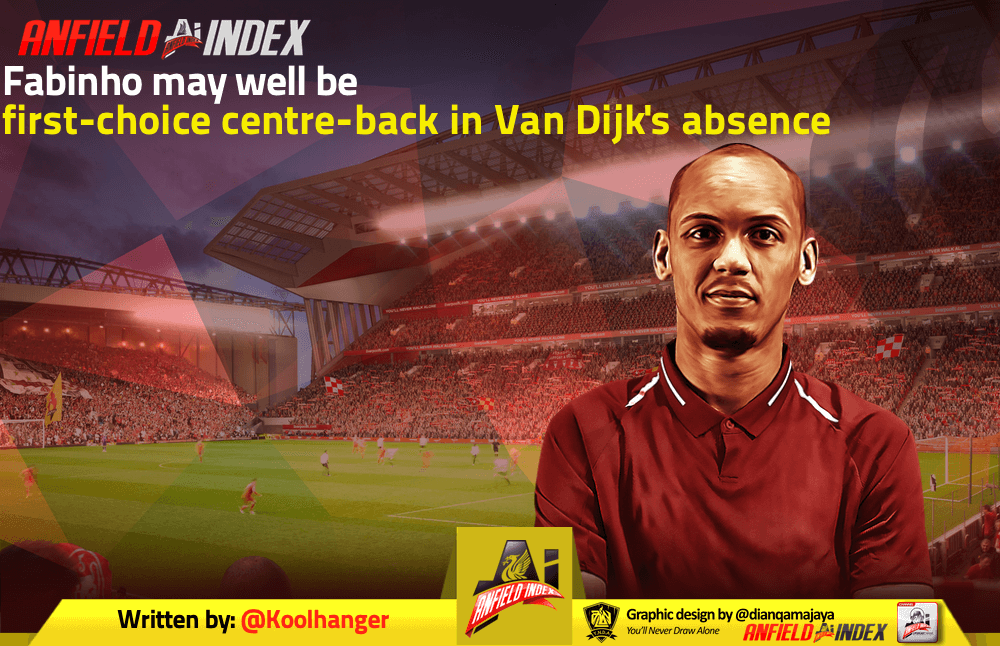 Fabinho may well be first-choice centre-back in Van Dijk's absence

It's strange to think, but Liverpool's second-best centre-back, after Virgil van Dijk, may well be Fabinho.
This isn't an article having a go at a clearly excellent, but still young and developing Joe Gomez. I'm a huge fan of Gomez as a defender. Still only 23, the former Charlton Athletic player is one of England's best.
Joël Matip is also a very underrated centre-half. The only issue with 29-year-old Matip is keeping him fit for a full season or even the best part of one. As Simon Brundish from AI:Pro would point out, availability is the most important ability.
Liverpool rolled the dice in September, opting not to bring in any more centre-backs to add depth to the first-team squad. Jürgen Klopp commented then on the lack of defensive options specifically, highlighting Fabinho as a fourth choice, behind Van Dijk, Matip and Gomez.
Now, in the wake of Liverpool's 2-2 draw at Everton and Jordan Pickford's season-ending challenge on Liverpool's number 4, The Reds' are in a very, very difficult situation.
Liverpool's schedule is severely condensed between now and the end of 2020. In fact, they have 17 games in the 10 weeks up to New Year's Day. That's a tough task even if you still had a fully fit Van Dijk to work with.
Back to Fabinho – I believe that Klopp considering the Brazil international as a fourth-choice centre-half was firmly based on having the seniority and experience of Van Dijk to partner each of the others. With the Dutch international no longer an option, it's my belief that Fabinho could become Klopp's number one option in defence.
Gomez and Matip are very good players in their own right, yet, they've never been played together as a pairing in central defence. They have started over 20 fixtures in the same lineup in the four years they've both been at the club but that was always with Gomez in one of the full-back positions, with Matip in the centre alongside either Van Dijk or the now-departed Dejan Lovren.
Fabinho is that good that I think he is now our most level-headed presence to stand-in for Van Dijk at the back. It's all the more impressive when you consider that centre-half isn't his best position. Klopp could well use Fabinho as his main-stay and rotate Gomez and Matip beside him. Gomez is inexperienced compared to Fabinho while Matip comes across as a little bit too nice to command a back four.
Fabinho has played very well when used in defence, Chelsea away this season being the most recent time he dropped into the back four. It's also worth noting that the 0-0 draw with FC Bayern at Anfield in February 2019 was when Fabinho was paired with Matip in defence – Van Dijk was suspended for that game. Matip and Fabinho, with Trent Alexander-Arnold and Andy Robertson on the flanks, restricted Bayern Munich to a grand total of zero shots on target that night.
Surely that points to a little hope for Reds fans? In Van Dijk's absence, someone has to be the dominant character in central defence. Fabinho is the one who couples experience with a take-no-prisoners attitude. He's only 26 but has already played in Brazil, Portugal, Spain, France and England so possesses a maturity beyond his years.
There are other younger players that Klopp may see fit to give some game time as the season progresses. Youngsters such as Rhys Williams, Sepp van den Berg and Billy Koumetio may need to find their feet quickly if Fabinho, Matip or Gomez join Van Dijk on the injury list.
Another reason why Fabinho could easily slot back in as first-choice centre-back is the depth of Liverpool's midfield department. Jordan Henderson and Gini Wijnaldum can play the '6' role if needed, as can new-boy Thiago Alcântara. Klopp then still has Naby Keïta, Alex Oxlade-Chamberlain, James Milner and Curtis Jones to fill the other slots in the middle of the park. That's without even considering Xherdan Shaqiri, Takumi Minamino and Roberto Firmino who can also drop back if needed.
It's not ideal but it's how things are for The Reds just five games into the Premier League season and before they've even begun their Champions League fixtures.
Fabinho, the man who somewhat took our minds off Kyiv, signing for Liverpool the night after the defeat to Real Madrid, could again prove to be our strongest beacon of hope.