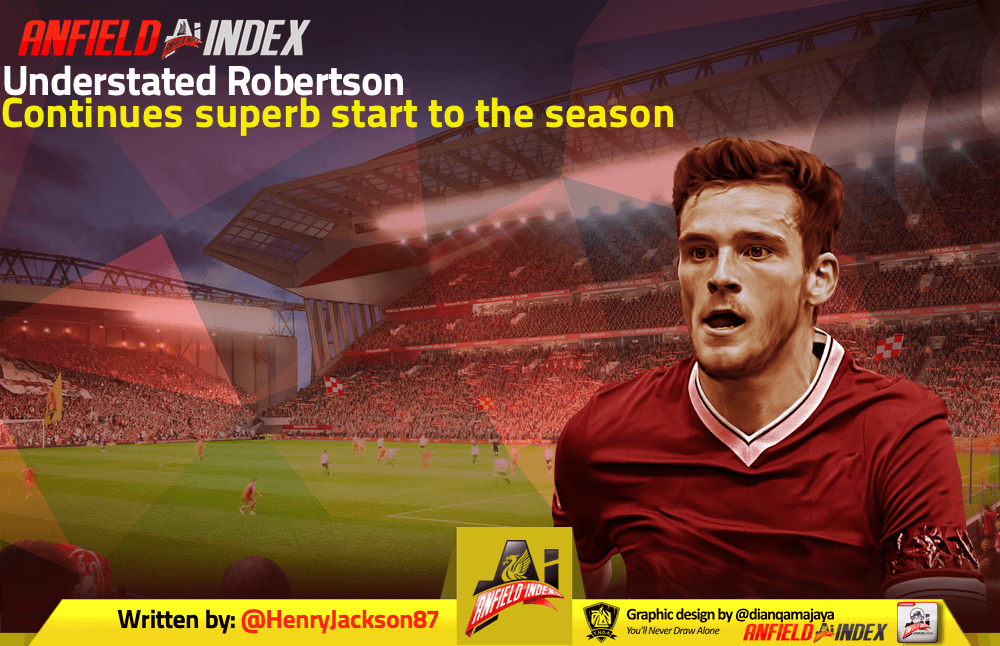 Understated Robertson continues superb start to the season
In years and decades to come, Liverpool supporters will look back at this phenomenal team and pick out the poster boys from it, lavishing them with love and praise.
Whereas some great teams only have two or three iconic figures to bore future generations to death about, there are endless contenders in this Liverpool side.
Virgil van Dijk is a defensive colossus who completely transformed the team when he arrived, with the unrivalled Alisson not too far behind in that respect. Mo Salah has scored goals at a freakish rate and shattered endless records, Sadio Mane has grown into the best left-sided player in world football and Roberto Firmino has led the line in unique fashion, also proving to be one of the most charismatic Liverpool stars in years.

Trent Alexander-Arnold is the prodigiously-gifted local lad who has taken over the mantle from Steven Gerrard, while Jordan Henderson is one of the great rags to riches stories, going from unwanted, much-mocked youngster to one of the greatest captains in the club's history.
This is without even speaking about the dominant Fabinho, the brilliantly understated Gini Wijnaldum or the evergreen James Milner, among others.
A name who could end up being forgotten about compared to many of these aforementioned legends is Andy Robertson, despite his stellar rise at Liverpool.
When he arrived from Hull City in 2017, many saw him as merely a backup to Alberto Moreno – how mad does that sound now? – and he didn't drive through the Melwood entrance to a rapturous reception. It all felt very low-key.
Robertson has become an integral part of this all-time-great Reds outfit, however, with no left-back in the world more consistent and effective over the past two years. He 'gets' Liverpool as much as anyone and has a winning mentality that has shone through time and time again.
Combining dogged defensive work, relentless energy and a beautiful final ball, the 26-year-old may already be the Reds' best-ever player in his position. Thirty-two assists, and counting, is quite an achievement.
There is almost a feeling that Robertson gets forgotten about, however, even if his infectious, outgoing personality on and off the pitch makes him stand out on occasions.
With Alexander-Arnold such a generational talent on the opposite flank, and with several other superstars in the side, the left-back's influence can be underappreciated. He's always in the team, he rarely throws in less than a seven-out-of-10 performance and he does everything in unruffled fashion.
With five Premier League games played, not to mention a Champions League outing and a couple of League Cup matches, there is an argument to say that Robertson has been Liverpool's best player so far this season. Salah and Mane have been electric at times, and are probably his strongest rivals, as well as Fabinho, who has turned into both a colossal midfielder and centre-back these days.
If Robertson hasn't been the best – there isn't much in it either way – he has certainly been the most consistent.
Liverpool's defence has not covered itself in glory, from conceding three against Leeds United on the opening weekend to suffering complete humiliation at the hands of Aston Villa, but Robertson has been the one individual to come away with plenty of credit.
That arguably includes even the remarkable Van Dijk, whose long-term absence is heartbreaking. His performances in those matches against Leeds and Villa were not befitting of one of the greatest centre-backs of his generation.
While Adrian has flattered to deceive in goal, and Alexander-Arnold and Joe Gomez have been well short of their best, Robertson has been a delight, surging down the left-hand side, linking up with Mane in their usual devastating manner and having a big impact in the final third.
Robertson has already chipped in with two assists in his opening five league games this season – only Firmino has as many – and he also put the Reds 2-1 up against Arsenal at Anfield, bagging his fifth goal for Liverpool.
He has played the joint-most minutes in the league (450), along with Salah, and he looks as determined as anyone not to allow Liverpool's title win to be a one-off.
The Scotland captain was again imperious in Wednesday's 1-0 win away to Ajax, with a few blistering runs on show and a constant desire to join Liverpool's attacks. Robertson's good friend Alexander-Arnold is flat at the moment, but he couldn't be further from that.
In many ways, it is understandable why Robertson doesn't often receive the same level of acclaim as those around him.
For starters, left-back is one of the less fashionable positions in football, so you have to really be something special to stand out from the crowd. Think Roberto Carlos, Paolo Maldini or Marcelo.
Robertson has been magnificent, of course, but he is a more orthodox full-back than Alexander-Arnold, for example, or Bayern Munich's Alphonso Davies – the Scot's biggest rival in the 'best left-back in the world' category.
He deserves to be recognised greatly for his consistently strong form at the moment, though, rather than receive a pat on the back, before attention switches to Salah, Mane or whoever else is around to seal the defender's thunder.
Robertson won't care about receiving fewer column inches than others, but it would be nice to see a few more tributes heading his way.
When this outrageously gifted bunch of Liverpool players are ageing has-beens who took to the Anfield turf decades before, the brilliance of Robertson deserves to be talked about for hours on end.