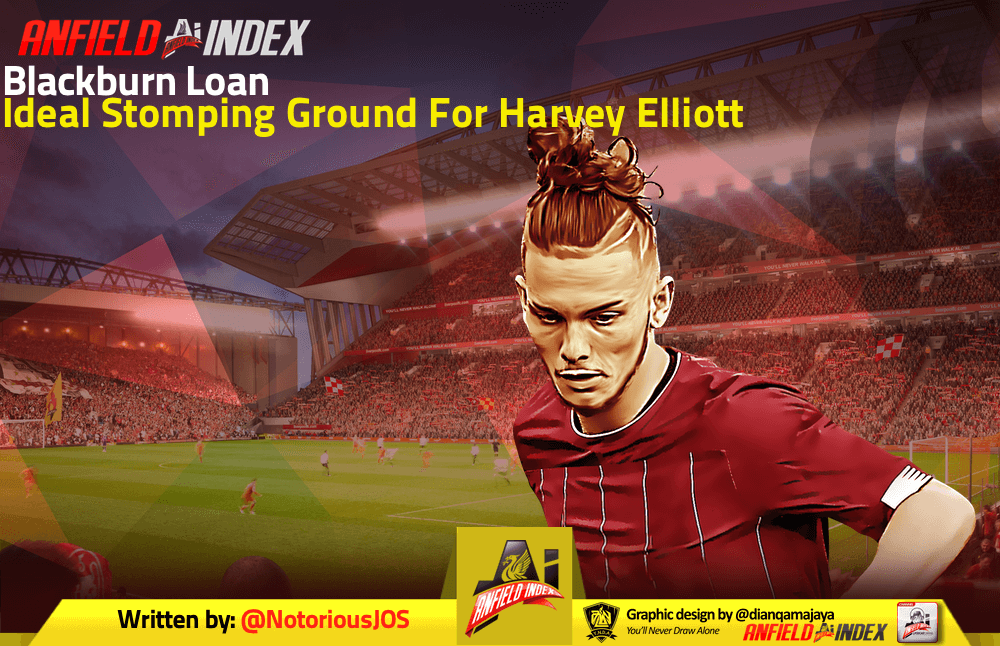 Blackburn Loan Ideal Stomping Ground For Harvey Elliott
Liverpool sent a raft of players out on loan to lower league opposition on the final day of recently closed the transfer window.
Harry Wilson, Herbie Kane, Ben Woodburn, and Harvey Elliott all temporarily departed to pastures new and Elliott — with all due respect to the trio of academy graduates — who joined Blackburn Rovers is, realistically, the only player who could have a long-term future at Anfield.
In a loan to Tony Mowbray's Rovers, the 17-year old has the ideal environment to develop and to take the next step towards fulfilling his dream of being a star for his boyhood club, Liverpool.

The key factor when loaning out young players is the style of play employed at their temporary club. It would be entirely useless, for example, to send the diminutive Elliott to the likes of Neil Warnock's Middlesbrough, where the style of play is rudimentary, direct and devoid of creativity.
In this hypothetical, the England youth international would sharpen no attributes that would be of any use to him at the Reds and he would lose a season of development by not immersing himself in tactics similar to those that Jurgen Klopp so successfully uses with the English Champions.
But in Blackburn, Elliott has found himself a club with a similar footballing ethos to the Reds. Mowbray, the Rovers' coach, is renowned for his tendency to play — or at least to attempt to play — progressive, possession football.
The statistics are telling when it comes to the 1995 Premier League Champions' and they are a good gauge of the gameplan employed at Ewood Park. In six Championship games this season Blackburn are second only to Norwich — with 57.67% — in the average possession stakes.
An extremely intelligent player, whose left-footed passing is a joy to behold, Elliott looked right at home in his first Rovers' start, even if it came in a 3-1 defeat away to Watford.
Playing on the right-hand side of a front three, the top-knotted youngster can be very happy with his performance, especially against Watford who sit third in the Championship table and are among the favourites to gain promotion to the Premier League.
On the ball, Elliott was busy and — per FotMob — registered two key passes, which are passes that lead to shots. The 17-year-old also created two chances and completed 74% of his passes, the majority of which — 24 out of 47 —  came in the opposition half.
It was off the ball, though, where the former Fulham youth will have impressed his new club, and doubtlessly Klopp, with both his work-rate and off the ball efficiency. Elliott won the ball back five times and notched three interceptions as well as winning seven out of nine duels.
At 5'7″, there has been doubt raised over the London natives capability when it comes to the physical side of the game, but Elliott — who grew up playing cage football and playing in age grades well above his tender years and is used to the rough and tumble — mitigates a lack of size with a tigerish attitude and the intelligence to maximize it.
Speaking to the media after the defeat to Watford, Mowbray — the former West Bromwich Albion and Celtic manager — expressed his delight at the Liverpool prospect's showing.
"I think the combination of Elliott and [Rovers striker Adam] Armstrong is going to be something we can really look forward to…as he steps in on his left foot and Armstrong runs as he sees the space," he said.
"It seems to me that he has fantastic qualities to go and integrate in areas. And backlines are going to have to be on their metal to stop that."
It is a massive step up from Blackburn to Liverpool, but, at 17, Elliott has all the time in the world and the first steps he has taken towards working his way back to Anfield were very encouraging.