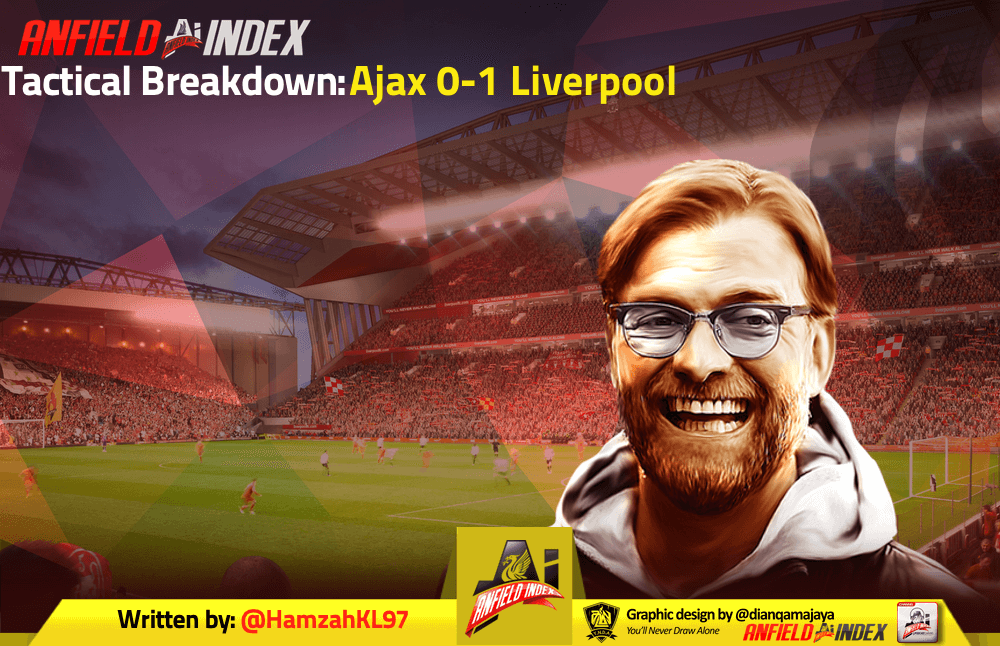 Tactical Breakdown: Ajax 0-1 Liverpool
Despite both clubs' European pedigree, the last competitive game between these two sides was played back in the time of Bill Shankly. Much has changed since then. Nonetheless, football is still football, and tactics are the gameplans employed by managers to produce a particular outcome. These gameplans are often the product of the manager's philosophy, the players available to them and the opposition team, all of which characterised both manager's setups on Wednesday night.
Liverpool set up in their usual 4-3-3, with Fabinho starting his first game as a centreback this season. The other most significant personnel choice was in midfield, where Milner, Wijnaldum and Jones featured.
Over the last year, we have seen a growing effort by Klopp to diversify the creative load in build up and in possession, away from the fullbacks and forwards, and towards the midfielders. Naby Keïta and Thiago Alcantara, both forward-thinking, progressive players are demonstrative of this. However, with both unavailable, Liverpool's creative onus fell back upon the forwards and fullbacks.

Ajax attempted to take advantage of this. They too set up in a 4-3-3, although some observers argue it more closely resembled a 4-3-1-2. In this system Ajax looked to press the Liverpool centrebacks, and do so from wide positions, thereby reducing the opportunity to pass the ball into either Alexander-Arnold or Robertson. To ensure this, the Ajax wingers used their covershadow when pressing Gomez and Fabinho to block passes into the fullbacks, but also had their own fullbacks move up to prevent clipped passes over the top as an outlet.
This pressing structure was supported by a pressing trap laid around Liverpool's no.6, Wijnaldum. Tadic (following the injury to Kudus), moved into the false 9/no.10 role and man marked Wijnaldum when out of possession, occasionally moving forward to encourage passes into Wijnaldum so that the pressing trap could be sprung.
Liverpool's inability to progress the ball early on, alongside Tadic's deeper movement which created a central overload and numerical advantage in midfield prompted Firmino and Salah to drop deeper to support the Liverpool midfield and progress the ball through passing into Mané (who was a beneficiary of the Ajax fullbacks moving up the field, thus leaving him space to attack), or by carrying the ball forward through dribbling, as Salah did on a number of occasions.
Ajax's flexible midfield adapted to this situation and moved into a double pivot at times, expecting to play around the Liverpool press, but they also played direct too, driving the ball forward to Tadic, as they attempted to get at the Liverpool defenders.
This tactical to-and-fro never really settled down. Robertson consistently drove forward aggressively, and exposed the left channel, as he linked up with Mané. This unsettled the Ajax press, and denied them the opportunity to pen Liverpool in. Likewise, Liverpool's midfield was not able to retain the ball for a sustained period in advanced areas of the pitch as they were forced backwards too easily when in possession. This lack of penetration was, as noted earlier, a product of the most progressive Liverpool midfielders being unavailable.
This inability to hold the ball in the final third meant Liverpool's defence was unable to push up the field for extended periods of time which made compacting the pitch and implementing an aggressive and effective pressing structure harder. Liverpool's out of possession structure was poor early on, with Ajax able to play through it. After the opening 15-20 minutes though, Firmino dropped deeper, in order to support the side's compactness and defensive shape.
The midfield was responsible for a few individual errors, which then led to Ajax chances, with their wingers constantly driving inside and ready to take advantage of turnovers and Liverpool being caught in offensive-to-defensive transition. Liverpool's midfield alignment did not help this, as they were positionally a bit too flat, and not optimally spaced to press or offer options into the forwards.
Nonetheless, Fabinho and Gomez looked to be progressive from centre-back, and dribbled and passed forwards in order to add forward impetus. Over time Liverpool began to exert more control over the game, and were able to establish footholds in the final third, with their goal coming from the side moving up the pitch, retaining an advanced position, and Mané breaking into space following a one-on-one.
Following this point, the gamestate favoured Liverpool, but uncharacteristically that did not mean Liverpool were able to just sit back, defend and break at will, as Ajax offered their own riposte and broke through on a few occasions, wasting their own chances. This change in gamestate did affect the Ajax gameplan though. Instead of being able to press the no.6 (which was Henderson after half time), and attack the space in behind as Liverpool would be caught in transition, Liverpool dropped deeper and thereby reduced the space in which Ajax would be able to run into.
Ajax had a number of decent chances, but as they grew desperate for an equaliser, and following the substitution of Liverpool's front 3, they pushed up very high, but rather than this being conducive to creating more opportunities for Ajax, it actually meant Liverpool looked the likelier team to score, on the counter attack.
xG map for Ajax – Liverpool

very workmanlike win for Liverpool, they did a great job shutting up shop and making it impossible to play football for the final 30 mintes pic.twitter.com/bLDuBP8q4D

— Caley Graphics (@Caley_graphics) October 21, 2020
Given the previous two results and the personnel issues, this was a very positive result and a decent performance from Liverpool. When tactically challenged with an attempt to stifle the fullbacks, whilst simultaneously shorn of their best creative midfielders, Liverpool responded through attacking with 53 per cent of their attacks down the left side, facilitated by Robertson and Mané, whilst Salah proved a pest on the right side, on his own. This was a performance that was more common during Klopp's first few years, particularly that electric 17/18 season – perhaps we'll see more of that bombastic, effervescent, blitzkrieg football over the coming weeks and months as the team adapts to losing Van Dijk and figuring out a more reliable way to win in the absence of him. Sometimes the old ways work best.