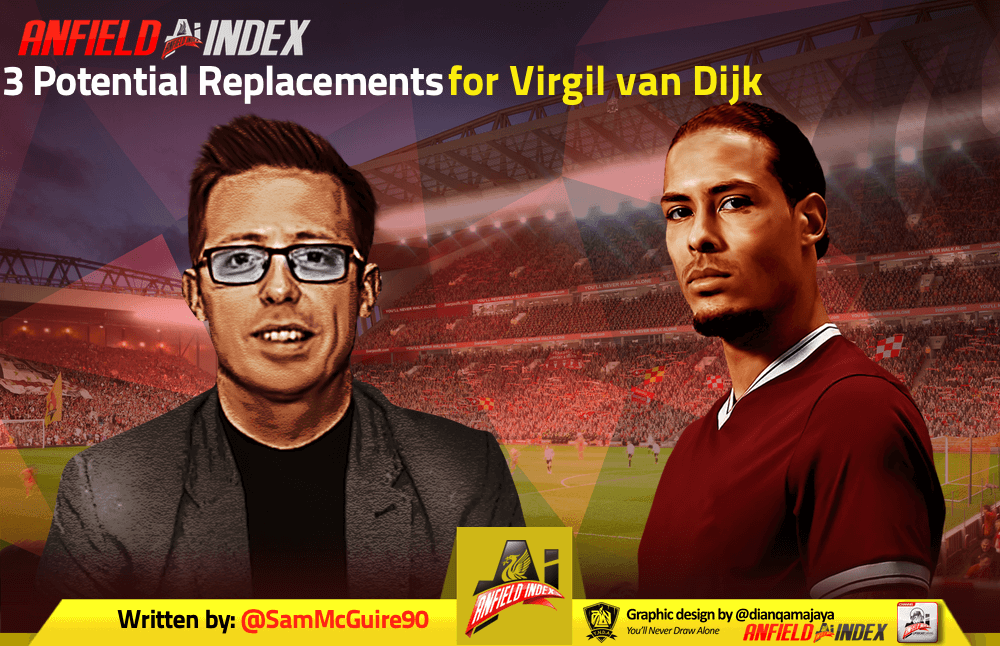 3 Potential Replacements for Virgil van Dijk
Before we get into this, I want to make it clear that it's impossible to replace Virgil van Dijk. The best we can hope for is finding someone who fills the void in the backline and in my heart to the best of their abilities. 
Now that we've cleared that up, we can look at some possible centre-back signings for Liverpool. Links have been popping up ever since the final whistle at Goodison Park on Saturday. Some good links, some bad links and some unrealistic ones. 
The world of defenders is a strange one at the minute. Van Dijk is clear at the summit but after him, a lot of defenders seem to live off their reputation. What's worse is the fact these reputations tend to be for what they do in the opposition's half and not for their defensive performances. So it's difficult to truly judge the defensive side of their games. 
However, there are certain metrics you can look at to help build a picture of a centre-back. Aerial duels won percentage, duels won percentage, passing accuracy and passes made per 90. The type of passes is also a good way to get a better understanding of an individual. After all, we've seen how effective Van Dijk can be when he pings a crossfield pass to Mohamed Salah's chest. So, with that in mind, a look at three defenders that have been linked with the Premier League champions. 
Dayot Upamecano
He seems to be the player a lot of Liverpool fans are fawning over. He's been on the radar of a number of Europe's elite clubs for some time now, despite still being just 21. The former Red Bull Salzburg defender made his debut for France earlier this year and is reportedly being courted by Barcelona, Arsenal, Manchester United, Chelsea and Liverpool. There's a release clause in his contract believed to be £40million which becomes active when the current campaign finishes. A potential bargain fee for a player with such a reputation. 
There are some question marks over the Frenchman though. Firstly, he only wins 60% of his aerial duels compared to the 75% Van Dijk was averaging. That drop-off is quite a significant one. He's also flipflopped between playing in a back four and a back three. So when looking at any of his numbers, you need to factor that in and understand that the sample size for him as a centre-back in a traditional defensive four isn't that large. 
Ibrahima Konate
The Frenchman had an impressive 2018/19 campaign but he's been plagued by injuries ever since. When fit, he's dominant. He won close to 70% of his aerial duels and his ground duels. But can Liverpool really gamble on a player who has had so many injury problems when their centre-back options now aren't the most reliable? In the past, they might've for the right price, but that was when the Reds had ambitions to qualify for the top four, not win the league. 
As good as he is on his day, there's too much risk with signing a player that has missed near 40 matches through injury over the past 18 months. 
Diego Carlos
Jurgen Klopp probably likes the Sevilla man because of how physical he is. However, there is a touch of Dejan Lovren about him. He's more than capable of bullying most players but he's not yet mastered how to read the game or the situation. He'll involve himself in battles when he doesn't need to and he'll stand-off players when he should be tighter. There is a recklessness to his game, as evidenced in the Europa League when he seemed to give away penalties in every match. He also wins just over half of his aerial duels, though that would likely improve if he put more thought into things. 
He's 27 and his release clause is believed to be £60million. He doesn't strike me as a Liverpool signing but neither did Thiago so maybe we're doing things a little differently now.