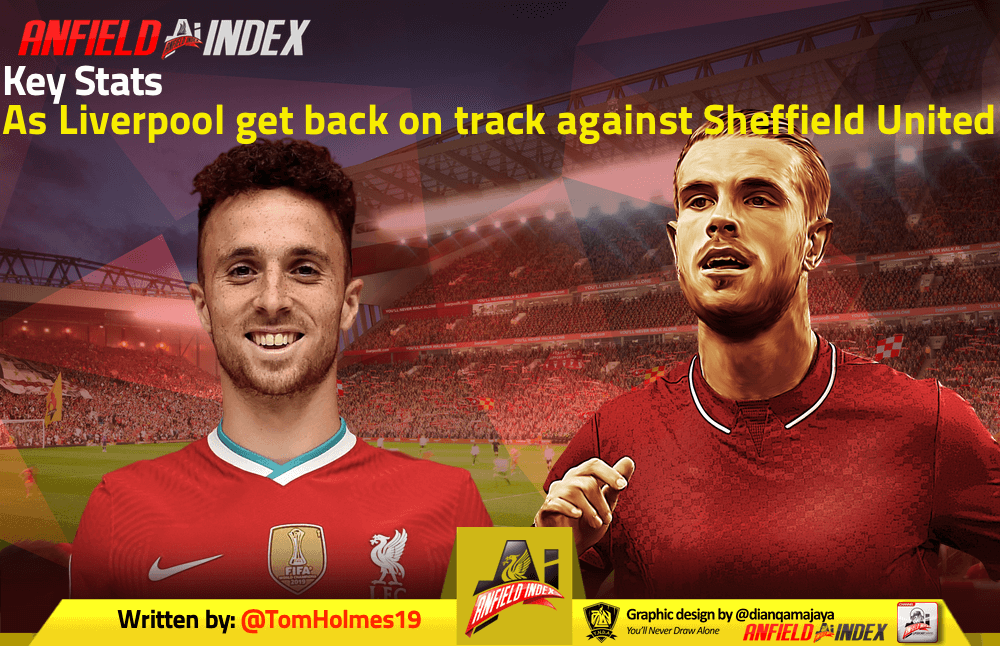 Key Stats as Liverpool get back on track against Sheffield United
Liverpool got back on track in the Premier League after back to back games without a win, by coming from behind to see off Sheffield United 2-1 at Anfield. Diego Jota marked his first league start at Anfield with the match-winning goal, as Roberto Firmino got his campaign off and running following a penalty given against Fabinho. But what were the key stats from the game?
The support acts step up
A lot has been made over the last week about the Virgil Van Dijk shaped hole in Liverpool's defence, as well as how important the duo of Sadio Mané and Mo Salah are to the Reds. And while both players had their moments in this game, Mané assisting the winning goal and Salah hitting the post and having a delicious goal chalked off for a marginal offside call, it was the support players who made the difference.
Jota was hailed as the perfect signing to back up the front three this season, and got off to the perfect start when he scored off the bench against Arsenal. And he continued his good start to life in a Liverpool shirt by scoring the winner in this game, a delightful header his main contribution on the ball. What's interesting about Jota is how direct he is with his dribbling. After completing three of his four dribbles in midweek, he completed three of five in this game, the joint most in the game for both.
Meanwhile, a lot is always made about the goalscoring form of Roberto Firmino, ostensibly Liverpool's third forward primarily. However, because of the number nine shirt on his back, and the fact that he plays centrally, the fact that he's more of a facilitator for Salah and Mané is often overlooked. Nevertheless, this was another strong all-round game for Firmino in an attacking sense, notching his first goal of the season. A lot has been made of Firmino's finishing, particularly last season where it was below par, so it's nice to see him get one in the right column as he converted a big chance.
Defensively, this was another bend but don't break performance from a defence expected to struggle without Van Dijk. Joe Gomez was named man of the match, and although Sheffield United racked up a worrying 13 shots, nine of which were inside the box, their non-penalty xG was only 0.65, and their only big chance of the game was Sander Berge's controversial penalty, coolly dispatched after Fabinho seemingly won the ball on the edge of the box.
Attack continues to pick up the slack
Liverpool's defensive woes all season have been highlighted, but their attacking form has been largely electrifying this season. Aside from the Villa game, Liverpool have comfortably outshot and out-created their opponents in every game this season, with their 2.40 xG against Sheffield United their second lowest of the season so far. The Reds have scored at least twice in every game, racking up 15 goals and an impressive 15.14 xG through their opening six games. That's the joint highest in the league for goals, and comfortably the highest for xG.
If the defence is an issue, then Klopp has addressed that issue by turning up the heat in attack, and Liverpool's front three and Jota have responded, scoring 13 goals between them, with Salah's six the highlight. There's every chance that the Reds can keep this form going, and it will prove vital as they hunt for back to back Premier League titles.