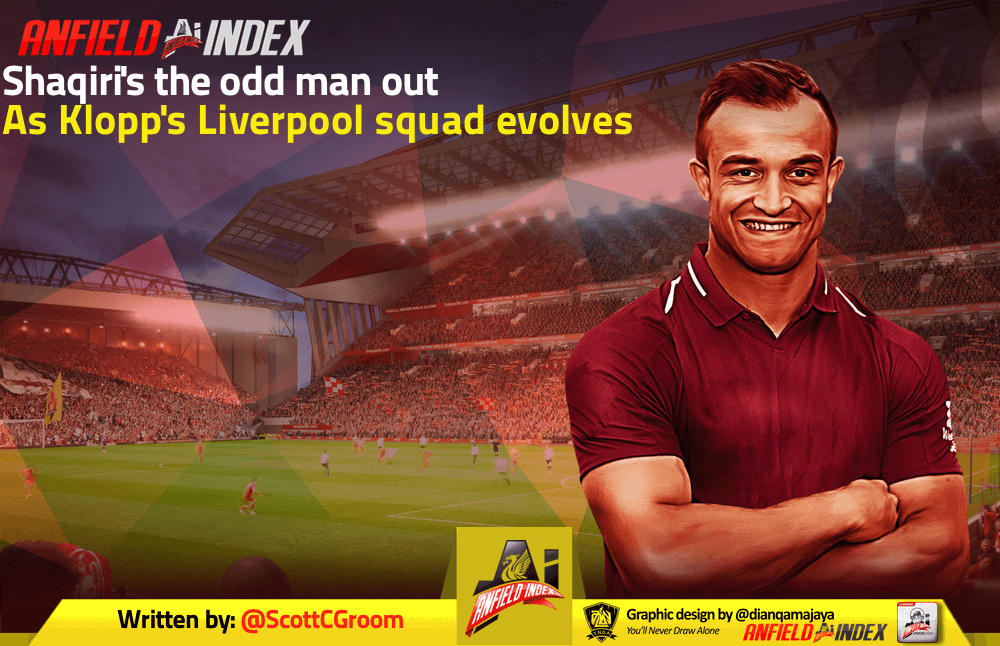 Shaqiri's the odd man out as Klopp's Liverpool squad evolves
There were quite rightly a few eyebrows raised during Liverpool's recent Champions League victory over Ajax when Klopp decided to rotate his entire front three.
Mané, Salah and Firmino were replaced by Minamino, Jota and the lesser spotted Xherdan Shaqiri in the vital 1-0 win.
Both Jota and Minamino turned in bright displays, with the former continuing to impress in his early Anfield career.
Yet with Shaqiri, who is seen less and less frequently even in the match day squads, it felt a little like putting a square peg in a round hole. It has been this way for a little while with the Swiss international, too.
After a bright start to his Liverpool career, mystery and intrigue has surrounded Shaqiri's situation. His regular omissions from squads, ongoing injury concerns were more suspicious than perhaps they should have been and when he was involved, his contributions have become less and less meaningful.
It is begining to feel, more so than at any point in recent times, that Shaqiri's time at Anfield is running out.
The arrival of Diogo Jota in the summer perhaps was Klopp's biggest hint that Shaqiri isn't part of the next phase of Liverpool's evolution.
Jota's recent performances and his rapid integration into first team plans seem to also indicate that this is the case too.
The fact that he fits effortlessly into this side, either as a direct replacement for Mané or Salah or as an additional weapon as he did so well against Sheffield United this weekend. He got his reward too, netting the all important winner against the Blades.
His vision, tenacity, pace, work rate and attitude are all the things Klopp and co look for in a player.
But with Shaqiri, although you can see him trying to implement what is asked of him, you can just tell it doesn't come naturally.
And this was apparent when he brought into the fray against Ajax. Minamino and Jota slotted right in and maintained the threat.
Shaqiri just looked clunky. It felt like things were an effort. It is a real shame as for £13m when he arrived from Stoke, he seemed like a highly shrewd signing.
But things just haven't worked out that way and it now feels like he's taking up valuable space in the squad and on the wage bill if we're being brutally honest.
I had every hope that Shaqiri would come good at Liverpool after so many stints of perhaps failing to live up to his undoubted potential at clubs such as Bayern Munich and Inter.
His spell at Stoke was another that was littered with great moments but again, one where he failed to live up to the hype.
It was hoped Klopp could get the best out of him, and he has certainly helped him to up his game.
But it's now a case as to whether the level Shaqiri is now at is his best or if he can continue to develop.
It feels like a critical time for him, but his career seems to sliding towards mediocracy rather than taking the next step at this point.