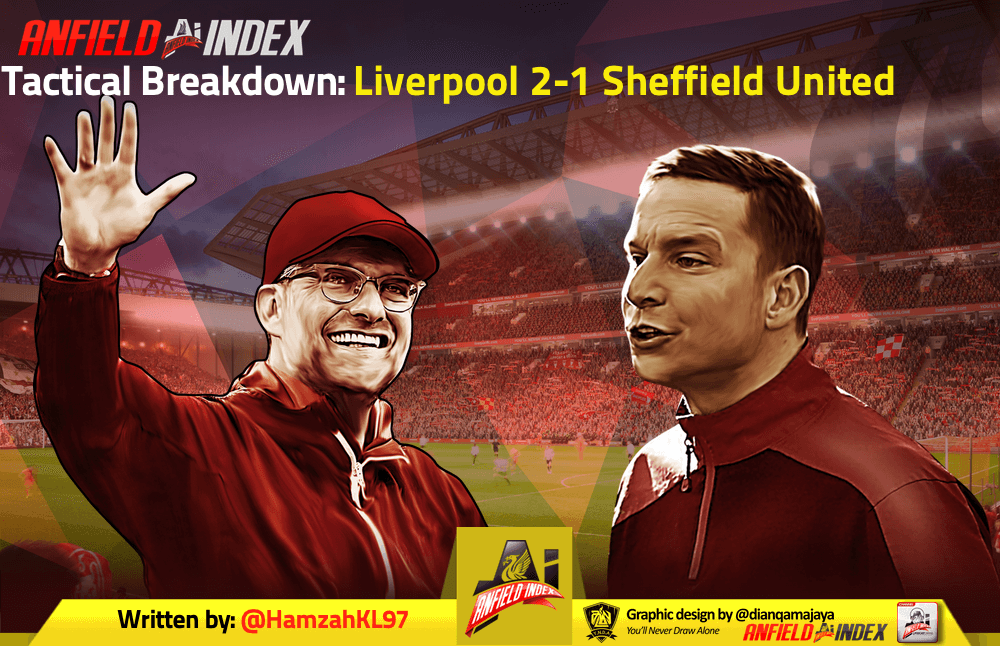 Tactical Breakdown: Liverpool 2-1 Sheffield United
With Manchester City dropping points in the early kick-off, and Liverpool denied a late winner in last week's Merseyside Derby at the behest of David Coote, the pressure was on for the champions to regain some momentum after the hammer blows of injuries and disappointing results.
Jürgen Klopp made a surprising tactical change, playing four forwards in a 4-2-3-1, as he looked to take advantage of the 30 minutes he saved in the legs of Salah, Mané and Firmino, after substituting them early against Ajax.
Sheffield set up in their usual 3-5-2, but made a few tactical tweaks, with some perhaps drawn from Liverpool's game against Ajax, and also a product of Van Dijk's injury.

Sheffield United, like Ajax, looked to press the Liverpool centre-backs and not allow them to settle, pushing them back where possible, and preventing them having time on the ball to them play passes in behind for Salah and Mané. Unlike Ajax, United did not press with their wingers, but instead with their two forwards, and attempted to have their midfielders press up on the deepest Liverpool midfielder. Klopp's side though were utilising a 4-2-3-1 system, which gave the defenders extra passing lanes when pressed and theoretically would also offer an extra body in deep midfield positions so that they would not be swarmed by a United pressing trap – as Ajax and Arsenal attempted to do, the latter of which had very little success in doing so. When the Reds held the ball in wide areas, United looked to press and pen those players against the touchline, often doubling up on Salah, but letting Liverpool have the ball with less pressure in the central areas, as they looked to mitigate the risk from pressing in the middle of the pitch, which would leave them open if the press was broken.
More significantly though, the Blades looked to target the home side with aerial duels. Liverpool, shorn of their best aerial asset – Van Dijk – but also of their second most proficient aerial duellist – Matip – were using their third best player of aerial challenges – Fabinho – at centreback. As a consequence, not only was the aerial ability of the centre backs noticeably worse than normal, but also lacked Fabinho's physical presence in defensive midfield too, with Wijnaldum and Henderson not as useful in contesting aerial balls.
Consequently, United played extremely directly, creating 35 aerial duels, of which they won 20, with 8 of those in the final third. Winning these duels allowed them to contest second balls and break into space that usually is unable to be exposed as Van Dijk regularly wins those contests and then is able to feed the ball forward and continue to apply pressure. Hence the lack of Van Dijk affects Liverpool in both a defensive and offensive sense, with the opportunity to maintain forward pressure following an opposition long pass reduced, and now the growing physical threat of opposition teams. Additionally, Van Dijk was so good at winning aerial duels that his presence alone often discouraged teams from playing long, which, in turn, offered greater opportunities for the forwards to press in dangerous or advanced areas – now the team is deprived of that option.
This will undoubtedly be a theme for the rest of the season, especially against less technically proficient sides, and how we manage that may well determine if we can retain the title.
The Reds' start to the game was bright though. The 4-2-3-1 offered an extra body going forward, and security in front of the defence. The forwards set to work immediately with Salah and Mané almost combining for an immediate goal. With 3 efforts inside the first three minutes, it appeared the game was sure to be a rout. Liverpool understood the challenge facing them, with the United system requiring tactics such as fast horizontal movement across the pitch, via switches, with Alexander-Arnold provided early on, and also runs from deep into the half spaces to create overloads and drag players out of positions in order to manipulate space – which Henderson did.
The home side appeared settled and comfortable until a free kick was awarded and then upgraded to a penalty, which handed United the lead, and deeply upset the rhythm of the game. Suddenly Liverpool appeared far less assured of themselves, with mistakes in the middle of the pitch, and aerial bombardment causing panic and uncertainty. The gamestate favouring United played into that, with Liverpool uncomfortable taking too much risk at the cost of conceding a second.
Firmino, in particular, looked lost, functioning as the furthest forward player on the pitch according to average position maps, despite him supposedly playing as a no.10.
The 4-2-3-1 did have its merits though, as it allowed Alexander-Arnold to move forward moreso than he has done in recent games, with him directly involved in the equaliser, with his pass to Henderson preceding Mané's saved shot. The last period of the first half was one of the only periods following Berge's opener in which Liverpool appeared settled and in a strong offensive structure where they could maintain the ball in the final third with consistency and constant pressure.
The second half was a far more different affair. Firmino's equaliser had changed the gamestate and suddenly United felt they could no longer sit back, whilst Salah became more involved both on and off the ball. The movement up the field from United offered Klopp's team the opportunity to play passes in behind, or at least run in behind – evident in Salah's offside goal. His deeper positioning meant he was harder to track, and able to run into space at speed, making him more of a threat, whilst Firmino moved into a deeper role than in the first half, where he was more effective.
Mané, Salah and Jota also looked to position themselves in the spaces between defenders, making them harder to track, and able to turn into space – as Salah did when he struck the post. This positioning from at least two of the Liverpool forwards meant they were able to pin the United defensive line in place, and when a player ran from deep or passed from deep, they were able to attack a static line that was already preoccupied with players, making it easier to break through.
There were a few interesting tactical concepts evident in this match, but the most significant one related to Van Dijk's absence, how Liverpool coped with that, and how opposition teams will look to target that weakness. Without Matip in the side, the Reds are significantly weaker in the air, and whilst Gomez has shown a marked improvement in his form following a poor spell since the restart last season, aerial duels are not his strength and Liverpool need to find a way to minimise the opportunity opposition teams get to expose that weakness. Key to that could be pressing more effectively, with pressing being surprisingly poor following two exceptional pressing performances against Chelsea and Arsenal. Most important though is the result, which showed elements from last season – even when not at their best, the side managed to turn around an unfavourable position, create a number of Big Chances, and win the game. There's plenty of room for improvement, but should Salah maintain his excellent level, and Matip return to full fitness, the champions should have enough in the locker to beat most sides in the league.