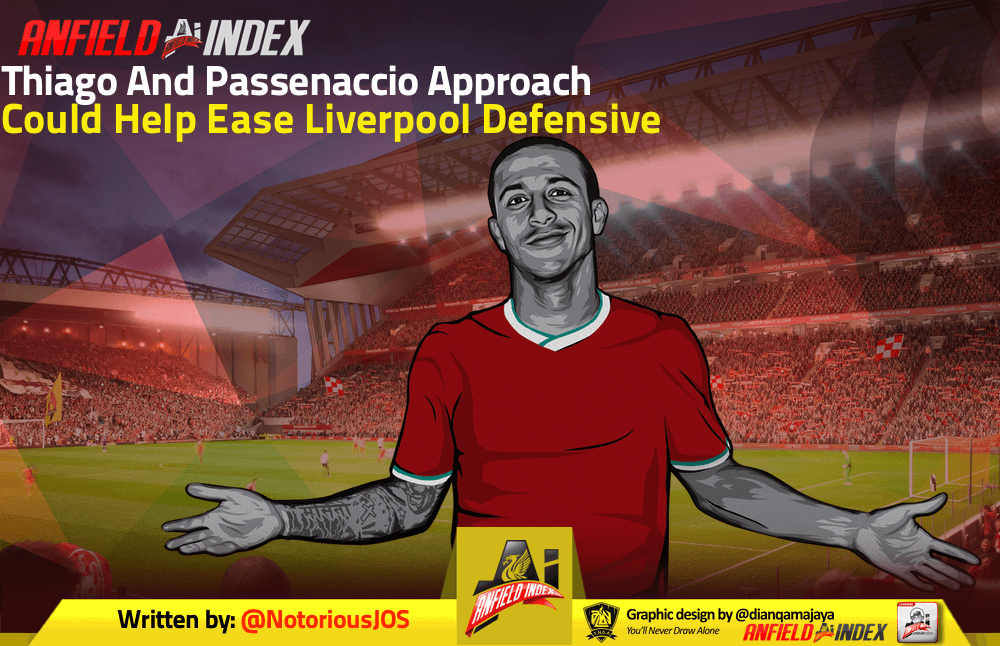 Thiago And Passenaccio Approach Could Help Ease Liverpool Defensive
Despite remaining undefeated, with a record of three wins and a draw — the tie coming courtesy of some of the worst officiating you will ever see, even with the leg up of video evidence — October feels like a cursed month for Liverpool.
The defensive compartment of Jurgen Klopp's team, in particular, were flooded in misfortune. Virgil van Dijk, the Reds' talismanic Totum of backline dominance, was injured by a horrifically reckless challenge by Everton's Jordan Pickford. The Champions weren't even awarded their in-game pound of flesh with a red card for England's number one keeper, an outcome that would have surely led to the Red side of the Merseyside divide picking up three points.
van Dijk, whose surgery on his ACL injury will take place soon — if it hasn't already — will now miss most of, if not all, the season. Into the Dutchman's sizeable on pitch void came in Fabinho and the Brazilian took to the task like a duck to water. If it wasn't for more VAR injustice meted out to Liverpool against Sheffield United, the 26-year-old could well have marshalled four clean sheets out of four in the games he started in the heart of defence.
But the injury Gods decided that they haven't been sufficiently cruel to the Anfield club, and — in the Champions League win over Midtjylland — Fabinho has now been added to the list of the Reds' wounded defenders with a minor hamstring tear, although his absence is only expected to last between two and three weeks.
Ahead of West Ham at Anfield this Saturday evening, the fixture that will bookend a month that precisely nobody will miss, Klopp will be hoping that Joel Matip — another defender very familiar with the physio treatment table — will be fit.
The Hammers play a rigid 541 shape with Michail Antonio — a player who may miss out, the Reds faithful will continue to pray — a regular recipient of long balls; a strategy that Liverpool could be susceptible to — with Joe Gomez not aerially dominant — if Matip doesn't play.
Even if Antonio, who appeared to hobble off holding his hamstring last weekend in the London clubs 1-1 draw with Manchester City, doesn't make the game then Sebastien Haller — a 6'3″ powerhouse — will surely play in his stead.
There are ways that the Reds can mitigate their temporary defensive shortages against Saturday's visitors, and it will depend on Thiago Alcantara's return, which — barring any late twists, don't you dare, fate — is pencilled in for the 5:30 PM clash at Anfield.
With the Spanish passing maestro taking the midfield reins, Liverpool can control the possession to the extent that their defence — which may include the 19-year-old Rhys Williams, a potential Premier League debutant — will have a low volume of work to do.
Manchester City won a Premier League title with the hapless Nicolas Otamendi and John Stones in their rearguard with Fernandinho providing the midfield protection that covered for the Argentinian and Englishman's deficiencies, even if much of this protection was maddingly unpunished tactical fouls.
Ahead of the Brazilian linchpin, Pep Guardiola used two advanced number 8's — typically Kevin de Bruyne, David Silva and Bernardo Silva — and this shape, a 433, and style pinned their opponents back with the natural consequence that their attacks would be nullified without much territory in City's half.
Liverpool can mirror this approach with Thiago, who can regulate the possession and make everyone dance to his passing tempo, and Jordan Henderson and Georginio Wijnaldum, whose tactical intelligence and — if needed — athletic prowess can put out any West Ham attacking fires at source.
The defensively diligent and always willing grafter that is Roberto Firmino will be an important player for this approach, too. Given the Brazilian will drop deep to link the play and offer himself as an option for passes — as opposed to a central striker who will constantly look to run in behind — and make it easier to circulate the ball and keep the play deep in West Ham's half and further away from the Reds' goal.
It can't be seen any other way, Liverpool are going through a defensive numbers crisis but there are the options — personnel-wise and tactically — for the Champions to make it through a testing period with their hopes for the season remaining intact.