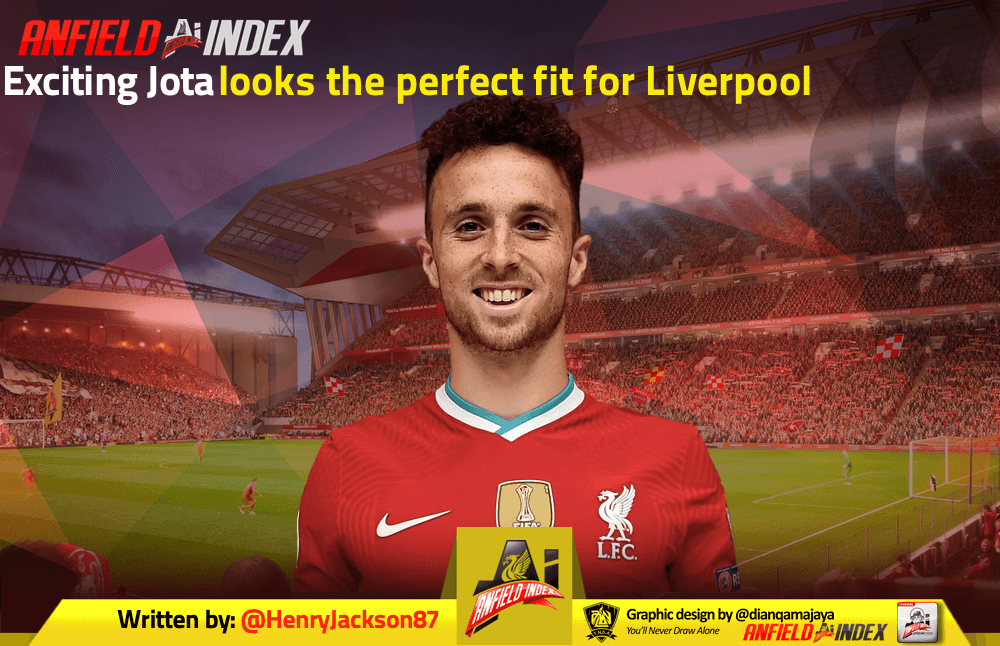 Exciting Jota looks the perfect fit for Liverpool
For so long, Liverpool have been crying out for top class quality behind Mohamed Salah, Sadio Mane and Roberto Firmino.
The Reds' front-three have been the best attacking unit in world football over the past three years, but if one of them is missing, their absence is felt hugely.
Taking out one of the trio has instantly made Liverpool a far less daunting proposition, with those in reserve not cutting the mustard, whether it be Xherdan Shaqiri or Divock Origi, to name a few examples.
An attacking addition was needed, on top of the silky Takumi Minamino, but everything was quiet at Michael Edwards Towers for much of the summer.
Then, from nowhere, Diogo Jota secured a move to Anfield, in a transfer reminiscent of Fabinho's from Monaco. There were no rumours about a potential deal happening – it was just announced all of a sudden.
Many supporters had been crying out for front-three backup all summer long and their wish was granted, with Jota appearing to be a tailor-made Klopp player.
Fast, versatile and brimming with quality in the final third, the Portuguese had been a key member of an excellent Wolves team, scoring 44 goals in 131 appearances for Nuno Espirito Santo's side, as well as registering 19 assists.
At a rate of just under a goal every three matches, his record was eerily similar to fellow left-sided star Mane's tally of 25 goals in 75 appearances for Southampton, and 14 assists, prior to him moving to Liverpool.
For this reason, there was understandable positivity surrounding Jota's arrival and the first month or so has been a roaring success.
The 23-year-old has hit the ground running, unlike so many Klopp signings who take time to settle, bringing the kind of ability in reserve that has forever been absent during the German's tenure.
He enjoyed a dream Premier League debut, firing home the match-clinching goal against Arsenal in front of the Kop – what a shame that it wasn't full for such a great personal moment – and he kicked on from there, also netting in the recent wins over Sheffield United and Midtjylland, the latter of which was the 10,000th goal in Liverpool's history.
Three goals in eight appearances is an immediately encouraging return – he has only started four of those matches – and it is so easy to see why Klopp and Edwards saw him as an ideal signing.
He is a classic numbers player, possessing the same speed, directness and unpredictability of Salah and Mane, as well as their ability to time runs into the box and chip away at goals and assists.
Jota's tap-in against Midtjylland may not have looked like much, but he got himself in the position to begin with, which is something that separates the top wingers from the rest.
The Portugal international is going to become a real pest of a player to rival team and supporters, much in the way the likes of Ole Gunnar Solskjaer, Sylvain Wiltford and Leroy Sane have been to Liverpool down the years.
He won't always start games, but he will impact them from the substitutes' bench when legs are tiring, and when it looks as though the Reds might drop points.
They have needed this sort of footballer for so long, and not having someone of his ilk has held them back so often, including before Klopp's time at Liverpool.
At 23, there is no reason why Jota cannot be a future superstar in the way Salah and Mane have become, maturing with age and becoming even more polished.
There may be a few turning up of noses upon reading that, but it is easy to forget that Mane, in particular, came to Anfield as a promising winger and developed into a world-class one under Klopp.
Why can't Jota do the same in the next four or five seasons?
Whereas some signings don't immediately jump out as perfect additions, or some individuals take a while to find their feet, everything just felt right about the Jota from the moment his move was confirmed.
You could see exactly why he was brought in and his potential is just as great as Mane's back in 2016, meaning he could be the Senegalese's long-term successor.
Liverpool have signed a real gem.