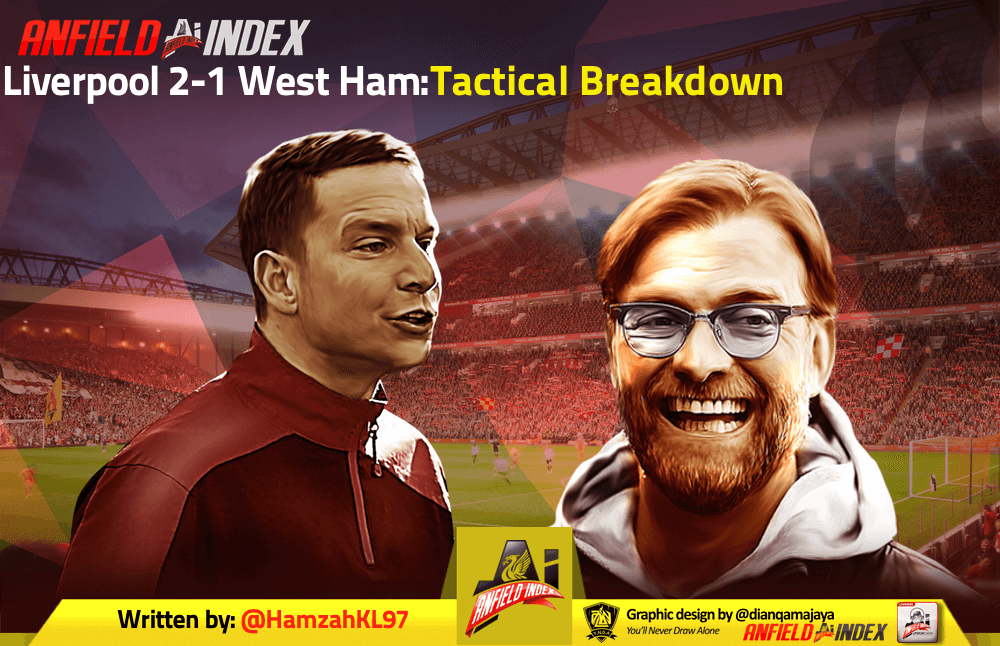 Tactical Breakdown: Liverpool 2-1 West Ham United
With minimal rest between games and an extremely unfortunate recent injury record, Liverpool are battling, hard, each week. Late on Saturday evening, West Ham United went to Anfield without their in-form striker Michail Antonio, but still with a clear, disruptive game plan in mind.
David Moyes' West Ham were structured in a 5-4-1 system, with a deep low block designed for defenders to double up on Mo Salah and Sadio Mané, and minimise the spaces between defenders for those players to run into. The four midfielders would move across the field, hoping to block passes into the Liverpool forwards, and also discourage the fullbacks from progressing up the field, in order to provide support.
West Ham's in-possession gameplan was to utilise their physical presence and long passing ability to gain territory and contest aerial balls, looking for knockdowns or set-piece opportunities. Their reluctance to use traditional build up in possession drastically reduced the opportunity for Liverpool to press and win the ball in the final third.

Jürgen Klopp's tactical system appeared fairly normal. A 4-3-3 with Firmino positioned between the Hammers' midfield and defensive line, supported by a midfield of Henderson, Wijnaldum and Jones who would ideally look to move the ball vertically where possible, but largely horizontally, although crucially, with pace in order to open pockets of space between West Ham's defenders, for Mané and Salah to move into.
In the opening ten minutes of the game, West Ham moved up and looked to contest what they could, without being particularly aggressive. In those 10 minutes, the Hammers attempted two passses in Liverpool's defensive third and completed one. However, a single moment of poor play in West Ham's half, in which the home side failed to press effectively, led to a counterattack, in which a few small individual positioning errors were made, which allowed Masuaku to cross without pressure and then Fornals to punish Gomez's clearance.
With the lead, West Ham had a rare opportunity to dictate how the game could flow. No doubt they would have to sit back and soak up significant amounts of pressure, but if Haller had support, there was an opportunity to counter-attack and perhaps score a second. However, rather than use the game state to their advantage, the east London side retreated further and further inside their own half, granting Liverpool more of an opportunity to regain control.
The Reds maintained control of the ball for a majority of the first half but really struggled to create goalscoring opportunities. The absence of Keïta and Thiago, both specialists in breaking down low blocks through their fast, progressive football was extremely apparent. So too was the physicality of West Ham, who were able to minimise any long ball threat through their physical prowess, and smother the Liverpool forwards when the ball was played up to them.
With only Haller up top, Gomez and Phillips were afforded space and time, as was Henderson. But once they looked to pass into the final third, play became congested, and it was extremely hard to break down the defence, even with the support of Wijnaldum and Jones in the halfspaces. Most frustratingly for the Reds was that Salah and Mané needed to maintain high positions up against the West Ham backline to create goalscoring chances, but Liverpool were just unable to pass into them, with Firmino harried and forced backwards, as he struggled to affect the game, only attempting 34 passes in the match. Of these only one was completed in the penalty area, and eleven in the final third.
With Firmino struggling, Salah dropped deeper looking to drive play forward through deep runs, or progressive passes. But without him up against the defensive line, only Mané was positioned against the back five, behind a midfield wall of four.
When Moyes' team did progress up the pitch, often through long passes, this did offer Liverpool opportunities to break. A long pass over the top from Henderson into Salah appeared to open up West Ham, with Mané through on goal, prior to Aaron Cresswell fouling him inside the box. Neither the referee or video assistant referee deemed it a foul though. Nonetheless, one-on-one opportunities for Salah and Mané were few and far between, until Jones played a lofted ball, outside of Masuaku who rashly kicked out and gave away a penalty, with a few minutes left until the half-time break.
The second half saw visitors acknowledge the need to move forward more if they wished to score. It also saw Liverpool committing more players forward, with Alexander-Arnold in particular allowed more space and time on the ball in the middle third, where he could affect the game more. West Ham's block was resilient though, and it was clear Salah and Mané needed some extra movement around them in order to shake off their markers.
On the 70th minute, Klopp moved accordingly, withdrawing Firmino and Jones and replacing them with Xherdan Shaqiri and Diogo Jota, in a 4-2-3-1 system in which Salah led the line, Jota was on the left, Shaqiri in the centre and Mané on the right. This also allowed us to use Henderson and Wijnaldum in a double pivot, which aided ball recovery from second balls which Haller contested and also facilitated Robertson and Alexander-Arnold moving up, without sacrificing defensive stability and protection.
Alexander-Arnold used this as an opportunity to move inside, working in the half-space, with Mané out on the touchline. On the opposite wing, Robertson hugged the touchline, but the West Ham defenders refused to be drawn, instead of letting the midfielders move across, thereby retaining a compact shape.
The addition of an extra player inside the final third due to the system change finally offered Mané and Salah the opportunity to move and get involved without being doubled up on, and if they were doubled up on, a supporting player was often nearby to take advantage of the space that had consequently opened up.
A break down the left, in which Salah occupied three defenders in the middle, as Jota drove forward, allowed Mané to fill in as the no.10, unmarked. His effort was saved and rebounded to Jota who tucked it away, but was then ruled out by Kevin Friend on review at the pitchside monitor.
Nonetheless, it was clear there was a way through the West Ham defence if Liverpool persisted. The Champions' winner was an extraordinary piece of play, demonstrating perfectly the tenacity and guile that personified last season's indomitable run. Salah moved out to the right to contest the ball, and fought hard, as he combined with Mané, who then did the same, with both holding off two players. They then recycled the ball, retaining pressure on the West Ham defence. The ball moved forward and back with Salah and Mané again combining and fighting hard. Salah this time passed from deep, and followed up his pass with a run, as Mané held off three defenders. The advantage of having an extra forward is that it facilitates exactly this, with a wide player able to drop deep (where they are unmarked) where they can then combine with and run in beyond the player against the defensive line, with their speed and movement able to carry them through unmarked. As the ball moved from Mané to Wijnaldum, Alexander-Arnold received the ball, and came inside, where Wijnaldum was joining the attack too, as the Champions looked to overwhelm the Hammers with their movement. Wijnaldum's advanced presence gave Henderson a little more time and space, allowing him to feed it into Shaqiri. Next to Shaqiri was Jota, who ran onto the perfectly weighted nutmeg pass. His ability to run from a deep position meant he passed the West Ham defenders at pace, with them unable to react, turn and chase in time. This goal demonstrated patience, persistence and world-class football, with the intelligence to wait in order to create the perfect opening just sublime.
With a lead to defend, Liverpool reacted accordingly, with Salah rested for the final few minutes. In that time West Ham looked to win set pieces, and take advantage of their physicality. However, it proved largely ineffective due to the staggering aerial presence of Nat Phillips. Across the game, both he and Gomez combined to contest aerial balls against Haller, with Phillips usually going up, and Gomez counter-pressing the resulting situation. As the game moved into its final phases it was again Phillips who stood tall, ending the game with 6/6 headed clearances and 5/8 aerial duel wins.
This had the propensity to be an exceptionally frustrating affair, but Liverpool managed to fight hard and earn the win. Despite not keeping a clean sheet, West Ham did not create much at all, although it is important to note they rarely looked to contest anything beyond set pieces. As mentioned in the Midtjylland post-match tactics piece, it's hard to meaningfully assess Klopp's side given they have lost five of their most valuable defenders and midfielders at once, and are in a blizzardous flurry of fixtures. However, the team is still winning without playing at its best, and the tactical changes in this match were made to good effect. We've already seen this side at its best in the Chelsea and Arsenal matches, if they can find those performances again, this could still be an extraordinary season.