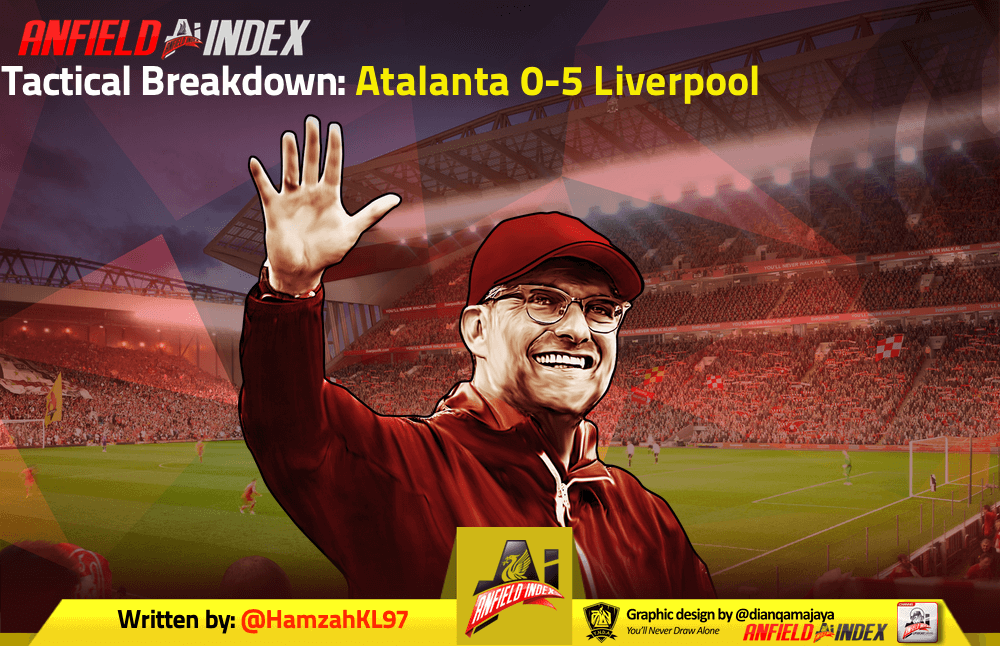 Tactical Breakdown: Atalanta 0-5 Liverpool
"I don't think any system could have defended tonight Sadio, Mo & Diogo, the way they played, with the support of the others."
In his post-match presser, Jürgen Klopp was bubbling with praise for his entire team, championing the manner in which the team defended with concentration and discipline, and attacked with synchronicity and fluidity. It was a significant departure from the nature of Liverpool's most recent games, with a distinct shift in tone, tempo and action, akin to the thrilling all-action football of the 17/18 Champions League campaign.
Liverpool's tactical shape, as ever was a 4-3-3, this time featuring Diogo Jota starting in place of Roberto Firmino, supported by a midfield of Gini Wijnaldum, Curtis Jones and Jordan Henderson, the last of whom was a surprise starter given the number of minutes he has played in recent weeks. The Reds' tactical system also employed a highly efficient and intense press. This may not seem particularly surprising, but over the past month, we have seen a significant drop off in Klopp's sides' pressing volume as both the opportunity to press has been minimised (usually because the Champions were playing against low block sides that went long), and also because they seemingly had been instructed to press less in a select few games.
Prior to this game, I had not seen Atalanta play before, however, I had heard a lot of praise and admiration for Gian Piero Gasperini's tactical system, and it was fascinating to study. Like Bielsa's Leeds, Atalanta used a man-to-man pressing system. To facilitate this they utilise a 3-4-1-2 system, which ideally should keep the central areas compact enough to prevent overloads, and allow for players to step out and press without necessarily sacrificing the defensive integrity of the system.

Over Klopp's time at Anfield, we have seen that Liverpool's front three not only attempt to create one-on-ones as much as possible but are exceptionally good at exploiting them. And a three at the back system can often lead to situations where the opposition's centrebacks are up against Mané and Salah in transition, and simply cannot cope. The examples are numerous and extend as far back as when Klopp's side played Hoffenheim in the Champions League playoffs of 2017/18.
The former European Champions' start to the game was electric. The ball speed was phenomenally quick, zipping across the surface. With each fast pass, the Atalanta defensive structure attempted to move across and cover the space. However, their two forwards up top meant their system was narrow, leaving space for the Reds' fullbacks. With the Atalanta forwards and no.10 pressing up, the outlet ball to the fullbacks was always available. When that pass was played, often by Alisson – who made fantastic vertical contributions both medium and long-range across the match – the three Atalanta forwards were essentially taken out of the game. The Atalanta wingbacks were caught in a predicament, unsure whether to press the Liverpool fullbacks and leave their centrebacks one-on-one with the Reds' forwards or to move inside and support the two-man midfield against the midfield three from Merseyside, which was supplemented by one of the forward line dropping deep to create a numerical advantage.
The constant movement of the midfield and forward line was essential to stretching the Atalanta man-marking system. When a team is rigid in its positions against a man-marking setup, it's extremely hard to create space effectively, and very easy to be pushed back. The incessant movement dropping between the lines, and moving across the field by the front three was supported by an industrious and proactive display by Wijnaldum and Jones who moved vertically and laterally in tandem with the forwards to open up pockets, and dangerous extend spaces between the Atalanta lines.
Across the first-half, Mané, Salah and Jota all played as the number 9, which was immensely challenging for the Italian side to track. Not only this though, when one of them dropped deep, at the same time Wijnaldum or Jones would sprint up, into the vacant false 9 region, to occupy the space, in order to continually stretch the Atalanta defence, and allow the other two forwards to isolate their centreback and exploit the one-on-ones.
Early on, as Atalanta were overwhelmed with Liverpool's movement, their fullbacks dropped back very deep, creating a 5-2-1-2, which Alexander-Arnold and Robertson exploited as they moved up the field and supported the midfield. This torrid time for Atalanta led to them dropping off after around 25 minutes, as they tried to be more compact, and press when the visitors entered their half and final third, rather than across the pitch, as their movement, press resistance and passing meant they could play through the full pitch press.
As mentioned earlier, Liverpool also pressed quite significantly. To facilitate this Alisson and the centrebacks advanced up the field in order to compact the playable area, thereby making pressing opportunities more efficient.
With the Reds taking the lead early on the impetus to chase the game and take risks fell upon Atalanta. This advantage in game state, as ever, favoured the visiting side, with the side able to profit off Atalanta overcommitting on set pieces, with Salah running riot on the counter-attack. Despite this and the tactical superiority the Premier League champions displayed, Atalanta were good value for at least one goal, with a number of chances in the second half demonstrating their fantastic ability which, for first-time watchers, was a shame they were unable to display more of. In those moments, Liverpool's goalkeeper Alisson shone, saving a number of chances, and then launching into counter-attacks moments afterwards.
As this graphic below, from @StatifiedF shows, Liverpool's positioning and spacing were gorgeously balanced.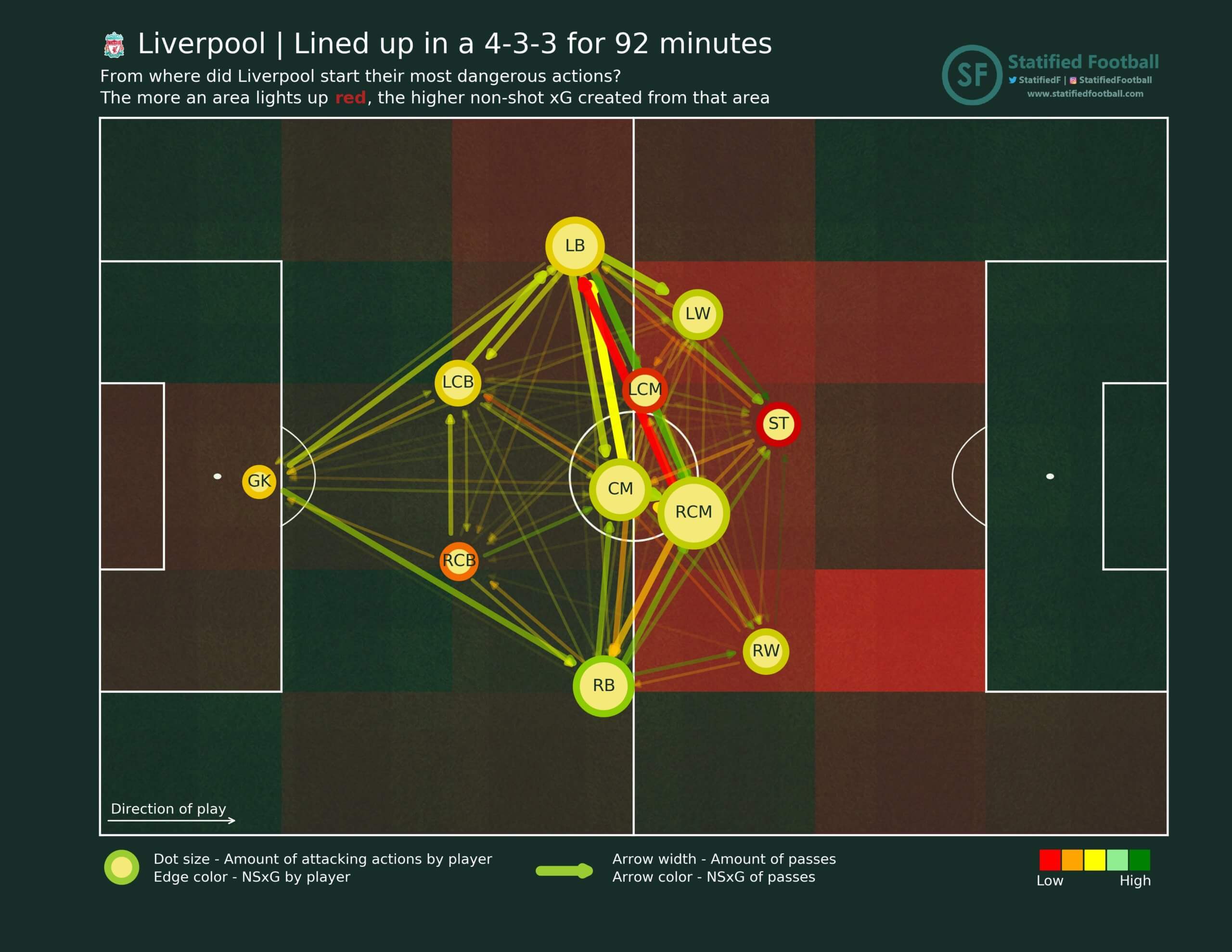 It's no surprise that when the Premier League champions are offered space, there is almost always trouble for defenders that follows. It was enormously refreshing to not see the Reds attempt to work around another low block or offer up an early goal so they have to chase the game. Make no mistake, this was a fine performance, in which the midfield was spectacular, and the entire forward line utterly irresistible, with Salah and Mané noticeably disappointed they did not score more. Jota's hat-trick was a superb display, with his purple patch deeply satisfying to see, and particularly convenient given the strains on the squad at the moment. Atalanta are no shmucks, and they probably played better than the scoreline suggests. However, when playing a system as precise as theirs, a team has to be absolutely spot on with their off-ball work, and hope that they are not up against a team as technically brilliant as Liverpool. Unfortunately for them, the visitors from Anfield were just on a completely different level, but that will likely feature as a lesson for other clubs in Europe, who will likely be less brave and prefer to sit back when playing against them. To them though, the Reds now have a fit-again Naby Keïta, whose performance was bright, intelligent and effortlessly smooth, and hopefully, we can expect Thiago to return soon, and then the only question for opposition teams before a match will be death by a thousand cuts or firebombing?
Manchester City awaits the Premier League champions next, and this fixture is usually the footballing and tactical highlight of the season. If Klopp's team are once again afforded the opportunity to press, as they were against Atalanta, Chelsea and Arsenal, we may expect a similar result, but I doubt Pep Guardiola will let that happen, given the often reorientates his team's buildup play and channels it through wide areas to avoid the press against Liverpool. That will no doubt be a fascinating game, but as far as the Champions League is concerned, the gauntlet has been thrown by the Reds. Will anyone rise to the challenge?