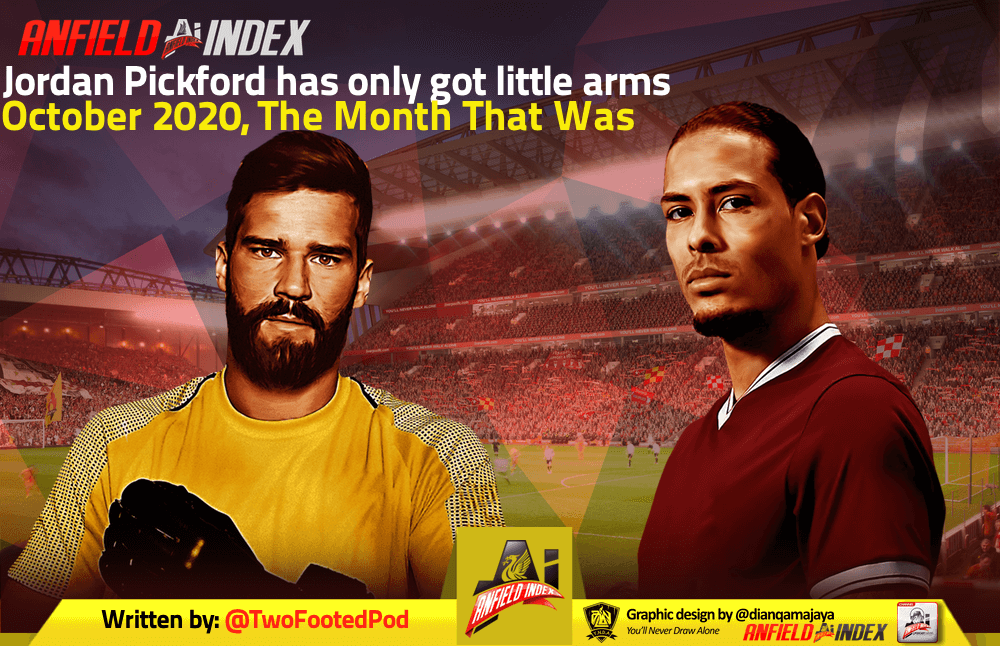 Jordan Pickford has only got little arms - October 2020, The Month That Was

"He's only got little arms, he's only got little arms" – so has sung the Kop at Jordan Pickford in recent times. Expect the songs about him to become more mean spirited after his actions in the Merseyside Derby. More on that in a bit.
October did not begin well, with a penalty shoot-out defeat to Arsenal in whatever they're calling The League Cup now. The Reds actually played pretty well on the night, and could well have won the game but it's no harm that they didn't. With the schedule the way it is, not having those extra games is probably for the best.
Things got worse a couple of days later when Liverpool were on the wrong end of 7-2 walloping away to Aston Villa. There's no other way to describe it than embarrassing. Villa exposed some flaws in the Liverpool rearguard, timing their runs to perfection to break the offside trap and punish Liverpool for playing such a high line. Jurgen Klopp should probably have been a little more pragmatic, maybe around the time the fourth or fifth goal went in, but Kloppo is Kloppo and he didn't waver. Villa benefitted from three deflected goals but in truth, could have scored 10 on the night.
It couldn't get worse from there though, could it? That was it. That was the lowpoint of the season. We'd gotten it out of the way nice and early. Things could only get better.
To Goodison the Reds went, the face the best team Everton have put together in over a decade. For the first time in a long time, it could have been argued that the top of the table Blues were the favourites to win a Derby. It started well for the Reds, Sadio Mane put them ahead after three minutes. From there, it largely all went to shit.
Virgil Van Dijk was forced off after that short armed cretin jump feet first into the Dutchman and scissored his legs around Virgil's. We didn't know it at the time, but that was the last time we'd see Virgil in a Liverpool shirt this season. The world's best central defender had suffered a torn ACL due to the actions of the worlds most inept T-Rex impersonator. Worse still, Pickford went unpunished.
The VAR on the day, David Coote, ignored the clear foul on Van Dijk and checked only to see if he had been offside. He was, so Coote thought that was job done. This was communicated to the commentary teams around the globe. When the PGMOL tried to change their story late on, Arlo White called them on it. Coote, easily among the most incompetent match officials the Premier League has ever seen, had failed to do his job and so Liverpool were without their defensive lynchpin, and any kind of compensation for the foul.
Everton would score through a Michael Keane header, from the area of the pitch Van Dijk would be defending on a set piece, before Mo Salah put Liverpool 2-1 up beating the tiny-armed one with ease. Everton equalised again, Dominic Calvert-Lewin heading home from, you guessed it, the area Van Dijk would be defending.
The shitshow didn't end there. Richarlison, often praised for "having a bit of bastard about him", lunged two footed into Thiago Alcantara and earned himself a red card. Thiago stayed on, but we haven't seen him in a red shirt since.
And if that wasn't enough. If the fuckery hadn't already gone overboard. In injury time Jordan Henderson had a perfectly good goal ruled out because Sadio Mane's breath roamed offside. Worth noting that stumpy arms' attempt to save Henderson's shot looked like a man falling over having drank six pints too many.
Ancelotti had clearly sent his team out to kick our lads. It happened throughout the game. Karma is a wonderful thing though. Richarlison got a three game ban, and James Rodriguez came away nursing an injury that has hampered him over the past three weeks. Everton, in turn, have lost their last three matches. Having finished that weekend as the winners of the "top of the league after 5 games" cup, the "got a draw with the redshite" shield and the "Everton Aren't We???" participation ribbon, those lovely bitter Blues are now 7th, 4 points behind Kloppo's Red Machine.
Liverpool decided to make the rest of the month an exhibition of how to win games whilst playing turgid football. Ajax were beaten 1-0 in Amsterdam, Nico Tagliafico deflected a Sadio Mane shot that was heading for a throw-in past a helpless Onana to give the Reds a good three points to start their Champions League campaign.
Next, Sheffield United were allowed a 1-0 headstart after another utterly ridiculous VAR decision where Fabinho clearly won the ball on the edge of the area but was bizarrely penalised and a free kick to the Blades was awarded. The VAR, Andre Mariner – who's career highlight was confusing Alex Oxlade-Chamberlain and Kieron Gibbs and sending off the wrong man, reviewed the incident and decided it took place inside the penalty area. A penalty was awarded. What Mariner did not review, confirmed to the commentators at the time, was whether or not it was a foul. It wasn't. But the penalty stood. The PGMOL changed their story after the game in another act of flagrant lying. Bobby Firmino and Diogo Jota grabbed the goals which won the game for Liverpool and got them back on track in the Premier League.
More European action followed as Danish Champions Midtjylland arrived at Anfield. A Diogo Jota goal and a late penalty from Mo Salah wrapped up the three points in a match which had all the excitement of a paint drying exhibition. The most notable moment of the match was Fabinho having to go off with a hamstring injury. The brilliant Brazilian had slotted back into central defense after Van Dijk's injury and performed brilliantly. This was another blow, when we just didn't need it.
And finally West Ham and the ghost of David Moyes arrived at Anfield. Nat Phillips made his first start for Liverpool in the Premier League and proceeded to bully Seb Haller for the entirety of the game. Moyes set up in his now customary 7-1-1-30 yards of nothing-1 formation and Liverpool struggled to break them down. The Hammers went 1-0 up after a poor header by Joe Gomez dropped to a weirdly unmarked Pablo Fornals on the edge of the box. A Mo Salah penalty just before the break evened the scores before Diogo Jota won it late on for the Reds with a tidy finish after a great ball from Xherdan Shaqiri.
That Salah penalty, as clear a penalty as you'll see all year, had the cryarsers doing what they do best. The xenophobes crawled from under their rocks to criticise Salah for going down after being clearly kicked. They even admitted he was kicked, but claimed he wasn't kicked hard enough. The same crowd praised Harry Kane for blatantly cheating and fouling Adam Lallana in a dangerous manner the very next day. Bellends. The lot of them. Absolute bellends.
And that was it. October was over. A month that started badly and ended with Liverpool winning four on the bounce despite playing terribly was over. The Reds were the heroes, while all the villains came from the blue side of Stanley Park.
Carlo, and his encouragement of thuggery. Richarlison, a thug. Jordan Pickford, a tiny armed thug. And David Moyes, who continues to prove that you don't need to trophies to be a winner but he is a winner. Except he wasn't. He lost. Again. Because losing is what David Moyes does.
Onto November we march, it's started well so we'll see how it goes. One thing is for certain, at the end of this month and every month until infinity, Jordan Pickford will still have tiny arms, and he'll still be shit.