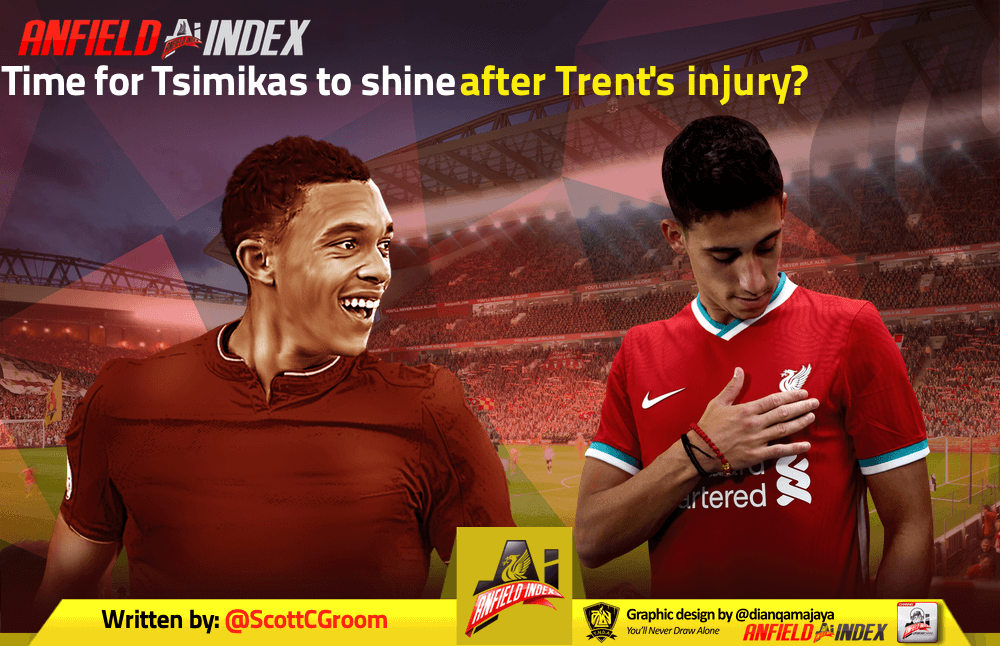 Time for Tsimikas to shine after Trent's injury?

Another week, another injury for a Liverpool defender. That's how it seems, at least.
While the recent 1-1 draw away to Manchester City was a good point to come away from the Etihad with, it certainly came at a price.
Local hero Trent Alexander-Arnold pulled up in the second half with a calf problem which early reports (which remain uncomfirmed by the club at this point in time) suggest could keep him out of action for around four weeks.
While there's an international break for half of that time, any period without Trent at right back isn't one we like to think about such is his importance to this Liverpool side.
If reports are true, Trent looks set to miss games against Leicester, Atalanta, Brighton, Ajax and Wolves at least while he recovers from the set-back.
The ever reliable James Milner came on in his place against City and did a very able job keeping their pacey wingers at bay, but you would think that he was only in there as a stop-gap.
So who is going to replace the seemingly irreplacebale Alexander-Arnold?
Time for Tsimikas?
Rightly, there's a lot of discussion around young Neco Williams, a player who has earned Klopp's trust and looks a very good prospect for the Reds. It's more than likely that he will get game time over the coming weeks, both from the start and as a substitute.
Putting Fabinho back into Liverpool's defence is also an option, but not a desirable one as having his presence in the midfield is something that's missed when he's elsewhere or on the sidelines.
So if we're looking a direct defensive replacement, why not look to Kostas Tsimikas?
The Greek international signed in the summer and has rarely been spotted ever since due to a niggling thigh injury. However, he is now fit again and has travelled with the Greek national side for their upcoming internationals.
While Tsimikas is a predominantly left sided player and was signed as cover for Andy Robertson, what's stopping him from playing on the right? Or, alternatively, filling in at left back for Robertson while he switches to the right?
It might make for quite an astute change in seeing a left footed wing back on the right flank and either of the above scenarios wouldn't take away from Liverpool's trademark flying full backs.
From what little we've seen of Tsimikas, and what we know about him from his Olympiakos days, it's clear that he loves bombing down the wing at pace.
He impressed in the EFL Cup win over Lincoln doing just this, whipping some mean balls into the box in the process.
While this was only the lowly likes of Lincoln, we saw Tsimikas demonstrating his natural playing style which looks like a direct match to that of Trent and Robbo.
So for me, why not use him now? This is, after all, what he was brought into the squad for, back up and rotation.
Not a dig at Neco
I appreciate that this looks like I'm overlooking the likes of Neco Williams here, but I assure you I'm not.
As mentioned earlier, I believe Klopp will give the young Welshman more than his fair share of chances in the coming weeks and months as the hectic fixture list inevitably calls for players to be rested.
I think Williams has a bright future ahead of him, and he too can certainly do what Tsimikas can in terms of getting forward and delivering balls into the box.
I'm merely saying that this could be a big chance for Kostas to launch his Liverpool career. Likewise, it could be a big chance for Williams to stake his place as Klopp's numberone deputy full back.
It's difficult to see who out of these two, if it is either of them, Klopp turns to in this latest hour of need.
Williams is perhaps the most seemless transition as right back is his natural position, but Tsimikas or Robertson will be more than capable of playing from the opposite side and could, as mentioned, provide something different as a left footed player on the right flank.
For me, this is exactly why Tsimikas was brought into the fray this season, so I'd like to see him given a run out.