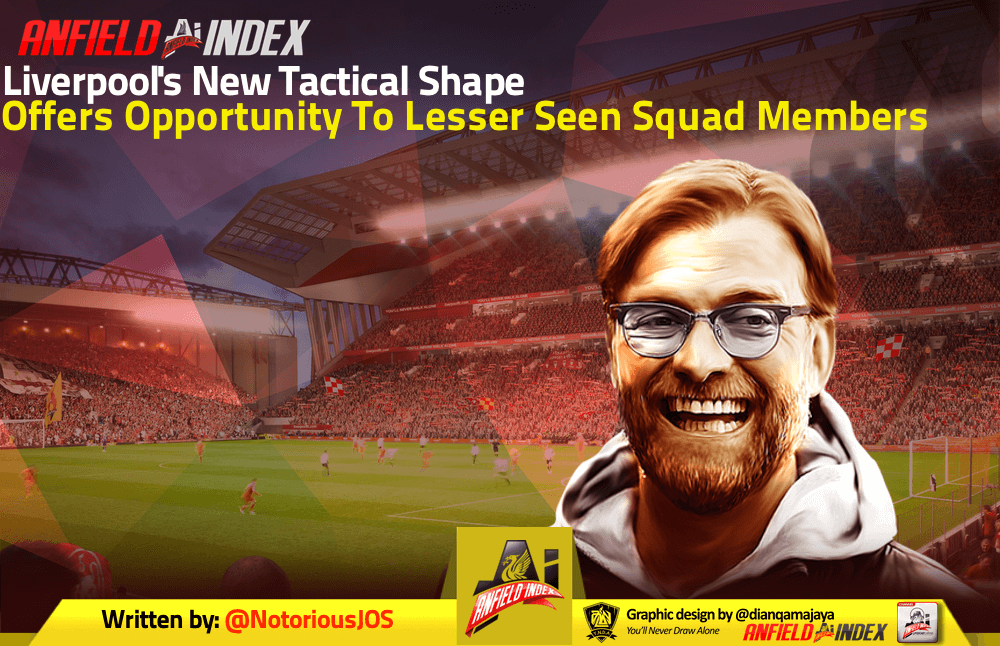 Liverpool's New Tactical Shape Offers Opportunity To Lesser Seen Squad Members
Jurgen Klopp sprung a surprise in Liverpool's recent 1-1 draw against Manchester City at The Etihad.
After Diogo Jota scored a hat-trick against Atalanta in the Champions League a few days prior to the clash with Pep Guardiola's team, speculation was rife that Klopp may drop Roberto Firmino, one of his key lieutenants, and retain Jota in the starting team.
As it turned out, though, the German picked both Firmino and the Reds' new signing from Wolves as the Champions lined up in a 4231 shape, which, depending on the phase of the game, flitted between a 424 and 442 shape formation.
Mohamed Salah partnered Firmino upfront, with Sadio Mane playing off the left. Jota started deeper and on the right-hand side, a role that necessitated a lot of defensive diligence and work from the Portuguese flier.
The new tactical regimen — when you consider it was trialled for the first time away to Manchester City — worked quite well, even if, at times, Georginio Wijnaldum and Jordan Henderson looked outnumbered in the engine room. There are definitely positives for Klopp to take and, going forward, food for thought.
With a defensive injury crisis — which, at the time of writing, has been added to by Joe Gomez' knee injury on international duty — meaning Liverpool will have to push midfielders into defence, see Fabinho for example, then playing a two-man engine room tactic makes a lot of sense.
Henderson, once in the Club World Cup, and Wijnaldum — once away to Brighton in a back three in the 2017/2018 season — have played as emergency centre-halves in the past and, at this rate, they may have to drop back into defence again this season.
Fortunately for the Anfield team, they have a plethora of midfield options to accommodate any move by the Dutchman or the captain to the heart of the backline. Thiago Alcantara and Alex Oxlade Chamberlain are both nearing returns from injuries; Naby Keita and Curtis Jones provide dynamism and James Milner, in a bind, can cover any number of roles in the middle of the pitch.
Any commitment to playing a 4222/442/424 shape — or whatever you're calling it yourself — could also offer the opportunity for more game to some of the peripheral players in the squad.
Liverpool signed Takumi Minamino primarily based on his performance at Anfield for Salzburg in last season's Champions League. The Japanese international was in sensational form — registering an assist and scoring with a beautifully struck volley — playing at the tip of a 442 diamond behind Erling Braut Haaland and Hwang Hee-chan.
Intelligent in his manipulation of space and movement, there has been genuine and justified doubts about the 25-year-old's physical capability to lead the line in a 433 formation. But if Klopp continues to line his team out in a two striker shape then Minamino — next to a dominant forward, like Salah — could find his niche as a link between midfield and attack, reminiscent of his role at his previous club.
Xherdan Shaqiri entered the fray before the hour mark at The Etihad, replacing Firmino but dropping deep to play on the right-hand side of what was clearly becoming a midfield four.  Cutting in on his stronger right foot, the Swiss international — mirroring David Silva and how the Spaniard was played by Manuel Pellegrini at Manchester City during the Chilean's managerial stint at the club — was almost like a fourth midfielder.
With vision, spatial appreciation, awareness of those around him and one versus one ability, playing on the right-hand side of a midfield four suits Shaqiri's attributes, especially with the threat of Trent Alexander Arnold — who is also injured, but not due to be out long — down the same side buying him space.
Playing players out of position is never ideal, but needs must and there are few better than thinking outside the box and making things work than Klopp.