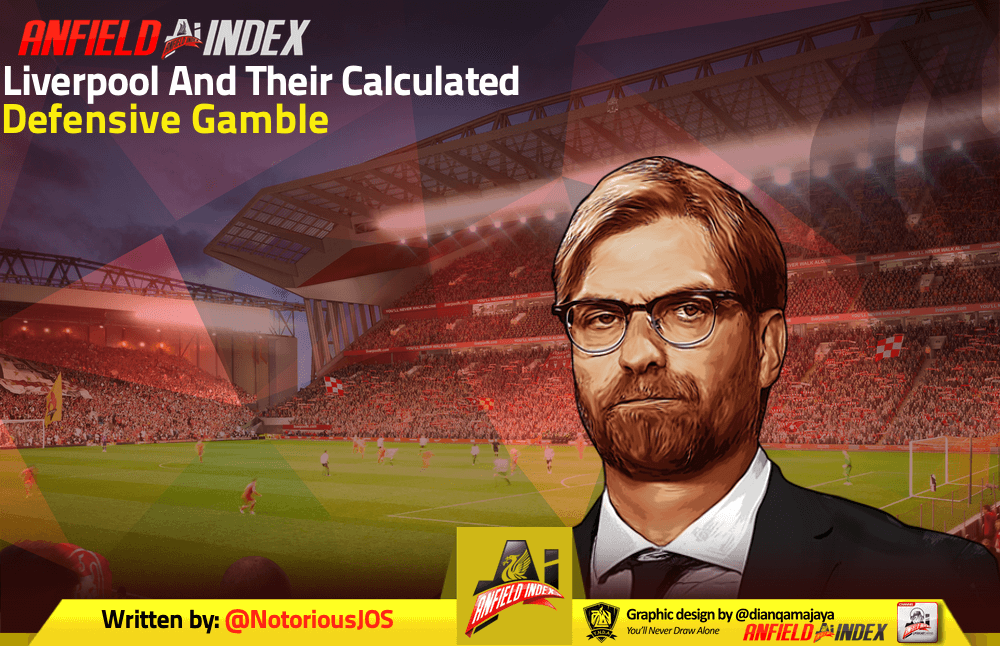 Liverpool And Their Calculated Defensive Gamble
Gambling, by its very nature, doesn't always come off.
There can be no debate that Liverpool — after the sale of Dejan Lovren to Zenit St Petersburg — gambled when they didn't sign a centre half last summer.
Instead, the Reds pushed the boat out to sign Thiago Alcantara from FC Bayern and planned on using Fabinho as their fourth choice centre half.

Now, with long term injuries to both Virgil van Dijk and Joe Gomez that strategy looks shortsighted, but that's not to say that it wasn't built on a bedrock of solid logic.
Michael Edwards and Jurgen Klopp are many things, but they are not psychics. No one could envision van Dijk — whose fitness record during his time at Anfield has been almost superhuman — being injured by an absolutely recklessly horrific challenge by Jordan Pickford in the Merseyside derby.
The Dutchman's absence — along with that of Thiago, who has both endured COVID and the injury repercussions of a viciously-mistimed Richarilson tackle — has set in motion a chain reaction that has led to more injuries. Fabinho, who moonlighted successfully as a centre half, had to play more in a small period of time than he might have had otherwise and this stress on his body culminated in a hamstring injury.
Likewise, Gomez suffered a knee tendon injury in England training which – logically — could have been borne from the crazily compacted footballing schedule of 2020/21. There is a narrative that the young Englishman is injury prone, but that is an inaccurate assessment. What Gomez is, unfortunately, is unlucky. The former Charlton player's three biggest injuries to date have all been due to bad tackles; again, scenarios that can't be helped by any amount of judicious foresight and planning.
Liverpool's plan going into this campaign seems to have been using van Dijk, Gomez and Joel Matip as the three centre-halves with Fabinho — the Brazilian international — covering the fourth centre half slot as well as being the team's nominal defensive midfielder.
While signing an out and out centre half would have helped, clearly, there is a legitimate debate around whether any new signing would have been a better fit in the heart of the Reds' defence than Fabinho. Playing as a defender for the English Champions is an entirely different prospect as playing as a centre back for the majority of other teams, after all.
To fit Klopp's plans, you need to exceptional on the ball, good in the air, with the requisite spatial intelligence and burst of speed to play in a high lined defence. The former Monaco linchpin ticks all of those boxes and had the upside of not having to learn a new language — an overlooked, yet crucial, factor to new signings settling into a club — or having to learn a new tactical playbook.
FC Bayern won the Champions League with David Alaba, an attacking full-back, at centre half. Manchester City won a Premier League title with Fernandinho — a holding midfielder — at the heart of their defence. Going back even further, the same manager, Pep Guardiola, converted Javier Mascherano — a former Liverpool midfielder — into a defender at Barcelona. For clubs at the very zenith of the game, the demands on their defenders are far different, as mentioned above.
As the Reds' best midfield shield, Fabinho would be missed in the engine room on the occasions he had to drop back into defence. But with Jordan Henderson — who played as the 6, as Klopp calls it, in seasons that the club qualified for the Champions League — and Georginio Wijnaldum, whose tactical flexibility and positional comprehension is among the best in the world, in situ there is enough quality to play as the deepest midfielder if and when the Reds' number 3 is playing further back.
The option of using Thiago as the deepest midfielder — a move that Pepijn Lijnders, the assistant manager, hinted at when he said the coaches at Melwood wanted to add more unpredictability to their team — also adds credence to the plan of not acquiring a centre half.
When you weigh up the options, it's easy to pick signing Thiago, a truly world-class player who will add an element that the team lacked prior to his arrival, over signing a fourth choice centre half. This is especially clear when you have Fabinho — one of the only players in the previous few years who have the feather in their cap of keeping Robert Lewandowski scoreless — so capable of covering in the heart of defence.
Even the best laid out plans are at the mercy of luck. If it wasn't for bad luck, Liverpool wouldn't have had any, but this doesn't suddenly mean their plans were poor.