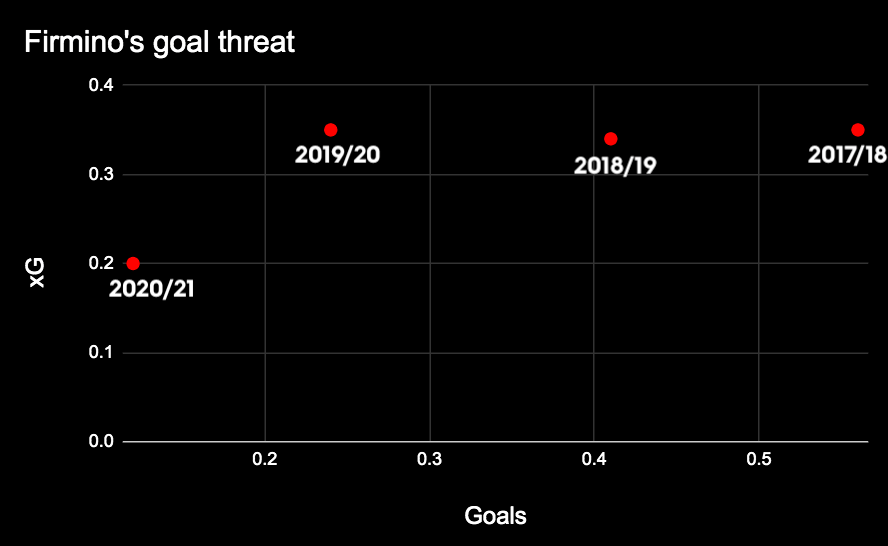 How can Liverpool get Robert Firmino firing?

Roberto Firmino looked like the odd man out in attack against Manchester City. In truth, it's nothing to be embarrassed by really.  After all, most players would have trouble keeping up with Mohamed Salah, Sadio Mane and Diogo Jota. The Brazilan has never been blessed with blistering pace, but it was never really an issue. Mentally, he was always a couple of seconds ahead of opponents. That no longer seems to be the case. 
The Liverpool No.9 has always been a divisive player amongst fans. Some feel he should score more goals, others argue that he's not in the team to find the back of the net. The argument used to centre around whether or not you believed he was integral to the system. 
Now, one thing not up for debate was the fact Jurgen Klopp built his attack around the former Hoffenheim man. He was the facilitator. There are even reports out there claiming the Premier League champions signed Mohamed Salah, purely off the back of the recruitment team thinking he'd be the perfect foil for Firmino. I think that was revealed in the New York Times piece. For a period of time, Firmino was key to what Klopp wanted his Liverpool team to do. That was indisputable. 
However, the reliance on him has dwindled over recent years, and this is what has sparked debate over the past 12 months or so. Furthermore, with Jota's emergence, Firmino's role in the starting XI is no longer guaranteed. We now find ourselves in a bit of a predicament. Fans won't want to admit it, I don't even want to admit it, but we might've seen the best of the 29-year-old. 
Jota has fitted in seamlessly since his switch from Wolves and he looks right at home alongside Sadio Mané and Salah.
Words on Diogo Jota's potential to be a goal machine and how Liverpool profile their fowards. https://t.co/taGFmWo1y2

— Sam McGuire (@SamMcGuire90) November 1, 2020
He shouldn't be judged on goals alone, he's never been a pure goalscorer, but he still has to make the most of his opportunities. He hasn't been recently. Yet during the 2017/18 campaign, he averaged 0.56 goals from an expected goals (xG) average of 0.35. Firmino also overperformed his xG average in 2018/19. So he can do it. He can add quality to his chances.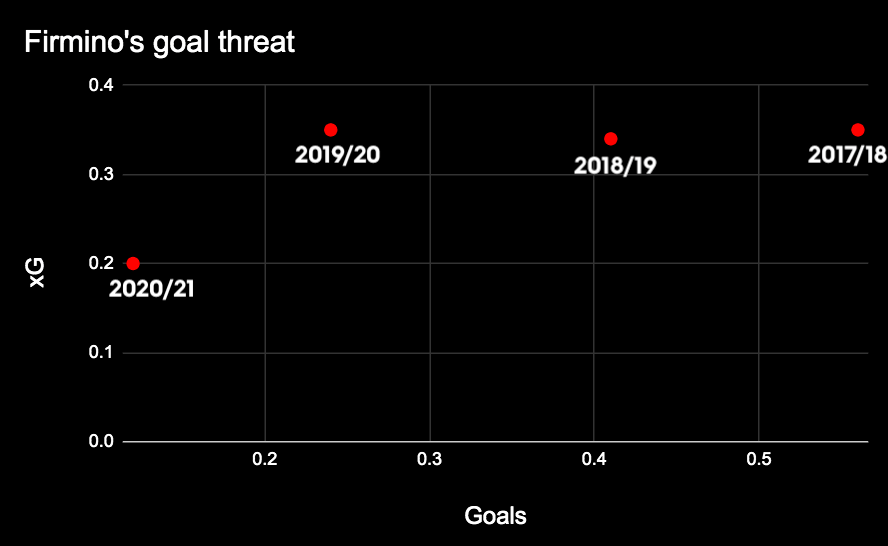 Last season, I felt as though he was just really unlucky. He should've scored more. If he averaged the same numbers ten times over, he definitely would score more. Firmino's started the season in disappointing form though, and this makes me think there's something more to it. 
His xG numbers are down this season despite the fact he's averaging more touches in the box than ever before (5.63). Lots of touches in the box usually means players are more of a threat. Yet at no point in his Liverpool career has the Brazil international averaged fewer shots per 90.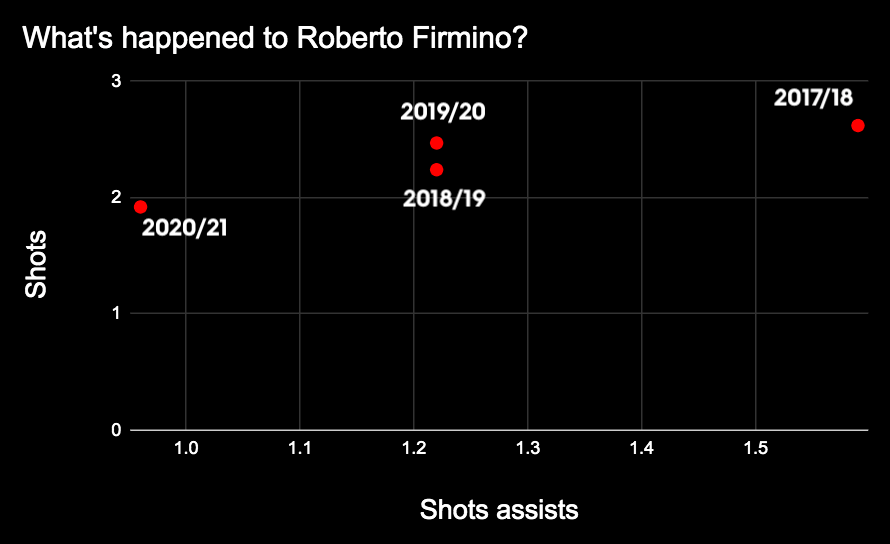 His shot assists have also taken a bit of a hit, too. During 2017/18, Firmino assisted a team-mate on 1.56 occasions and racked up 2.62 shots. Since then, his averages have regressed. He went from involving himself in over four shots per 90 to 2.88. It might not seem like a massive shift but over a 38-game season, that is a difference of 51. 
All of his numbers are trending downwards and you really shouldn't ignore it. There will be a way to fix this, I'm just not entirely sure how. In an ideal world, he'd get some time out of the team. Can't do that this season, though, with the games coming thick and fast. Liverpool need him. They need their entire squad. However, they might need him in a different way. He might not be the man to lead the line, but he could well play a key part in helping this team reshape their forward line.