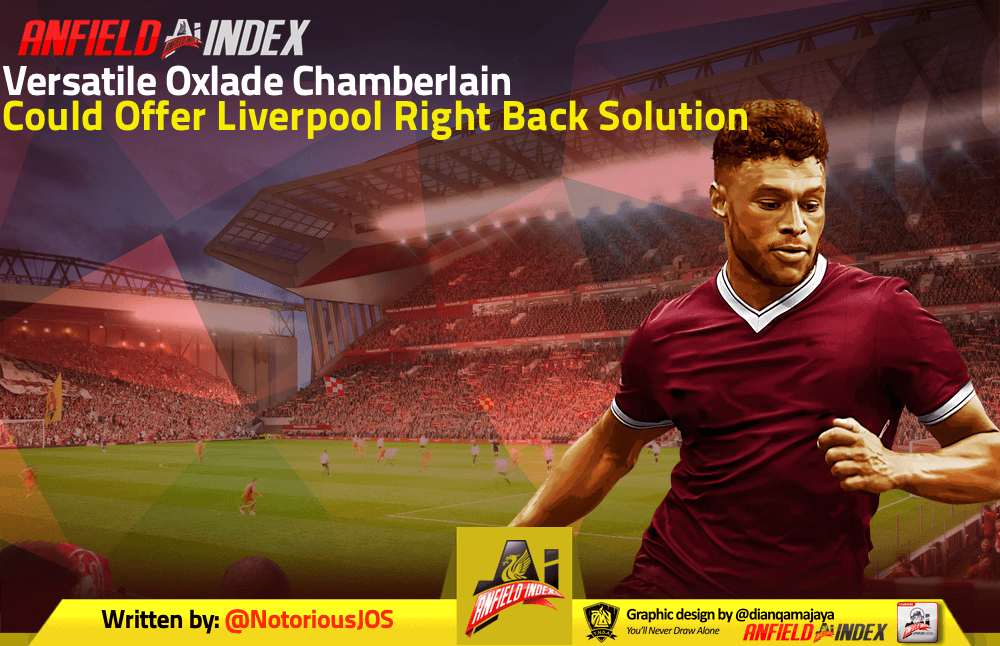 Versatile Oxlade-Chamberlain Could Offer Liverpool Right-Back Solution
Jurgen Klopp loves versatile players.
Whether it is James Milner, who can cover midfield or either full-back slot, or Fabinho, who is comfortable at both centre half and defensive midfield, the German places great stock in players who can cover multiple positions.
With a bigger list of injuries than an army hospital, Liverpool will need to rotate aplenty in the upcoming period of games and turn and to players to fill in in areas that they aren't overly familiar with. We saw this last season when Jordan Henderson — who had never marshalled a defence before — played at centre half in the Club World Cup semi-final.

Trent Alexander-Arnold, who will miss a month after sustaining a calf injury away to Manchester City in the Reds' last Premier League outing, will leave a big void at right-back, but in Alex Oxlade-Chamberlain the Champions have a player who could cover that area with a fair degree of comfort.
During his time at Arsenal, the England international — especially towards the end of Arsene Wenger's tenure when the Frenchman switched formation to a 343 — played right-wing back on a regular basis. This position, which demands pace, crossing ability, directness and stamina, is a good match for the former Southampton academy graduates skillset.
Now, right-back and right-wing-back are, as the names suggest, different positions, but for a team like Liverpool, the distinction is blurred. The Reds play attacking football and — more often than not — have the majority of possession, and this necessitates their full-backs playing higher up the pitch so they can impact the game more in an attacking sense.
Oxlade-Chamberlain could slot into Alexander-Arnold's place and even offer a different threat than the number 66. The 21-year-old, to use an annoyingly prevalent term in modern footballing discourse, is a generational talent and plays the right-back role like no one has since Dani Alves at his prime at Barcelona. The young Scouser oftentimes plays infield — in the mould of a midfielder — and dictates the game like a playmaker would with his probing passing.
OxladeChamberlain, though, in a manner similar to Andrew Robertson, could offer a more orthodox attacking threat by driving to the byline and crossing. It's not a better or worse capability, it's just different and could help Liverpool remain unpredictable in their approach play.
Questions marks would justifiably be asked about the 27-year-olds capability to defend one versus one and to be able to hold an offside line in a back four that continues to change. From that regard playing the number 15 as the right-sided full-back will have its downside, especially in terms of building cohesion in the flux that is the Reds' injury-ravaged and perma-rotated rearguard.
But with outstanding physical qualities and the tactical nous that allowed him to switch seamlessly from a winger to become — at his best in the 2017/2018 season — a raiding, goal-scoring centre midfielder, Oxlade-Chamberlain could be a serviceable option for Liverpool in defence. His cause would be helped further by Henderson who typically plays on the right side of Klopp's midfield three and offers defensive coverage and — as exhibited by the audio clip the club's official Twitter account uploaded after the recent 5-0 defeat of Atalanta — the vocal support to help his team-mates through a game.
The presence of Mohamed Salah on the right-hand-side of the attack, too, will help further because teams — wary of the Egyptians running threat in behind — will rarely allow their left-sided players to bomb forward for fear of giving Liverpool more space to manoeuvre in on the counter. This means that the Reds' right-back, be it Alexander Arnold or, potentially, Oxlade Chamberlain have a lower volume of defensive work to do.
Neco Williams, Fabinho, Henderson, Milner or even Georginio Wijnaldum could fill in at right-back temporarily and in a season like no other — where games will come thick and fast — Liverpool's former Arsenal midfielder could find himself there, as well as in midfield and attack.
Klopp loves versatile players.