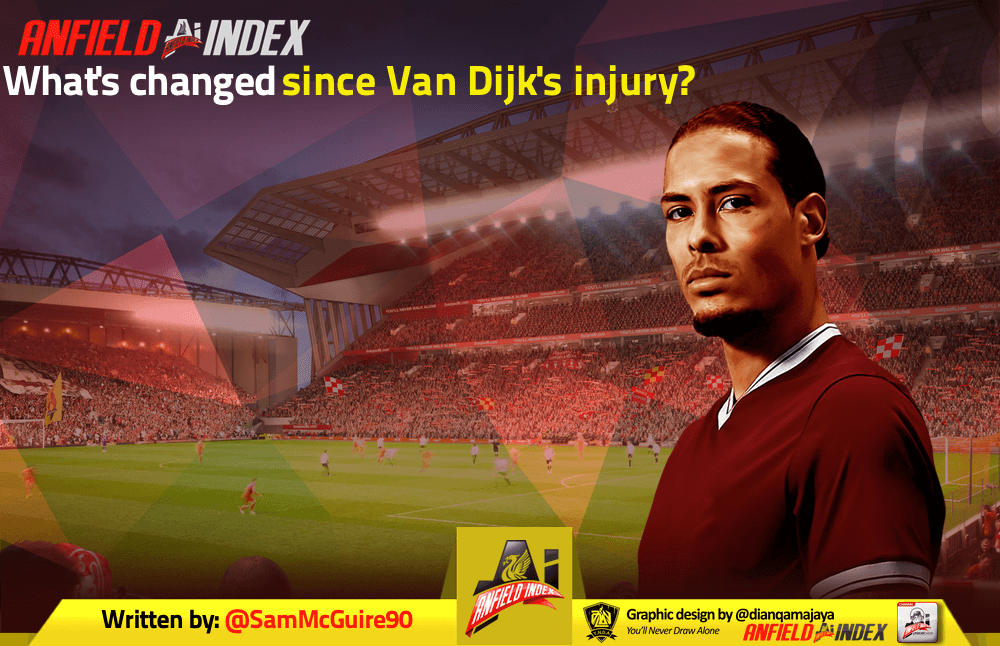 What's changed since Van Dijk's injury?
When it was confirmed that Virgil van Dijk's injury was a serious one, the fear was that the season would be a struggle for Liverpool. Since his arrival from Southampton, he's practically been ever-present for the Reds. With him as centre-back, Jurgen Klopp's side have reached two Champions League finals and racked up an incredible 196 points across two Premier League campaigns. Oh yeah, they also ended a 30-year drought to once again be champions of England. 
However, the team are currently unbeaten in the games without their No.4 and they've had some tricky ties against Atalanta and Manchester City. There have been some subtle changes to their style. The Football Fanalytics podcast, using the Twenty3 Content Toolbox noted that the area covered by the defence hasn't been as high in games following Van Dijk's injury. 

With news of Gomez's injury, it's interesting to see how the defensive actions of the back four changed pre/post van Dijk injury.

Full backs far less advanced to keep a stronger unit, and less exposure for the centre backs. This is likely to continue with Gomez and TAA injuries pic.twitter.com/2p1LJoDNCU

— The Football Fanalytics Podcast (@FanalyticsPod) November 11, 2020
David Hughes, in a piece for Liverpool.com, also noted that Andrew Robertson's role has differed since he lost his usual left-sided centre-back. There have been other changes, too. 
For example, in the first four Premier League games of the season, the Reds averaged 18.5 shots per 90. In the last four, they've averaged 13.5. A difference of five might not seem like that much, but over the course of a full season that equates to a swing of 190 shots. It is significant. 
Klopp's side are also attempting fewer passes. Pre-Van Dijk's injury, they averaged 630 per 90 but without him, that has dropped to 592. They're now a lot busier defensively, too. Defensive actions attempted went from 121 to 133. Aerial Duels attempted also increased, jumping from 23 to 36. Teams fancy their chances against the champions now so are looking to attack. This might go some way to explaining why they're seeing less of the ball and attempting fewer shots. 
What is interesting, though, is the fact that the team's expected goals (xG) against average has dropped. They're busier but they're not allowing the opposition high-quality opportunities. I have to caveat this by saying the sample sizes aren't the largest, but post-Van Dijk's injury, their xG against per 90 is 0.89. In the opening four matches, this average was 1.11. 
Klopp and his coaching staff have shown their tactical nous with their tweaks. The team has showcased its resilience. In previous years, maybe the team would've imploded after a serious injury. They might've shown tactical naivety and been punished for it. That hasn't happened, though, and it highlights just how much this team has matured under the charismatic German. It also explains why they're likely to stick around as one of the best teams in the world for the foreseeable future.