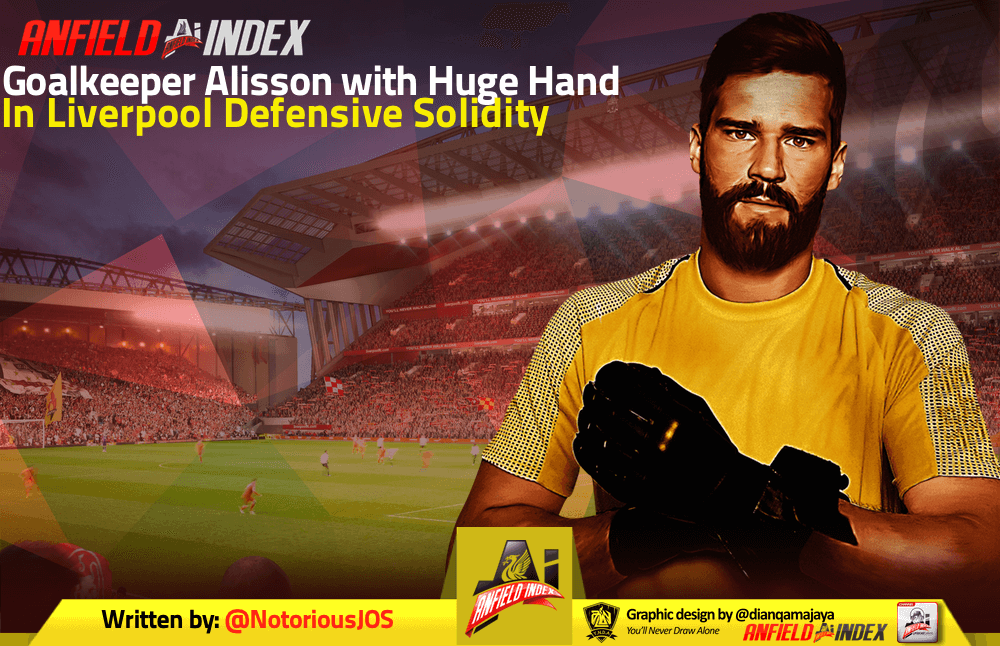 Goalkeeper Alisson with Huge Hand In Liverpool Defensive Solidity

The composition of Liverpool's back four keeps changing.
An injury to Virgil van Dijk, the team's defensive talisman, has set in motion a series of unfortunate events — akin to a Stephen King horror novel — that has led to more of the Reds' defenders picking up injuries in an unprecedented bout of misfortune.
Joe Gomez — who had stepped up to the mantle of the team's defensive leader well — also suffered a serious knee tendon injury in training with England and will most likely join his Dutch teammate on the treatment table for the rest of the season.
On the far less serious side of the absentee spectrum are Fabinho, who picked up a hamstring injury against Midtjylland in the Champions League, and Trent Alexander Arnold, who injured his calf in the recent draw away to Manchester City.
The Brazilian is expected to return in time for Leicester City's visit to Anfield on Sunday evening; meanwhile, the young Scouser — whose injury time was eaten into by the international break — should return in the next couple of weeks.
The injuries to van Dijk and also Joel Matip — who has just returned from a layoff — meant that Jurgen Klopp had less scope to rotate and so, naturally, the injuries to Gomez, Alexander Arnold, and Fabinho were borne out of being overplayed by necessity and the physical toll that took on their bodies.
Despite the lack of synergy between the new-look defensive pairings, Liverpool have continued to win games and remain defensively robust. This is all the more impressive given their runs of fixtures — including Atalanta and Manchester City away, two of the highest-scoring teams in Europe last season — and the fact that their nominal defensive midfielder, Fabinho, has either been injured or played in defence.
Since the Everton game, which Adrian started, the Reds have only conceded three goals in six games across the league and Champions League, quite an achievement given the opposition and the context of the defensive rejigging.
It's not to take anything away from Nat Phillips or Rhys Williams, both of whom have contributed excellently well in the heart of the back four, but the catalyst for this run of defensive solidity has been the return to action of Alisson Becker.
In the games the Brazilian international has missed in the league this season, the defending Champions have conceded nine(!) goals, seven of which came in the mauling at Aston Villa. Since then, however, with the former Roma man back between the sticks, Liverpool have only conceded three; one of which was a ridiculously awarded penalty to Sheffield United in a 2-1 victory at Anfield.
Alisson's qualities as a goalkeeper are clear to see, with his dominance, ability to sweep communication prowess, and classy distribution. But the intangibles he brings to the table have — as demonstrated — brought about an improvement.
Psychologically, playing in front of the 28-year-old is reassuring and players are safe in the knowledge that — unlike with Adrian — they have a world-class keeper that can potentially clear up any mistake they make.
When Adrian has deputized in goal, there has been a palpable panic throughout the team, seen with his role — selling Gomez short with a poor pass in his own box — in Aston Villa's first in their avalanche of goals in the historically bad defeat at the beginning of October.
Alisson brings an assurance, an organizational vocality and this leads to an increase in confidence for his team-mates. In the 5-0 thumping of Atalanta away in Bergamo, the lack of fans and noise due to the COVID pandemic provided an opportunity to listen to the players during a game. Jordan Henderson was typically boisterous, cajoling and encouraging his fellow Reds throughout, as was James Milner upon his late introduction from the bench.
But so, too, was Alisson — who made two excellent saves in the only moments he was really called upon, the sign of a great keeper that they can be peripheral in a game but still have the concentration levels to come up trumps when called upon — who was audibly marshalling his defence.
Williams and Gomez, a new pairing with an average age of 21, played like a seasoned partnership against an attack that scored 98(!) goals in Serie A last season, coming mightily close to breaking an age-old record. The English duo deserve huge credit, of course, but the contribution of their Brazilian keeper played a big role in this and will continue to do so as Liverpool chase another league and European Cup title this season.