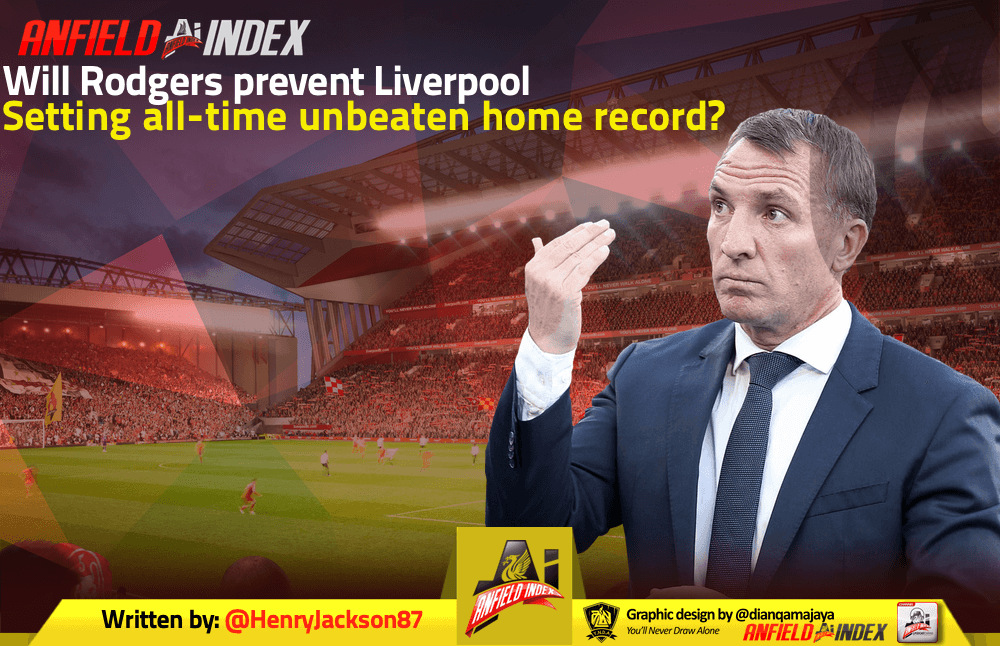 Will Rodgers prevent Liverpool setting all-time unbeaten home record?
April 23rd, 2017. Liverpool 1-2 Crystal Palace. Feels like a lifetime ago, doesn't it?
At that point, Jurgen Klopp was still only in his first full season as Reds manager and his side hadn't yet played in the Champions League under him.
This was still a year before the agony of Kiev, let alone the glorious triumph in Madrid and the Premier League title that followed, and Mo Salah, Andy Robertson, Virgil van Dijk and Alisson weren't yet Liverpool players, to name just a few.

On that fateful April day in 2017, the Merseysiders suffered their last Premier League defeat at home, with Christian Benteke coming back to haunt his former club.
At the time, the Belgian's double at Anfield threatened to hamper Liverpool's chances of reaching the Champions League, and the Reds' home ground still felt a long way from a fortress.
Fast forward to the present day and Klopp's men find themselves 63 matches unbeaten in the league at Anfield, drawing level with Bob Paisley's great side, who achieved the feat back in December 1980.
It has been a quite remarkable run by the reigning league champions, with every single rival seen off numerous times, whether it be Man City, Man United, Everton, Chelsea, Arsenal or Tottenham.
There has barely even been a late escape in that time – a game in which a last-gasp equaliser has preserved the unbeaten streak – such has been Liverpool's level of dominance on their own turf.
Last season, the only dropped points came against Burnley during the post-lockdown period, at a time when the Reds were already champions and weren't even close to being in top gear.
When he was appointed, Klopp aimed for a return of Fortress Anfield and he has delivered on that promise emphatically, with no stadium in Europe a more daunting place to visit, with or without fans.
Liverpool are now on the cusp on pipping Paisley's legends and going out in front on their own, in what is the latest example of why they should be considered one of the greatest teams in the club's history.
Standing between the Reds and that achievement on Sunday night is Brendan Rodgers and his talented Leicester side – one who currently sit top of the Premier League.
The Foxes momentarily threatened to be in the title race last season, eventually falling away after Christmas and failing to even secure a top-four finish, but they look a more rounded side this time around.
Jamie Vardy is as good as ever, Wesley Fofana is an outstanding prospect at centre-back, while Youri Tielemans's influence is growing all the time.
There is no doubt that they will be a threat this weekend, and it should be mentioned that they are having to make do without key men of their own, whether it be Ricardo Pereira, Caglar Soyuncu or Wilfred Ndidi.
The Rodgers factor also needs to be thrown in, with the former Liverpool manager no doubt desperate to be the man to end the Reds' imminent record.
We all know that he is someone who possesses a fairly decent-sized ego and he will still feel irked about being sacked back in 2015, even though it was more than warranted.
Rodgers will want to be the manager who finally ends what feels like a never-ending run without defeat at Anfield, allowing him to give himself a giant pat on the back afterwards.
For all the Northern Irishman's faults, he is also a very gifted manager, and he is doing a commendable job with Leicester.
He has turned them into a team who are not only easy on the eye, but capable of picking up gritty results, as the horrible 1-0 win over Wolves proved in their last outing, as well as the victory at Arsenal by the same scoreline.
When Leicester tick they are a formidable side, thumping Man City 5-2 at the Etihad and winning 4-1 away to a much-fancied Leeds United outfit.
A potentially much-weakened Liverpool team will be tested at Anfield, especially with James Milner or Neco Williams starting at right-back, and one of Nathaniel Phillips and Rhys Williams also expected to start in defence.
Rodgers' side have been excelling in a 3-4-3 formation, or a 3-4-2-1 system at times, with the in-form Vardy supported ably by the likes of Harvey Barnes, James Maddison and Dennis Praet.
The overlapping runs of Luke Thomas and Marc Albrighton have also been effective from wing-back, with opposition full-backs not always knowing whether to deal with them or the forwards who have tucked in.
Liverpool are still favourites to pick up another three points, as well as a new record, but this has every chance of being extremely awkward.
Last season's corresponding fixture required a stoppage time penalty from Milner to earn the Reds a 2-1 win and it could be a similarly tight affair on Sunday.
Securing yet another victory would be a big statement of intent, considering the calibre of players not at Liverpool's disposal, while the thought of a grinning Rodgers ending the unbeaten run should give them extra incentive not to lose.