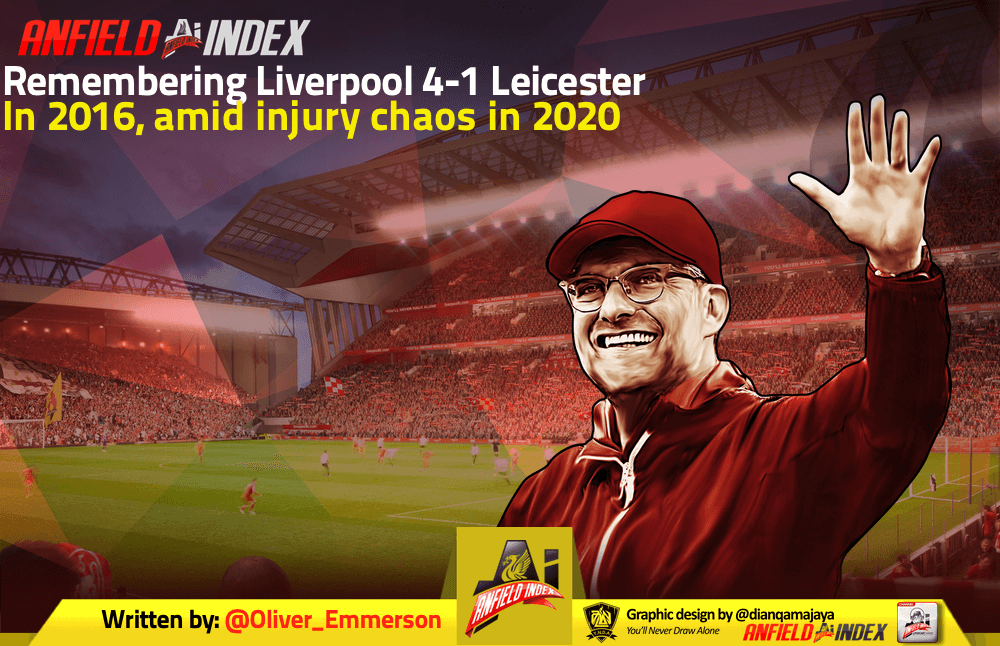 Remembering Liverpool 4-1 Leicester in 2016, amid injury chaos in 2020
Hallelujah, the final international break of 2020 is coming to a close. Whilst manager's will understandably be worried about injuries from the though schedules ahead, football fans can at least look forward to a plethora of club action leading into the new year.
Despite that, there has been a fair bit of doom and gloom this week for Liverpool supporters. With the upsetting passing of Ray Clemence coming in the midst of another national lockdown, Reds fans have had their disappointment accompanied by growing nerves over exactly what sort of side Jurgen Klopp will be able to field this weekend.
With the possibility of *eight* first choice players (Trent, Gomez, VVD, Robbo, Henderson, Fabinho, Thiago, Salah) all being side-lined, there are growing fears that Leicester City could be the team to end Liverpool's sensational unbeaten league home record.

But let's forget about that for a few minutes and remind ourselves of a hugely impressive win over the Foxes, as Liverpool said hello to their newly refurbished new stand on September 10 2016.
Liverpool 4-1 Leicester City
If you cast your mind back, you may recall that Liverpool had beaten Arsenal 4-3 at the Emirates with some swashbuckling attacking football on opening day, before a defeat at Burnley was followed up by a point at White Hart Lane. Oh yeah, and they're all wearing yellow boots. Adidas, Nike, it didn't matter. Everyone had yellow boots on. Yes, even James Milner, who lined up at left-back after Alberto Moreno effectively put the final nail in his Liverpool coffin against Arsenal.
Anyway, enough about the boots. Leicester were defending champions, yet found themselves 2-0 down after half an hour as Roberto Firmino and Sadio Mane finished some beautifully worked goals. Mane's, complemented by a delightful backheel assist from Daniel Sturridge, led to one of the more iconic photos from recent years as the winger raised his arms to the freshly built main stand.
Lucas Leiva played centre-back that day and Liverpool still won 4-1, which might do something to calm your nerves ahead of this weekend's game. He did, however, gift Leicester a goal via a bizarre toe-poke across the penalty area to give Jamie Vardy a tap in following a poor touch.
Armed with grock of the century, Robert Huth, Leicester's aerial bombardment began as they looked for a way back into the game, hitting the bar as Simon Mignolet failed to judge a long throw correctly. Water is wet, etc.
Despite me screaming at Gini Wijnaldum to lay-off Firmino in the area 10 minutes into the second-half, the Dutchman swivelled to his right, teeing up Adam Lallana to send a thunderbastard of a strike into the top corner. Remember that three month spell when Lallana turned into some sort of cross between Mario Gotze and Frank Lampard? This was part of the beginning.
Roberto Firmino enjoyed his best haircut, in my opinion, at the start of 2016-17 and it let to some of his best attacking. With Mane rounding the keeper like a gazelle may dart away from oncoming pray in the closing minutes, he squared it to Firmino who checked back across a defender to slot his second of the game, Liverpool running out 4-1 winners.
So, this weekend?
It was pretty much a perfect day. The sun shone,  Liverpool played beautiful football despite some questionable defending, something that became something of a trademark for the first couple of seasons under Klopp.
Does it offer much for us to think about ahead of this weekend? Perhaps. You can win matches despite having leaky defences that include Lucas Leiva and Simon Mignolet. All out attack might not win you a title, but it can win you a match. Roberto Firmino's footballing ability may directly correlate to how wacky his hairstyle is.
Ultimately, it reminds us that watching Liverpool under Jurgen Klopp is fun before it is anything else. Regardless of who we can field on Sunday evening, the football is more than likely to bring a smile to your face.