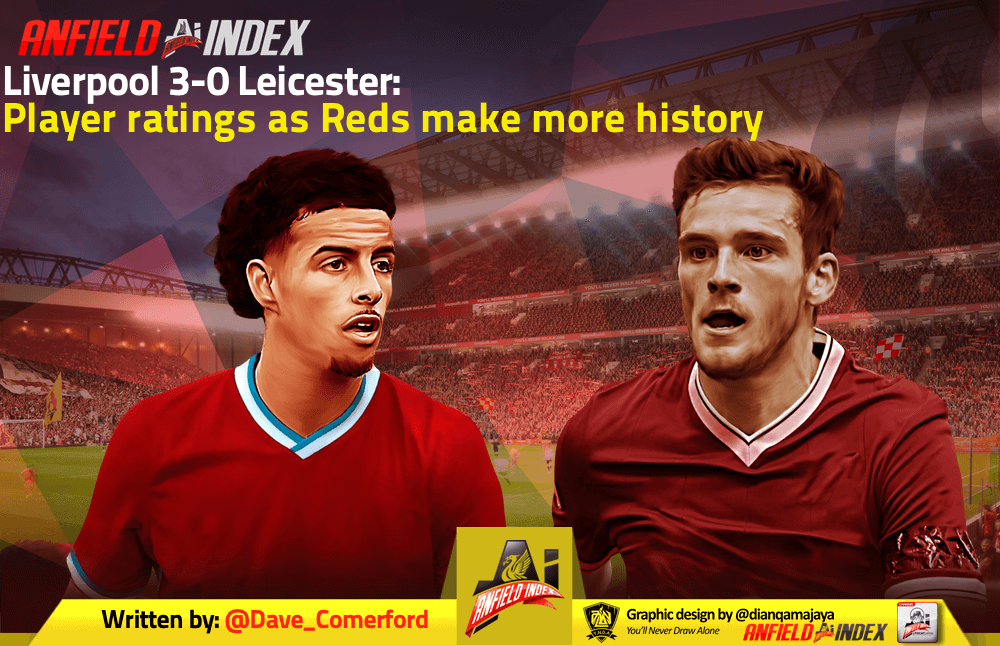 Liverpool 3-0 Leicester: Player ratings as Reds make more history

Liverpool have extended their home unbeaten run into club-record territory following a hugely impressive victory against high-flying Leicester.
Without Trent Alexander-Arnold, Virgil van Dijk, Joe Gomez, Thiago Alcantara, Jordan Henderson and Mohamed Salah, the three-and-a-half-year streak was in serious peril.
But the Reds scoffed at that suggestion, powering to victory with strikes from Diogo Jota and Roberto Firmino after a Jonny Evans own goal.
Here's how they rated.
Alisson – 7/10
A second Premier League clean sheet is welcome for the man who beats the turf in frustration whenever he's beaten. Thanks to his side's excellent defending, he didn't really have to break sweat; well, aside from the moment when he charged out of his goal to perfectly measure a sliding challenge on James Justin. Assured as ever.
James Milner – 9/10
The memes heralded Milner as the one-man solution to the injury crisis. He did his best to live up to that mantle.
When he slots in at full-back, the concern is that it will significantly weaken the Liverpool attack down that flank, that the absence of Alexander-Arnold and Robertson will be keenly felt.
But Milner's offensive contribution was superb. Whether from right-back or the midfield position he occupied for the final 40 minutes, he fizzed menacing passes into the front three. And he also pitched in with two assists from corners.
You really couldn't ask for more.
Fabinho – 8/10
That's the Lewandowski, Werner and Vardy tests *comfortably* passed for Fabinho at centre-back. If scientists discover a new rock formation they should name it Tavares.
Joel Matip – 8/10
Drawn to the ball a little too easily at times, but very solid overall. Liverpool are in good hands with this top-level centre-half, who repeatedly cleared the danger and also made himself a threat in the opposition box.
Andrew Robertson – 9/10
His outstanding season continues. Defensively, he wasn't tested, with Leicester overwhelmingly targeting the Liverpool right.
But going forward, they just couldn't handle him. His assist for Jota was sublime and it was only one of a series of dangerous deliveries.
A truly elite full-back.
Georginio Wijnaldum – 7/10
I'll be honest: I don't have anything noted down for Wijnaldum, even though he was in the thick of the midfield battle. Let's call it quietly solid (in a good way).
Naby Keita – 7/10
I was enjoying his performance. He was choosing and weighting his passes very nicely. The dirty work was there as well.
Alas, we won't see him for another two or three weeks now. It's not his fault that he's so susceptible to injury, but it continues to put the brakes on his Liverpool career.
Curtis Jones – 8/10
After impressing against Atalanta, the ever-improving Jones shone again. The highlight, of course, was the intelligent, precise switch of play in the build-up to Jota's goal.
He teed-up other chances too, but we also have to emphasise his work-rate. He pressed and harried with great enthusiasm, and I reckon that's what pleased Klopp most.
Plenty more starting opportunities await this season, and deservedly so.
Sadio Mané – 7/10
All except the finishing touch for Mané tonight. Where he would usually fire an unforgiving shot into the corner, he was making life too easy for Kasper Schmeichel. Chances to kill the game went begging. He'll bury the next one.
Roberto Firmino – 8/10
I genuinely lost count of the agonising near-misses. The ball was grazing his studs. Because it's Firmino at Anfield, even when he coolly shrugged off Fofana and had the goal at his mercy, I couldn't get excited. Sure enough, it came back off the post, and then the rebound was insultingly close to creeping in.
A simple rut or a curse? A bit of both.
So in these cruel circumstances, that goal must have been monumentally satisfying.
That well-taken header, and the markedly better performance, must now be built-on.
Diogo Jota – 9/10
Honestly, he's just a pleasure to watch at the moment. His movement is joyous, whether that's running off the ball or jinking past defenders when it's at his feet.
As we saw with the header, he's making life oh-so-easy for the providers.
In fact, I can't fault any aspect of his attacking game when he's in this mood. It's been a staggering start.
SUBSTITUTES:
Neco Williams – 6/10
40 minutes at right-back passed without uncomfortable incident. Williams augmented the attack well and maintained concentration when Leicester applied pressure.