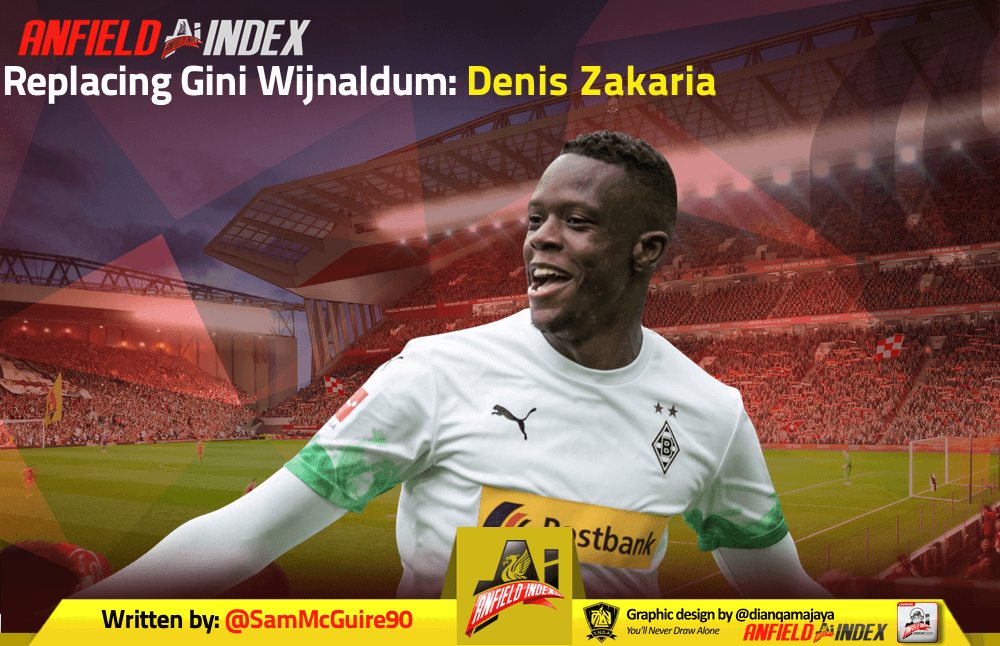 Replacing Gini Wijnaldum: Denis Zakaria
Liverpool will need to bring in a midfielder when the season ends. Gini Wijnaldum's future is still up in the air, Jordan Henderson has picked up a few knocks recently and isn't getting any younger. Naby Keita can't go ten games without an injury and Alex Oxlade-Chamberlain has similar bad luck. Thiago, due to Covid and an injury sustained against Everton, has yet to make a real impact. Fabinho is being used at centre-back to cover for the injured Virgil van Dijk and Joe Gomez. So you're left with Curtis Jones, who looks a real talent, but he's still finding his feet. 
Successful teams need consistency. They need reliable and durable players, especially in midfield. It's why I feel we're probably going to see a couple of departures and a few new faces. 
One such player could be Denis Zakaria. The 24-year-old is no stranger to Liverpool fans. The Reds were linked with the Borussia Mönchengladbach midfielder around this time last year along with Tottenham Hotspur and Manchester United. A move never materialised due to an injury and he's still plying his trade in the Bundesliga. 
However, it's unlikely he'll remain their long-term. He seems too perfect for the Premier League. Even with the £45million price-tag placed upon him by Die Fohlen, a fee that would make him the club's most expensive export, English clubs will be keen. 
Prior to his injury, the Switzerland international looked the part in Marc Rose's new-look Gladbach side. There's potential for him to develop into one of the better box-to-box midfielders in world football. He's already been likened to Paul Pogba as well as Arsenal legend Patrick Vieira. 
"I've been compared to [Patrick] Vieira and [Paul] Pogba – two more players I really respect and, in a way, see as role models. When I watch videos of them I think I'd like to play that way," Zakaria said during the 2018/19 season.
"I love to win back possession and I also like carrying the ball and taking on opposition players, but I need to be more efficient, score and assist more goals and improve in the air. I've proved myself to be a quick learner, though, and I'm in the best place to learn fast."
The traits are there, as is the desire to improve. He appears to tick a lot of boxes and could flourish in Liverpool's team. But the £44million fee would mean Zakaria cost more than Fabinho, for example. It's still a significant outlay, even in the post-Neymar to Paris Saint-Germain world.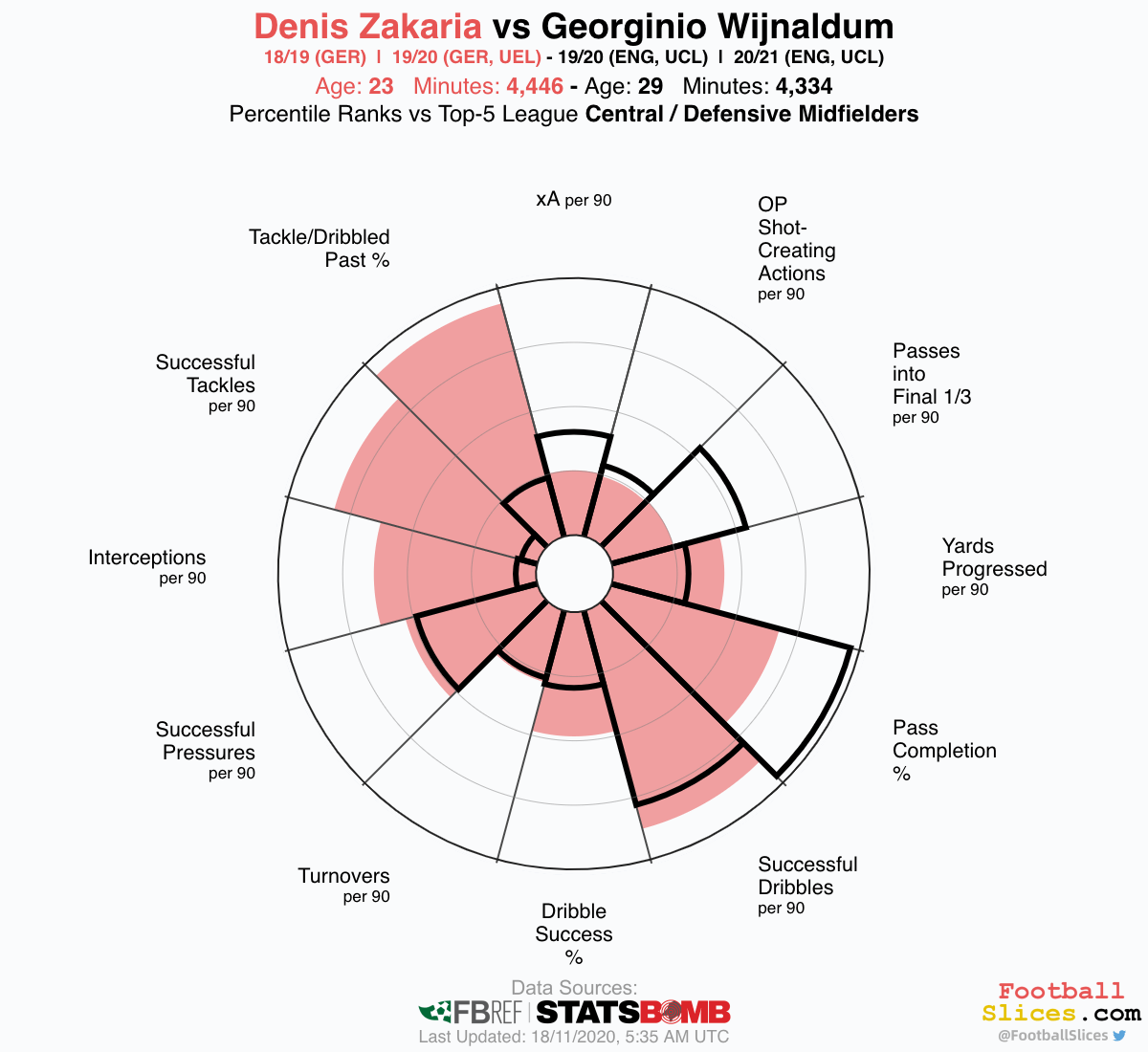 He definitely ticks a few boxes for Liverpool. It is worth noting, though, that many of his stats are tied to the role he's playing for Gladbach. For example, he's making more interceptions and tackles than Wijnaldum, but he's playing in a side battling for a Champions League place. Rose's side aren't as dominant, so Zakaria's defensive numbers will be greater. A lot of the time, defensive numbers are heavily reliant on volume. The busier a player is, the better they'll look. It doesn't mean they're superior. 
A couple of things to take away from the Football Slices graphic is that Zakaria and Wjnaldum are both careful in possession and rarely waste the ball. Both are press resistant, per their successful  dribbles, and both press the opposition. 
Wijnaldum is sometimes accused of being too careful with the ball, but he's just carrying out the role Jurgen Klopp tasks him with, as detailed in the latest Marginal Pains newsletter. 
He's got the ability to play as a box-to-box midfielder or as a destroyer. He lacks an attacking side to his game though. 
The biggest question mark surrounding the Gladbach man is, unfortunately, hs fitness. He suffered a serious knee injury in March and he's only just returned. He'll be on to keep an eye on. If he manages to hit the heights he was at pre-injury, then Liverpool might take a look. If he doesn't or suffers another breakdown, then it's doubtful that he'll be on Michael Edwards' laptop.