 Replacing Gini Wijnaldum: Youri Tielemans
Liverpool will need to bring in a midfielder when the season ends. Gini Wijnaldum's future is still up in the air, Jordan Henderson has picked up a few knocks recently and isn't getting any younger. Naby Keita can't go ten games without an injury and Alex Oxlade-Chamberlain has similar bad luck. Thiago, due to Covid and an injury sustained against Everton, has yet to make a real impact. Fabinho is being used at centre-back to cover for the injured Virgil van Dijk and Joe Gomez. So you're left with Curtis Jones, who looks a real talent, but he's still finding his feet. 
Successful teams need consistency. They need reliable and durable players, especially in midfield. It's why I feel we're probably going to see a couple of departures and a few new faces. 
One player who could be on Liverpool's radar is Youri Tielemans. Still only 23, it feels as though the Belgium international has been around forever. That is understandable, though. After all, this is his eighth season playing first-team football. The former Anderlecht youngster has already featured in over 300 matches and he's established himself as part of Roberto Martinez's squad on the international stage. He's living up to his Football Manager status. 

Leicester City parted with £40million to acquire him on a permanent basis from Monaco during the summer of 2019. Rarely do the Foxes allow players to leave without making huge profits, so you know for definite that Tielemans would cost around £70million. A significant outlay. 
Liverpool have spent big on certain players in the past. At the time of their arrivals, Van Dijk's fee was a world record for a defender and Alisson's was for a goalkeeper. If they're viewed as transformative, FSG will loosen the purse strings. 
Could Tielemans be viewed as transformative? Unlikely. Could he potentially replace Wijnaldum? Possibly. 
The Leicester No.8 has a versatility to his game that is comparable to Wijnaldum's. When playing for Anderlecht, he was much more of an attacking threat and during his final season with the club he netted 18 goals in all competitions. Granted, six of those arrived from the spot, 12 open-play goals for a centre-midfielder is an impressive return and it highlights the fact he has that side to his game. Prior to his January move to the Foxes during the 2018/19 campaign, Tielemans had netted five in 20 appearances for Monaco. 
He's not been as prolific since the move to the Premier League, but if he was tasked with supporting the attack, you know he'd do a job. 
Like Wijnaldum, the versatile midfielder has shown different sides to his game. He can be a goal threat, a controller and a creator. He can play in a midfield two and a three. Tielemans is comfortable as the main man and as a side act. There's a selflessness to his game that isn't too dissimilar to Wijnaldum. It's a trait that makes the Dutch midfielder so important to Jurgen Klopp's team, as highlighted in the Marginal Pains newsletter. 
When looking at midfielders playing different roles in different systems, it's better to look at characteristics as opposed to actual output. The reason for this is that the system players are used in directly impacts what they're able to do.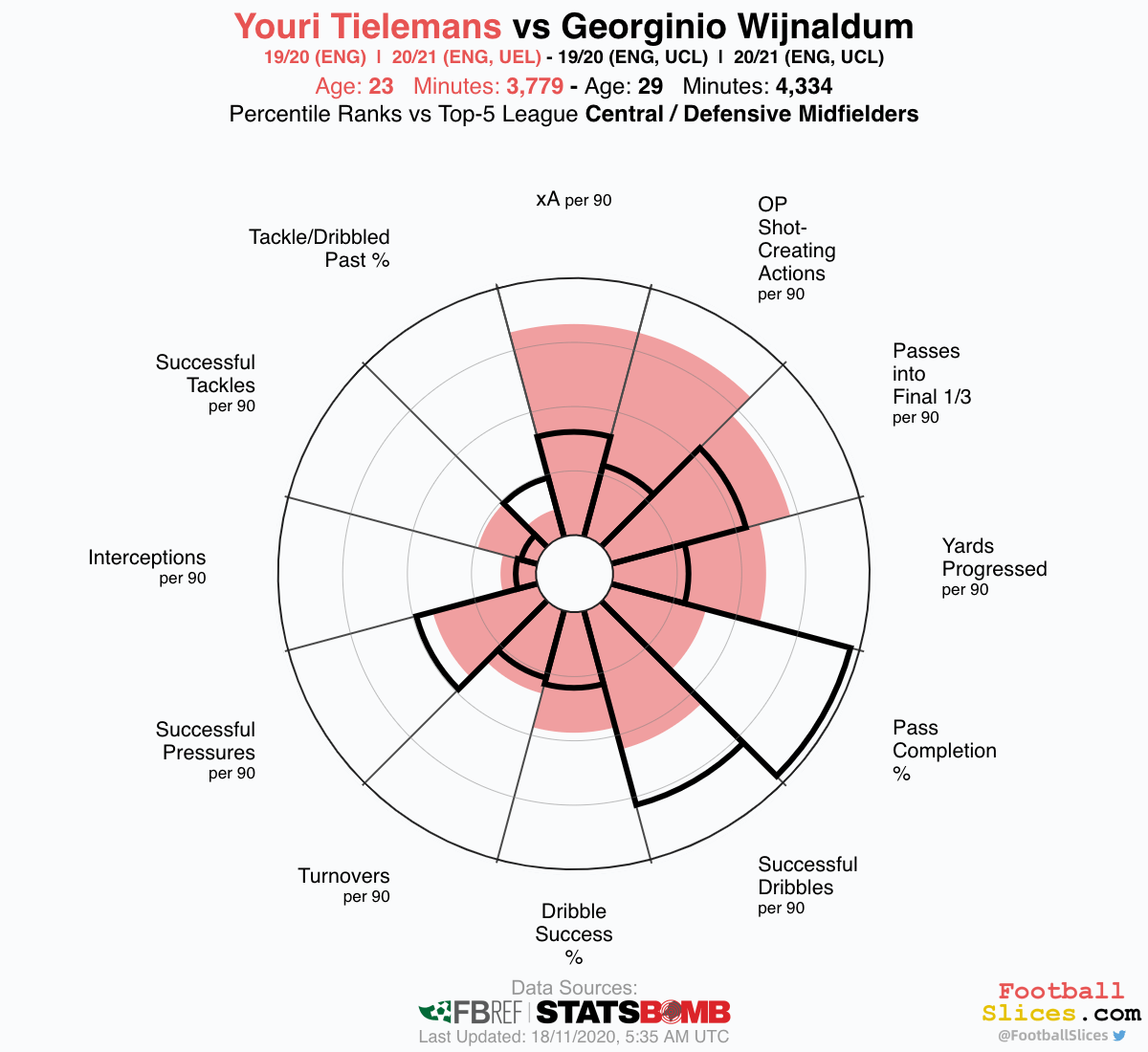 The above graphic, courtesy of Football Slices, shows that Tielemans is much more creative. However, this sort of comes at a cost. For example, his passing accuracy is inferior to Wijnaldum's. Creative players are risk-takers and to do that you need to try things with the ball that others wouldn't. The Liverpool man, on the other hand, keeps things ticking over. He's tidy in possession and this is why his passing accuracy is so high. With the Dutch, he's much more expressive.  
It doesn't necessarily mean Tielemans is the more creative player. It just means he's allowed to be creative, whereas Wijaldum isn't. 
Tielemans is very good and he ticks multiple boxes, but I can't see Liverpool breaking the bank to sign him.