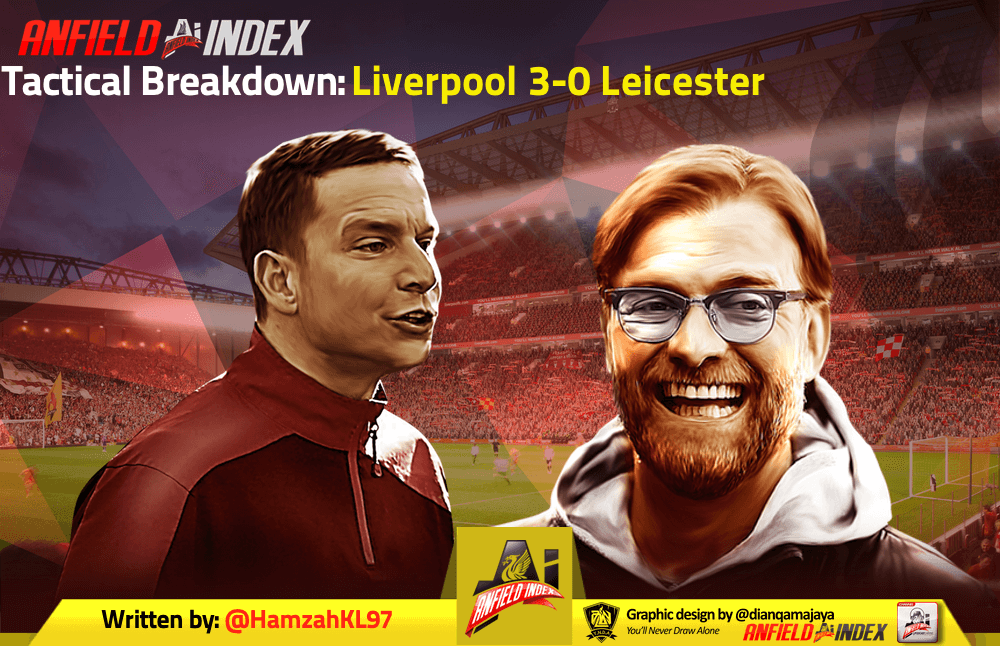 Tactical Breakdown: Liverpool 3-0 Leicester
With injuries aplenty following the international break and a deluge of fixtures awaiting Jürgen Klopp's red men, an acceptable result seemed more important than a strong performance.
With Salah, Alexander-Arnold and Thiago all unavailable, the champions were without their three best creative players, leaving the creative burden upon a midfield and forward line that has had little time to develop the sort of relationships required to pick apart a defence. Likewise, Leicester was without Ndidi – their most important midfield asset – as well as the impressive Castagne, Soyuncu and Pereira.
Liverpool, predictably, set up in their usual 4-3-3. Milner and Robertson featured as the fullbacks, and seemingly were wary of pushing forward early on, instead leaving that to Curtis Jones and Naby Keïta, who were the two no.8s, ahead of the ever-reliable Gini Wijnaldum.

The threat of Leicester was obvious. Away from home, against a side that dominates possession, it was clear Brendan Rodgers' Foxes would draw upon the system that served them well against Manchester City earlier this season. Indeed, Rodgers did so, preferring for his side to defend in a low block when out of possession, but be prepared to spring into life in defensive-to-offensive transition, with Vardy running in behind in the right halfspace – in an attempt to isolate Fabinho – whilst Maddison and Barnes would look to support Vardy through making progressive vertical runs in order to stretch the spaces between the Reds' defenders, thereby giving Vardy more space to operate in.
To do this, early on Leicester utilised long passes in behind and over the top, in an attempt to utilise Vardy. The tight Liverpool back line, alongside the advanced and proactive position of Alisson, who regularly used his full area, really quashed those efforts.
Rodgers, unexpectedly, also opted to use a back three, supported by wingbacks and a double pivot in midfield to support them. Through positioning his wingbacks against the touchline, he hoped they would attract the Liverpool fullbacks which would then free up Barnes and Maddison in the spaces behind the fullbacks, with the intention of creating a 3 vs 2 against the Reds' centrebacks.
To access these wingbacks and then break forward the idea was to draw Liverpool in, then use Schmeichel's passing to hit the wingbacks and catch Liverpool in transition. Despite this interesting idea, it was largely ineffective, because one of the home side's greatest strengths is playing against back three defences.
A back three defence in many respects makes Liverpool's pressing job easier. The forwards can go man-to-man, whilst Firmino can use his cover shadow to block passing lanes into at least one of the double pivot behind him. This leaves them with a numerical advantage (an overload) with both Curtis Jones and Naby Keïta able to step up and press, safe in the knowledge that the Leicester forward line is outnumbered and inaccessible due to the presence of Wijnaldum and the back four who can contest the aerial duel and win the second ball if Leicester played long passes. Additionally, the need for wingbacks in a three at the back system means the double pivot can be isolated and targeted ruthlessly, with their out-ball being one that does not alleviate pressure.
This was precisely what Liverpool did. Keïta, in particular, pressed incessantly and ruthlessly, especially in the left halfspace, winning the ball off both Tielemans and Mendy, and forcing them back on multiple occasions. Jones complimented him perfectly with a fantastic performance that grew as the game went on.
Early on, in a few instances, both Jota and Firmino dropped simultaneously, leaving Mané alone against the Leicester back line and allowing them to push up – something that would not happen if Salah were playing. To their credit though, after realising this, both forwards coordinated when one would drop and the other would stay up, thereby minimising the ability for Leicester to squeeze the reds' play. As at least two forwards sat on the Leicester back line, the space between that line and the Foxes' midfield line grew, creating more space for the champions to use, exploit and pass into/through, with Roberto Firmino, in particular, thriving in the halfspaces, and in the defence-midfield space.
As the game developed, certain patterns emerged. Leicester, for instance, attempted to use their left side far more than their right, as the Foxes attempted to isolate and expose Milner, to do this Barnes attempted to drop deep and pull Milner out of position, which would create an opening for Justin to break into. Milner though was well supported and disciplined, rarely breaking out of position, but instead using his time in the right channel to look for passes into the forwards. Milner made 8 passes to both Jota and Firmino, as shown in the two StatsZone graphics below.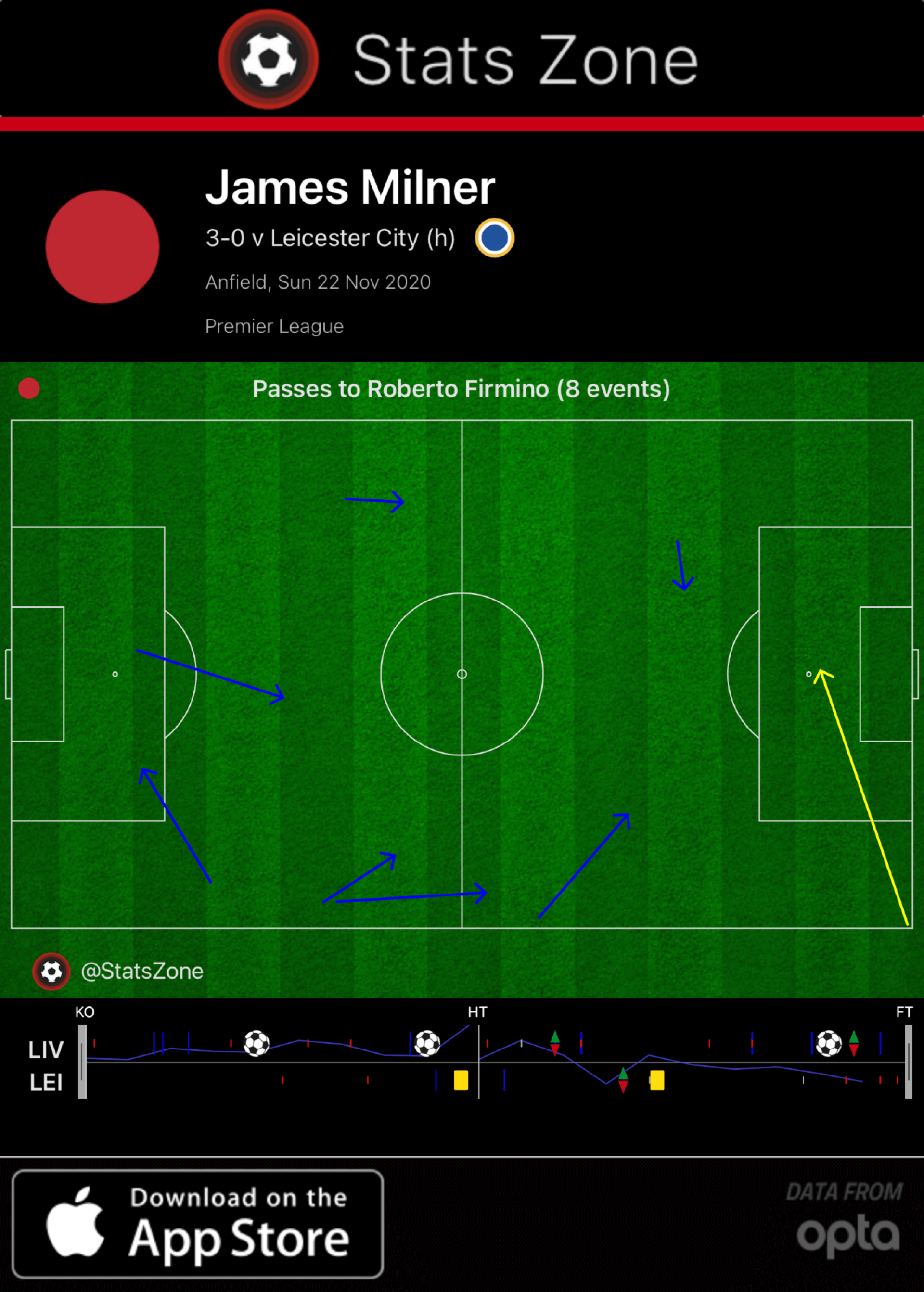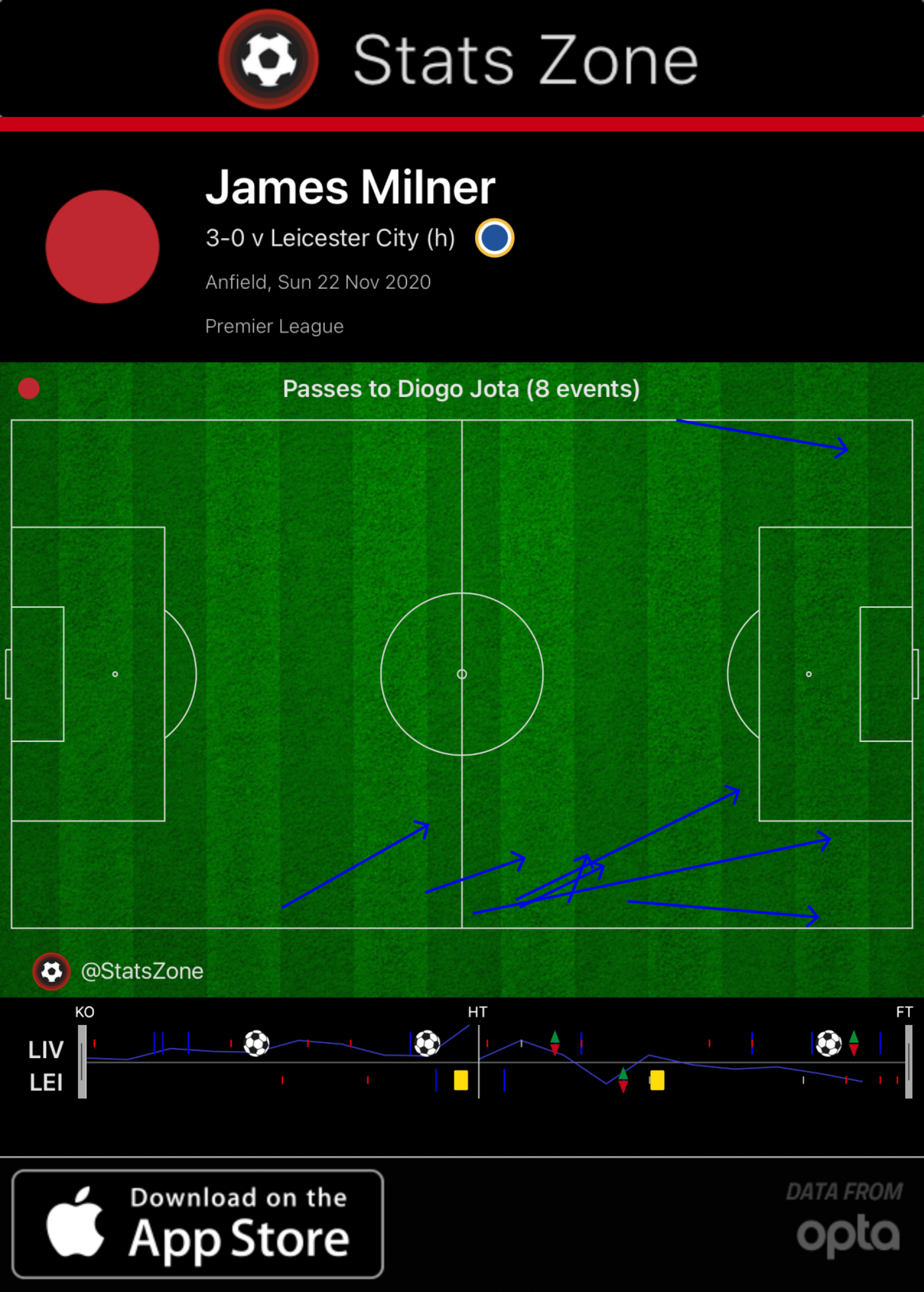 As the game settled, and Liverpool grew into it, the fullbacks and midfielders became more contented with each other, confident that the supply of passes into Vardy was restricted, and so Robertson and Milner (moreso the former) were able to move up the field more, with Keïta and Jones providing the defensive cover, as they dropped into the fullback zone, in order to protect the defence in offensive-to-defensive transition. Following the champions' opener, this was precisely what happened, with Robertson the beneficiary of a more advanced position, and the midfield able to dictate the speed and direction of play from those deeper positions leading to the second goal. Leicester's 5-4-1 shape, in which they did not press significantly, meant the Reds were effectively able to choose where the ball went and how to manipulate space to their advantage, with the vacant area outside of the four foxes' midfielders allowing for one-on-one opportunities to develop against the wingbacks.
The gamestate at 1-0 almost totally favoured a Liverpool victory, but the second goal had the result and nature of the remainder of the game completely in the hands of the home side. The only blight on the match was an injury to Naby Keïta, cut down in one of his finest performances to date. It's extraordinary that his national side expected him to complete two full games back to back following an injury that had kept him sidelined for a number of weeks, and that most likely contributed to excessive strain on his hamstring. If there is one thing that can stop Liverpool this season, it will be the arrogance and ignorance of individuals responsible for player welfare who persist in forsaking it.
Nonetheless, this was a really good performance, perhaps even an excellent one given the circumstances. However, it was also a strong performance against a Leicester side that was depleted, missing their most important midfielder, but so too three of their best defenders. Similarly, Leicester's standing in the league is the product of a number of extremely generous decisions to award penalties, thereby inflating their position. They are a good team, but even with injuries, Liverpool should have expected to win comfortably. Rodgers' tactics were conducive to Liverpool dominating and we should be aware of that, in the same way Chelsea, Arsenal and Atalanta allowed us to press and consequently were outclassed. We know Klopp's team are the best in the world in these types of games, and because of that, when analysing the game we should not get too carried away. That withstanding, this was still a fantastic pressing and attacking performance. The champions dominated the shot volume for the match, dictated the speed and flow of the game and completely neutralised Leicester's attacking threat. Games shall not always be this easy, but it is very pleasing to see players slot into the side and to not notice a difference in quality or style.