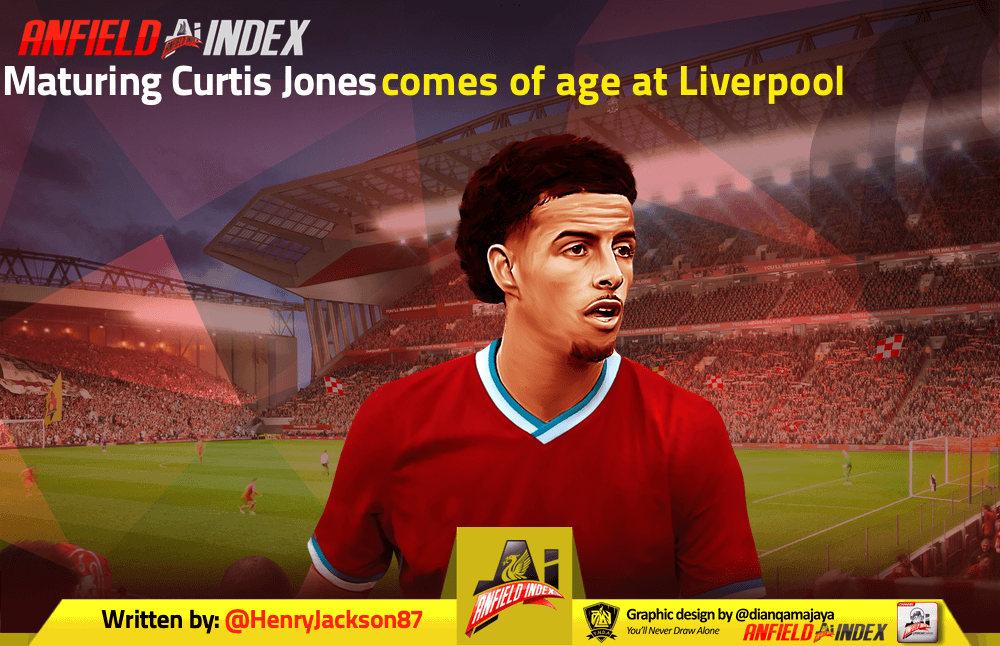 Maturing Curtis Jones comes of age at Liverpool

Liverpool's 3-0 victory over Leicester was another sign that the Reds are again the team to beat in the Premier League this season.
Regardless of how highly you rate Brendan Rodgers and his Foxes side, they turned up to Anfield as a genuine threat to Liverpool's long unbeaten home run, especially with Jurgen Klopp tackling an injury crisis.
The champions were imperious from the minute the game kicked off to the moment Chris Kavanagh blew the final whistle, however, with Leicester barely threatening at any point.
Such was the level of the display, not a single Liverpool player performed at less than a seven-out-of-10, with Alisson the least effective individual, simply because he was hardly tested.
Everywhere you looked, heroes in Red did themselves proud, with James Milner and Andy Robertson excelling at full-back, Joel Matip and Fabinho a rock-solid centre-back pairing and both Gini Wijnaldum and Naby Keita dominant in midfield.
Diogo Jota carried on his sensational start to life at Liverpool – that's now eight goals in 12 appearances – while Sadio Mane was a nightmare to play against and Roberto Firmino finally found some form.
If there was one player whose performance was the most pleasing, however, it was Curtis Jones'.
Deployed in a midfield-three alongside Wijnaldum and Keita, there was reason to feel a certain amount of trepidation, considering how inexperienced Jones still is.
Prior to kickoff, the 19-year-old still only had 12 starts to his name, and he was coming up against Youri Tielemans and Nampalys Mendy, both of whom are now experienced top flight players.
This wasn't a low-key League Cup match against vastly inferior opposition.
Any fears over Jones being out of his depth were quickly allayed, as he immediately looked at home in a big game, more than holding his own.
Jones is renowned for his technical brilliance and an almost cocky attitude, approaching matches likes someone who truly believes he is more gifted than anyone else on the pitch.
It was something that always stood out during his academy days and he has taken it with him to the first team on occasions, not least when he scored a stunning winner against Everton in the FA Cup last season.
On Sunday, though, this apparent arrogance that has occasionally been used as a stick to beat Jones with – his preference for doing too much on the ball has occasionally let him down – was nowhere to be seen.
Instead, the teenager produced the most mature, complete performance of his senior Liverpool career to date, doing the kind of understated-but-effective job Liverpool's midfielders have become famed for under Klopp, whether it be Fabinho, Jordan Henderson, Milner, Wijnaldum or Keita.
There were some trademark twists and turns, and Jones wasn't afraid to carry the ball in more risky areas, but all in all, he cruised through proceedings like a seasoned veteran who knows exactly how to manage a game.
Of the 72 passes he completed at Anfield, 92 percent of them were successfully completed, showing how dependable he was in possession. On top of that, Jones made two key passes and nine recoveries, further highlighting his all-round impact.
The youngster has played well numerous times already this season – he was similarly authoritative in the 5-0 win away to Atalanta – but this was the most encouraging outing yet.
This is no longer a player who is brought in out of necessity when numerous big players are absent. He is now a genuinely strong option who could even begin to usurp some of those who are ahead of him in the midfield pecking order.
Milner remains a great squad player, with his display at right-back against Leicester outstanding, but his legs are ageing and Jones looks a more vibrant presence in the middle of the park.
Keita can be excellent when he is fit, but those days are becoming increasingly rare, and there will eventually come a time when Liverpool could have to cut their losses with the Guinean, should he keep picking up knocks.
The hope is that that doesn't happen, but fitness-wise, Jones is far more reliable, and as he matures with age, the gap in quality could narrow, too, not just with Keita, but also with the likes of Henderson and Wijnaldum.
Alex Oxlade-Chamberlain is similarly cursed in the injury department and he is beginning to feel like a forgotten man. Many supporters would rightly consider Jones a superior figure in Liverpool's starting lineup these days.
It is always risky to go overboard about young players, with so many eventually falling by the wayside, but Jones looks a legitimately special talent – one who is slowly perfecting his trade under the world's best manager.
He is a more mature, less bull-in-a-china-shop version of a 19-year-old Steven Gerrard, possessing something close to the Reds legend's ability, but showing more discipline than he did at that age.
If Jones manages to have anything close to the Liverpool career Gerrard did, the Reds are going to have quite a player on their hands.
The current signs are hugely exciting.