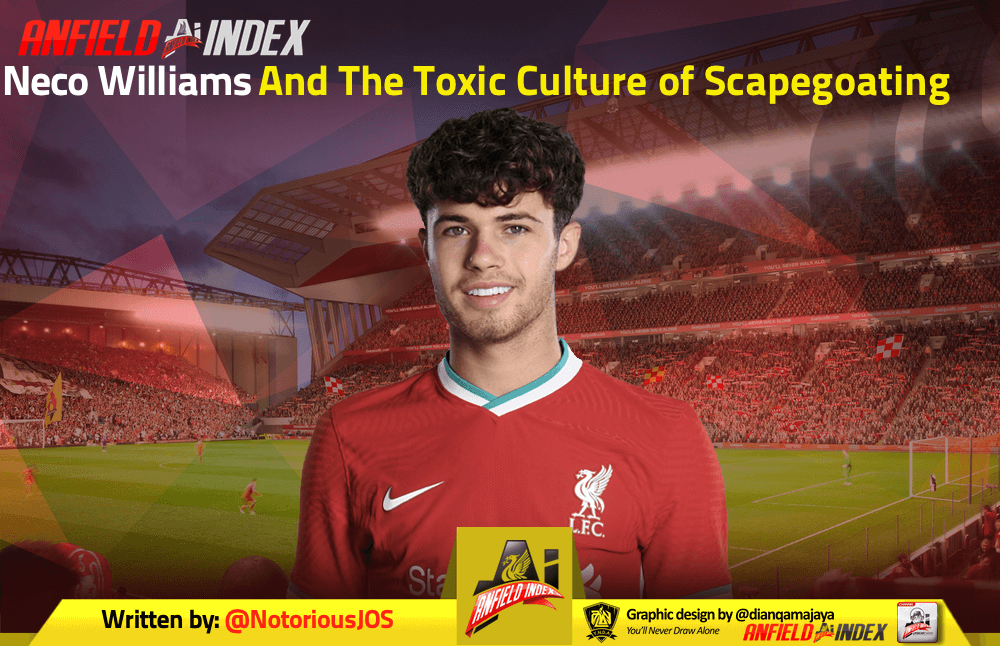 Neco Williams And The Toxic Culture of Scapegoating
Liverpool, as a collective, were poor in their 2-0 defeat at Anfield to Atalanta in the Champions League this past week.
Jurgen Klopp — wary of the physical toll that a stupidly compacted season will take on his players — made a raft of changes and his team, predictably played with a lack of synergy and rhythm.
The Italians, with their aggressive man-marking system, were given a lot of latitude to impose themselves physically by the Spanish referee in a manner most officials wouldn't. But the Reds have to own the defeat, they were poor and looked jaded throughout.

Klopp's first home defeat after 90 minutes in European football was, like all defeats, a bitter pill to swallow. It is hardly fatal in the context of a group that Liverpool still lead, though, especially when all they need is one win from two remaining games to be guaranteed to progress to the round of 16.
That's why it was so grating to see the vitriol aimed at some of the players after the defeat, especially at young right-back Neco Williams.
The Wales international hardly shone throughout, but who did? To a man, the Reds — with perhaps the exception of Rhys Williams — were well below their usual ridiculously high standards of performance.
There is also a startling lack of context. Atalanta scored 98 Serie A goals last season, coming mightily close to breaking an all-time record, and were also close to making the Champions League semi-finals, only missing out because of a late Paris Saint Germain goal in the quarter-final.
On Williams' side was Papu Gomez, a highly respected 32-year-old Argentinian international who has been among the best players in the Serie A for the fast five years. The academy graduate coped admirably with the threat of the diminutive Gomez, despite the number 10 notching an assist and playing a key role in the visitors' second goal.
It was the Welshman's attacking output that didn't compare favourably, but this wasn't helped by the lethargic movement of his shattered team-mates. There was no dynamism, no fluidity and no pace to proceedings. To lay the blame at the door of a 19-year-old winger who is learning to play full-back on the fly is ridiculous.
Sadio Mane and Mohamed Salah, two indisputably world-class players, had poor nights, too, and looked a million miles off their usual selves. There is no clamour for them — like there is for Williams — to never play for the team again.
Yes, Mane and Salah have earned the right to play poorly without being questioned — because, in football, it happens — but there is a contemptible level of nonsense to blaming individuals when a team badly misfired.
After the 7-2 defeat to Aston Villa, the pitchforks were out on social media and Naby Keita drew the ire of many with predictably stupid levels of criticism. The whole team were terrible, but the Guinean — because of his injury record — was deemed fair game for senseless abuse when the whole team, with the exception of Salah, were abject.
There is every chance that Williams doesn't make the grade at Liverpool, but the sample size of games is so small that it is hard to make a judgement. After all, several players — especially in midfield — have taken a lot of time to adjust to Klopp's demands. And in Wales international's two highest-profile starts, he has played directly against two excellent players in Aubaymeyang — in the Community Shield, even if it is a glorified friendly — and Gomez. It would be hard to handpick two more difficult opponents, for different reasons.
On another occasion, Williams — who had never played the position before — was selected as a left-back against Brighton and had to contend with Tariq Lamptey, perhaps the most destructive one versus one player in the Premier League at present.
An element of a fan base spoiled by the exploits of Trent Alexander Arnold at right-back have been toxic in their abuse of Williams, but the youngster will continue to get chances and may yet prove many wrong.