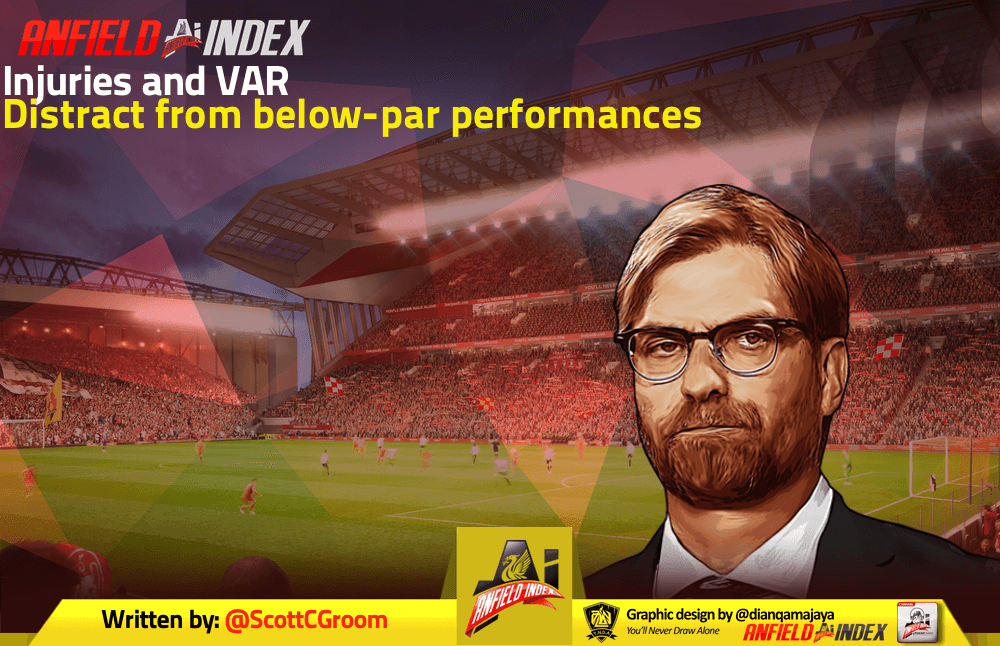 Injuries and VAR distract from below-par performances
It's hard to believe that Liverpool are on the cusp of the Round of 16 in the Champions League and sitting pretty among the early pace-setters in the Premier League.
Saturday's 1-1 draw away to Brighton certainly detracted from what has been a solid start to the season.
Yes, it was a draw away at a side you would expect Liverpool to be beating, but it really should have been a win for Klopp's side.
An incredibly unjust penalty decision in the dying embers of the game gifted Brighton a hard-earned point at the Amex.
It came in the same week as an infuriating defeat at home to Atalanta in the Champions League to cap off a disheartening week.
It's understandable then to feel frustrated as a Red as a new week beckons, despite things looking pretty good on the whole.
VAR and the growing injury list, which has been added to now Milner and Keita have muscle problems, dominate the topic of conversation around Klopp's side – and with good reason.
However, I can't help but thinking that these two issues are being used as scapegoats to paper over the fact that against Brighton and Atalanta, Liverpool just weren't good enough.
The penalty tha Pascal Groß converted deep into injury time may have been unjustly awarded, but Brighton certainly warranted something from the game such was their performance.
Atalanta, too, cannot be denied their moment of glory at Anfield as they were head and shoulders above Liverpool's level and rightly went back to Italy with all three points.
Docile, sluggish, toothless performances have left bitter tastes in the mouth and put a dampening effect onto a week that could've been so much better.
It's by no mean been disastrous, but to have had the Champions League group wrapped up with two games to spare and to have put distance between us at the top and the chasing pack in the Premier League would've been ideal.
It's just not worked out that way.
As I mentioned, injuries and VAR will steal the headlines, and rightly so to a certain extent.
The ever expanding injury list is definitely a contributing factor to Liverpool's dip in form of late, so we can't discount that.
But this is a team of champions. A squad of champions.
We have enough strength in depth to be able to cope a little bit better than we are doing at present in my humble opinion.
Obviously having so many crucial players missing is going to have an impact, and we knew it's be a big impact – but this current level just isn't acceptable.
There has to be more guile, more ingenuity, more threat from this side. The front four of Jota, Mané, Salah and Firmino are still fit, so we should be posing a greater threat going forward.
Yet it seems Jota is doing most of the work at the moment as his rich vein of form continues.
It's going to be a slog this season, and I'm not trying to diminish Liverpool's current problems. The injury situation is dire and there isn't another club affected as badly as us at this moment. But there probably will be at some point.
This season is like no other. We have to accept and move on from that. And in doing that, our form needs to improve before results start to become too adversely affected.