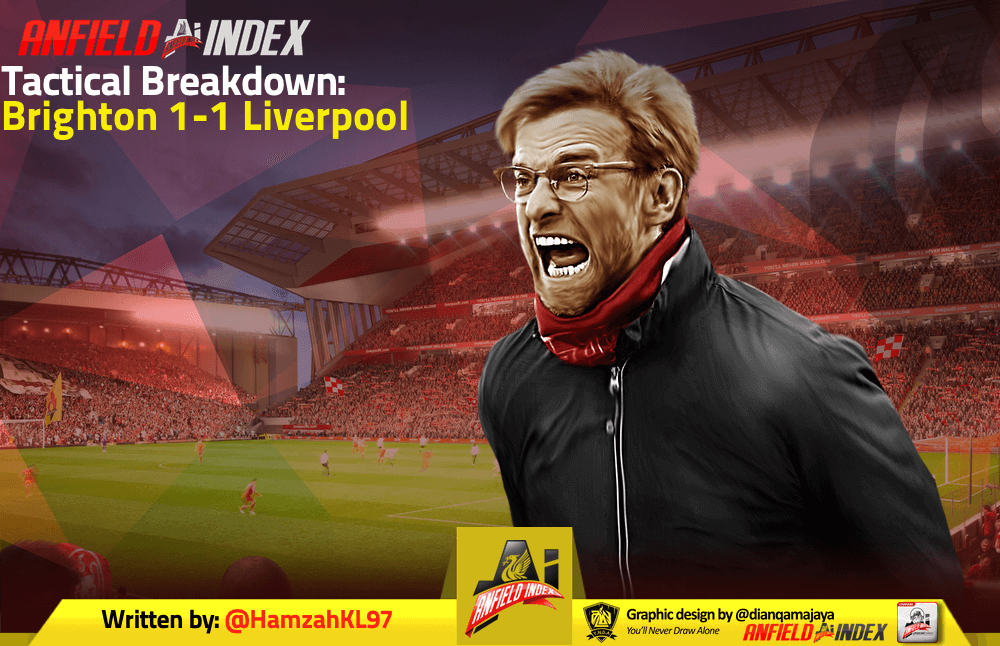 Tactical Breakdown: Brighton 1-1 Liverpool
Before looking at tactics I think it's important to preface any tactical discussion within the unique circumstances players, managers and clubs find themselves in, especially Liverpool FC.
Jürgen Klopp's team is currently in the midst of a season in which their pre-season was disrupted, their transfer plans unexpectedly affected and in which games are being played at a faster rate than I can write them up. The nature of this campaign has resulted in a number of decisions being made that change how they play in a tactical sense. It appears the players have been instructed to press less often, perhaps to ease the physiological load pressing places upon them. Similarly, a number of injuries to key players, combined with the necessity to rotate players more frequently have meant that the team's tactics either cannot be implemented as usual (in order to make up for the qualitative deficit of losing key players), or they are adjusted to mitigate these shortcomings. Additionally, when certain players who usually do not start are asked to perform a starting role, be it Alexander-Arnold at right back, Van Dijk at centre back or Alisson in goal, the replacement players are more often than not expected to fill in for the best player in the world, in their respective position, in a role that was tailored to their unique skillsets. In light of these issues, it's necessary to think of how to judge the team and its players fairly, and to consider that perhaps the tactical successes or failures in the game should not be weighted as much as usual.
In this match, Liverpool lined up in their usual 4-3-3, however, Neco Williams was selected at left back, Takumi Minamino deployed as a number 8 alongside James Milner, and Sadio Mané was rested, with Diogo Jota taking his place in the forward line.

The visitors started brightly, looking for early passes into the forwards from deep positions. A good ball speed across the pitch also allowed Liverpool to move the ball into space quickly. Brighton's compact back four meant that space was available in the left and right channels, giving both Robertson and Williams license to advance up the pitch.
Graham Potter's Brighton, when out of possession, attempted to minimise spaces between their defenders, to prevent Liverpool's forwards moving into those space. They also changed their typical possession game: rather than looking to build up in deep areas, the Seagulls were aware of the Reds' pressing capabilities, so opted to minimise any opportunities for  them to press. To do this, they use long passes from deep areas, looking for runners in behind.
Liverpool was largely able to deal with these long balls through a combination of Fabinho and Phillips winning their aerial duels, or Alisson coming off his line to sweep and clear danger when the ball was played in beyond the two centrebacks. The StatsZone graphic below shows the three instances Alisson was called upon to clear the ball, with all three examples either bordering on or outside of the box, demonstrating his proactivity off his line.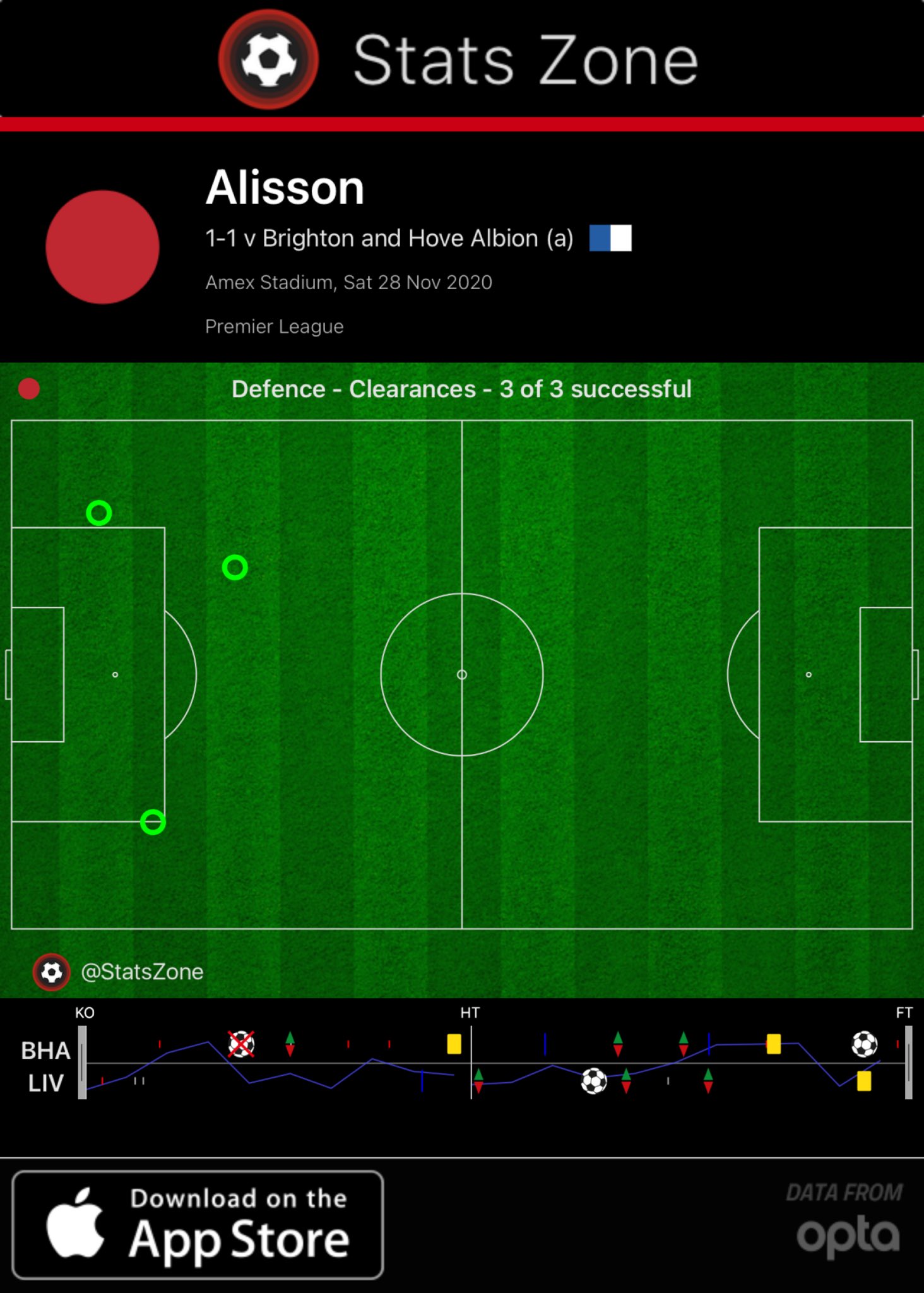 Brighton's first major chance came from one of these long passes from their goalkeeper, but one which the goalkeeper actually sliced. In doing so, the ball dropped shorter than he may have intended, with Wijnaldum instead having to contest the aerial duel. The consequence of this was a break in behind which the home side could and probably should have scored with.
This point signalled a change in the flow and feel of the game, with Klopp's side beginning to struggle with their possession game. The side lacked creativity and verticalility in midfield. Minamino, playing in a relatively new position, elected to keep the ball where possible, as did Wijnaldum, who was not particularly well involved in Liverpool's buildup in a direct sense. This left the creative midfield onus on Milner, who was unable to puncture the Brighton block, and consequently, both Salah and Jota's involvement dropped precipitously, with them unable to affect the game and receive the ball.
Usually, Liverpool's fullbacks have a hand in creating chances and opportunities for the forwards, whilst also offering passing options in the middle and final third, which allows the team to sustain pressure in the final third in order to create openings. Williams on the right struggled to do so, coming inside a little too often, and unable to offer the same range of passing that Alexander-Arnold has. As a consequence, their right side was non-threatening – apart from the Salah goal that was ruled offside at the behest of VAR, Kevin Friend (let's not go there).
The first-half penalty for Brighton was symptomatic of a side that seemed inexperienced, and unsure of its roles due to the volume of necessary changes. By half-time it was more than clear that a change needed to be made, and Milner was moved to right-back, whilst Henderson was brought on as the number 6. His introduction saw greater involvement from the six in Liverpool's buildup play, with the marathon-man Wijnaldum able to move up into the no.8 role.
This movement created passing lanes and sped Liverpool's play up, with Henderson's proactiveness involving both fullbacks more and helping establish more control in the match. Milner's repositioning to right back also added verticality from that zone, allowing Salah to be more involved without needing to drop deep, as he did in the first half.
Even with this change though, Liverpool showed little capacity to consistently break through the Brighton defence, and possession was largely held in non-dangerous areas, with the physical and psychological toll of recent injuries and matches seeming to show. The team looked like a side missing some of its best players, and given the quality absent, it's perfectly understandable. Without the press and Alexander-Arnold, Van Dijk, Fabinho in midfield and Keïta, the team was just not as effective in manipulating space and directing the play as they usually are. Consequently, the side was reliant on one or two of their key players stepping up with some individual brilliance, and both Salah and Jota combined to do so, with a beautiful flowing move, demonstrating the value of having players who are familiar with one another so they can understand their movement patterns.
After Salah's withdrawal for Mané, the Reds' play remained disjointed and not particularly attractive, however, it was effective enough to restrict Brighton to 0.08 xG, demonstrating an admirable management of the game to hunker down and secure the result even when not playing very well.
In this regard, despite it being a very tough game in which Liverpool did not play very well, they showed the mental and tactical characteristics of a championship-winning team. It's one thing to win a game luckily, but following the opener, Klopp's players were not lucky, the side actually managed the game well, restricted Brighton's opportunities to move into dangerous areas, and with a makeshift defence did not give up any significant opportunities. Kevin Friend, again, wished to have another say in the matter, as he helped the referee decide to award Brighton a second penalty. Again, we'll steer clear of any analysis here.
The awarding of a late penalty left more than a bitter taste in the mouth, with Liverpool now deprived of four points due to more than questionable VAR decisions in added time. Some may argue the penalty incident may just mask a poor performance, and indeed, it was a poor performance, but we really must reconsider what we can expect in a performative sense from a squad that is being exploited by a fixture schedule that may well have lasting effects on these players for years to come. Truthfully, until Klopp has more players available, a lot more of these types of performances are to be expected. The champions are going to have to rely on the individual brilliance of their key players, be it a freak moment of skill from Mané, a screamer from Salah, a pass from Alexander-Arnold, or an incredible save by Alisson. The only positive is that Liverpool's players have a history of individual moments of pure brilliance, it may just be that the Reds need to draw upon that a little more until the New Year.