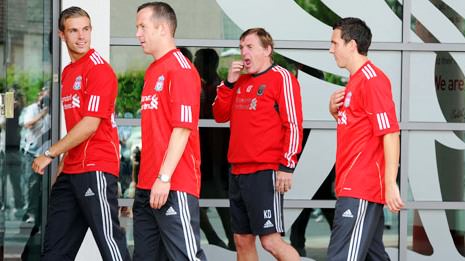 Adam, Downing & Henderson: New boys' Graduation Day due
I might be witnessing a graduation on Sunday.  I hope to see new boys coming of age in a Red shirt. No, not our much criticised, 6 ft plus, work in progress, AC.  His time will come. My own theory is that he needs to come off the bench with 30 minutes to go, in a tight game, when we really need a goal. He needs an Olympiakos moment, a West Ham moment.  A last minute screamer sucked in by the Kop to kick start the confidence. No, I'm talking about Adam, Downing & Henderson. Not a team of sheister lawyers, but hopefully a midfield trio to become equally adept at tearing a defence to shreds.
All have shown promise so far. Adam with some adept passing (but we'll come to that shortly). Downing racing past half a Sunderland team to see a rifled shot cannon off the bar. And Henderson's early season curler past Jaaskelainen, to help start the Bolton rot. But I am not alone in hoping one of the trio would've exceeded expectations and started to set the league alight, having all taken a step up into a red shirt.

So let's start with Charlie Adam. I am sure it was partly Fergie's sly way of trying to bump up the price, when we attempted to buy Adam in the January transfer window, when he drawled, "we couldn't handle Charlie Adam, his corner kicks are worth £10m," after the Mancs pulled their fat out of the fire to win 3-2 at the end of January against Blackpool.
Last season Adam was the engine behind all things good that came from Blackpool. DJ Campbell aside, in 34 games Adam made 1408 accurate passes, that's 41.4 times on average per game that Charlie hit the target he aimed for. He also created 74 chances in those games at a rate of 2.1 chances per game. In terms of crossing the ball, he did so accurately 46 times last season for the men in orange. That's an average of 1.4 accurate crosses each and every game.
So how does Charlie compare in the Red of Liverpool? Surely he isn't performing to those Fergie baiting standards just yet for the Reds? He has made 639 accurate passes in 15 games, so he has upped his accurate passes per game to 42.6. Surely he can't have created as many chances? In the 15 games so far, he has created 32 chances. So yes, exactly as many chances created at 2.1 per game. Even to my eyes, some of Charlie's crosses have been a little wayward this season, haven't they? Well actually he has upped his ratio of accurate crosses per game to 1.7 from 1.4.
"If he's worth £4mill I'm a Scotsman called Mctavish", said Holloway last season, in reference to one of the starting point bids allegedly tendered by the reds. Well so far, for me, he is showing signs of being well worth the £7 to £8million we paid for him, and the stats seem to show he is improving. Imagine what it'll be like when he is banging those Fergie baiters into the penalty box regularly! Where he does need to improve is shots on target per game. Last season he was tracking at 1 per game on target. This he is doing half of that so far this season. Then again, as he showed against the pretenders to the premiere League crown, Man City, they don't always have to be on target to go in!
Stew
art Downing
For me certainly he seemed the perfect fit for that troublesome left hand side. I must admit I did like Riera. He could do things with the ball at his feet that few in the Liverpool side or the league could do. The problem was he so seldom chose to do it. Gene splice him with the work rate of Dirk Kuyt then we would've had a world beater. If you were compiling your fantasy league and you slotted Downing on the left with Andy Carroll in the middle then on paper it was an ideal match, penetration and pace with good final ball delivery.
His early season form seemed to have petered a little, but in the Fulham game only a world class save from Shwarzer stopped us taking the lead, and I'm convinced going on to win. He, like another new boy, needs a break and often seems hell bent on scoring rather than providing. The woodwork has not been a friend to Liverpool or Mr Downing so far this season. Stats wise, there are certainly indicators to confirm that we can expect more from Downing in attack. His passing has improved since last season with Villa when he was chosen by landslide as their player of the season.
During that season he made 34 accurate passes per game. Already for Liverpool he has upped that to 38.6 a game. In numbers of chances he creates per game that has also improved, moving up to 2.5 a game versus 2.2 in his final season with Villa. But perhaps the final 2 stats are most telling for Downing. His renowned ability to hit a good final ball has dropped from 2.1 accurate crosses per game last season to 1.8. This combined with the shots on target per game dropping from 1.5 per game to 0.6 seems quantify what we've seen so far this season. If ever a player needed a goal….. He was by no means prolific for Villa scoring only 11 goals in two seasons, but confidence wise I think it is the boost he needs and will get the monkey off his back.
Finally, we come to Jordan Henderson. For me the jury was definitely out on him until the Fulham game. I know we lost, but in that game I think he started to step up into a midfield role where thus far, Lucas Leiva had been providing a massive umbrella to shelter under.
In that game he completed 57 passes, of which 95% were accurate. 56 of those passes were in open play. That compares to Charlie Adam in the same game, who made more passes with 73, but his pass accuracy was only 71%. So he may not be as industrious but he is being measured about his play and growing into his role. Certainly in terms of interceptions and tackling Henderson is no match for Lucas who in the game against City won every aerial 50/50, 81% of the ground based 50/50s and still managed to hit 92% pass completion of which 64% were forward passes in open play. I don't need to go on about what a miss Lucas is. When we were all pulling our hair out saying, "Why does he persist with this Brazilian guy?", I'm sure Rafa Benitez didn't realise it would be only after he was gone that the sound of him being proved right would ring so loud across Anfield.
So I think in summary of our three new boys, they are all showing signs of improvement, Adam particularly shouldering the burden in midfield without Lucas and Stevie. Downing is trying oh so hard but like Liverpool as a whole the effort isn't translating, as often as we would like, into end product. And Henderson will find the spotlight more on him and needs to add a little grit to promising distribution play.
Sunday. No Lucas. Agbonlahor serves a one match ban – a big loss to Villa of their most in form attacker. The cliché of the returning player may bear heavily on the shoulders of Downing. And don't forget Heskey!  I'm sure the Holte end faithful won't take kindly to the return of the man who forced Villa's hand with a transfer request (who knows whether this was a club sanctioned tactic to mitigate the fans backlash?). But seldom does a professional Premiership player not rise and perform better under fans baiting.
As we wait on the fate of Luis Suarez, and look hopefully towards the bench when Newcastle visit Anfield on the 30th December for our much missed number 8, I'm hoping our new boys graduate in time for Christmas.
Dear Santa…An Adam 30 yarder top corner; a Downing defence splitter onto the head of Suarez, a Henderson curler. But above all a Liverpool win. That's what I want for Christmas. Every Christmas.